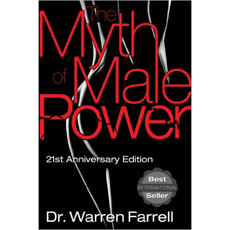 DSR Editor Rating
No Editor Review Available Yet.
Average User Rating
Go to Product Site
Product Information
This is the 21st anniversary edition of The Myth of Male Power. It is an update from the 1993 version and looks at what has changed since then.
It chronicles the survival of societies based on persuading its sons to be disposable in war and work, and therefore disposable as dads.
In the book, Dr. Warren Farrell challenges the notion that we live in a patriarchal world controlled by men to benefit them at the expense of women, but in reality is controlled by the need to survive.
Propelling the books increased attention are things such as:
- The changing dichotomies in society
- New college campus sexual assault laws that focus only on the woman's experience
- New laws punishing bullying instead of constructive ways to redirect male energy
- Brain damage due to sporting activity concussions, particularly football
The book aims to lay the foundation towards love and appreciation between the sexes by redefining power as "control over one's life" and the sacrifices made by both parents for their children.
---
Skillsets:
Relationship Skills
Experience Level(s):
Beginner
Release Date:
February 10, 2014
Price:
$2.12 - $9.53
(depending on product format or options purchased)
---
Feedback
If you have a question or problem, ask us:
Table of Contents/ List of Topics Covered:
The Myth of Male Power
- Is Male Power Really a Myth? A First Glance
- Stage I to Stage II: How Successful Men Freed Women (But Forgot to Free Themselves)
- Are "Power," "Patriarchy," "Dominance," and "Sexism" Actually Code Words for Male Disposability?

The "Glass Cellars" of the Disposable Sex
- The Death Professions: "My Body, Not My Choice"
- War Hero or War Slave?: The Armed Prostitute
- The Suicide Sex: If Men Have the Power, Why Do They Commit Suicide More?
- Why Do Women Live Longer?
- The Insanity Track
- Violence Against Whom?
- If We Cared As Much As About Saving Males As Saving Whales, Then…

Government as Substitute Husband
- How the System Protects Women, or…Two Different Ways Laws We Live In
- Women Who Kill Too Much and the Courts That Free Them: The Twelve "Female-Only" Defenses
- The Politics of Sex
- The Politics of Rape
- From Husband Sam to Uncle Sam: Government as Substitute Husband

Where Do We Go From Here
---
What You Get:
Book options include:

- Hardcover $2.12
- Kindle $6.07
- Paperback $9.53
---
Guarantee / Terms:
See policy of product website
User Reviews of The Myth of Male Power
View Other Home Study Courses (Books, DVDs, CDs, MP3/ Video)