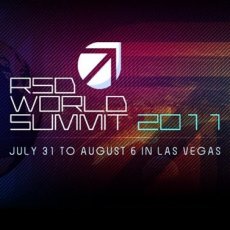 DSR Editor Rating
DSR does not provide Editor Reviews for Dating Conferences & Seminars.
Average User Rating
Product Information
Real Social Dynamics' yearly conference in Las Vegas. The seminar portion of RSD Summit 2011 will be held exclusively in a private location.
---
Skillsets:
Meeting Women
Image, Physique & Style
Inner Game & Confidence
Lifestyle & Social Skills
Learning Format:
Dating Conferences & Seminars
- Single Company Conference
Dates:
July 31, 2011 -
August 06, 2011
Available in Following Cities:
Las Vegas (US)
---
Feedback
If you have a question or problem, ask us:
Table of Contents/ List of Topics Covered:
To be discussed by Papa (Nick Kho):
- How to cultivate a social circle of women regardless of what you know
- A way to revolutionize your life style
- Discover more about networking - whether it be in business, celebrities, or nightclub circles

To be discussed by Tyler
- Cement faithful behavior in any woman's mind
- Discover how to make women lose control
- Develop true leadership that men and women will follow

To be discussed by Jeffy
- Unleashing your inner beast
- How to cut the chase
- Break all the rules. Set yourself free from the chains society has placed around you.

To be discussed by Ozzy
- Removing your beliefs about needing any structure when seducing women.
- Your passions into any subject
- Charge your conversations with sexual energy

To be discussed by Tim
- How To Eradicate any trace of robotic "pickup tactics"
- Discover how to express your "core purpose" by giving yourself permission to be the cool, confident, and irresistible man
- Embracing the power of pure-radiance

To be discussed by Nathan
- Absorbing pure inner game
- Hear Nathan reveal his best material

To be discussed by Alex
- Practical advice from a guy who's background in psychology
- Obtaining Alex's core ability to generate that 'fun party-vibe'
- Hear how Alex's against-the-odds struggle

To be discussed by Ryan
- "Verbal game"
- A simple technicality that successful men exploit
- Self-actualization and going from "Zero to Hero"

To be discussed by Brad
- How to create a harem of women with as little drama as humanly possible
- 5 Steps for same night lays
-A tweak in your lifestyle opens a floodgate of new women into your life

To be discussed by Todd
- Learn from one of the original pickup artists from Project Hollywood Mansion
- Discover how the "game" has evolved through time.
- Find out how Todd has used his knowledge as a professional poker player to refine his skills with picking up girls.


---
What You Get:
6 days of Live training
- 5 days of non-recorded seminars with Tyler, Papa, Ozzy, Tim, Jeffy, Nathan, Ryan, Brad, and Todd

Bonuses For "Special Forces" Bootcamp Clients:
- A personalized curriculum of in-field briefings
- Access to Alumni Website
---
Guarantee / Terms:
- A $500 deposit is necessary to secure a seat on this summit.
- 100% Money Back Guarantee (only applies if you attend the entire program)
User Reviews of RSD World Summit 2011
View Other Dating Conferences & Seminars