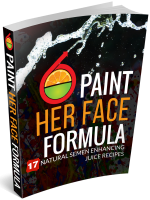 DSR Editor Rating
No Editor Review Available Yet.
Average User Rating
Go to Paint Her Face Formula
Product Information
Paint Her Face Formula is a program aimed at showing you how to increase the volume of your semen. It does this mainly through supplementing with natural ingredients that are easy to find and safe to use.
---
Skillsets:
Masculine Sexuality & Sexual Skills
Experience Level(s):
Beginner
Release Date:
February 06, 2018
Price:
$34.00 - $64.00
(depending on product format or options purchased)
---
Feedback
If you have a question or problem, ask us:
Table of Contents/ List of Topics Covered:
About the author
Introduction
Olivier's 7 Rules For Producing Powerful and Potent Blended Beverages To Boost Masculinity
The 10 Load 'Amplifiers' and the best food to eat to have these amplifiers inside you
Recommended blenders
Vitamins essential primer
Directions
Ingredients
Flavor Factor
Recipe #1: The Messy Suzy
Recipe #2: The Big Purple Snatch Soaker
Recipe #3: The Not So Virgin Mary
Recipe #4: The Cotton Candy Cum Creator
Recipe #5: The Baby Batter Booster
Recipe #6: The Mongolian Man Blast
Recipe #7: The Sweet and Sour Tit Splasher
Recipe #8: The Jolly Green Jizz Maker
Recipe #9: The Sweet Frosty Face Paint
Recipe #10: The Green Monster Load Maker
Recipe #11: The Sweet Peter
Recipe #12: The Flesh Muzzle Loader
Recipe #13: The Big Green Man Plaster Potion
Recipe #14: The Seminal surprise
Recipe #15: Happy Birthday Frosting
Recipe #16: The Jackson Pollock Formula
Recipe #17: The 5 ropes sweet Release
What's next?
References
---
What You Get:
Paint Her Face Formula - PDF
Guide to Supplementation - PDF
Mangasm Multiplier - PDF
Testosterone Trinity - PDF
4 online videos
---
Guarantee / Terms:
60-day money back guarantee
User Reviews of Paint Her Face Formula
View Other Home Study Courses (Books, DVDs, CDs, MP3/ Video)
For Your Manhood'); ga('require', 'ecommerce', 'ecommerce.js'); ga('ecommerce:addTransaction', { 'id': 'Standard', // Transaction ID. Required. 'affiliation': 'Juicing For Your Manhood', // Affiliation or store name. 'revenue': '1.275', // Grand Total. 'shipping': '', // Shipping. 'tax': '' // Tax. }); ga('ecommerce:addItem', { 'id': 'Standard', // Transaction ID. Required. 'name': 'Paint Her Face Formula', // Product name. Required. 'sku': 'Clickbank', // SKU/code. 'category': '
', // Category or variation. 'price': '1.275', // Unit price. 'quantity': '1' // Quantity. }); ga('ecommerce:send'); fbq('track', 'Purchase', {value: '1.275', currency:'USD'});// Facebook conversion tracking setTimeout(window.open(link.href),100) }catch(err){} }