Daygame Nitro: Street Pick-up for Alpha Males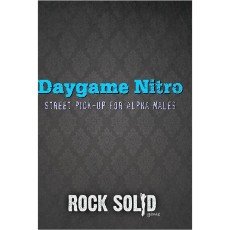 DSR Editor Rating
No Editor Review Available Yet.
Product No Longer Available.
Product Information
In this Daygame Nitro book, Nick Krauser (KrauserPUA) guides you step-by-step through the mindsets, the values, the things to say, the ways to hold eye contact to get the woman you want.
---
Experience Level(s):
Beginner
Release Date:
January 01, 2011
Product No Longer Available.
---
Feedback
If you have a question or problem, ask us:
Table of Contents/ List of Topics Covered:
- The mindsets
- The values
- The things to say
- The ways to hold eye contact
- About personal charismatic value
- How to build personal charismatic value
---
What You Get:
Hardcover book
---
Guarantee / Terms:
See policy of product website
User Reviews of Daygame Nitro: Street Pick-up for Alpha Males
Most Helpful User Reviews
4 of 4 people found the following review helpful
"Probably the best book on daygame out there (except for his sequel)..."
Ease of Implementation
10.0
Packaging/ Customer Service
10.0
Reviewed by
Brainbuster
June 26, 2014
This book is well-written, broad in scope, and effective.
When I say broad in scope, I also mean that you can tell that Krauser writes from experience, and he doesn't bullshit around. He's also very chummy with Tom Torero, so he's well aware of the London Daygame Model.
One of the traits a hot girl (notice I didn't say "women," because too many guys post a question on the internet asking women what they want, and they don't realize that a bunch of fat warpigs answer him)...anyway, hot girls like a guy who is more invested in himself than in the opinions of others.

I don't have time to go into detail now, as I'm now reading his sequel, Daygame Mastery, which is even better (even though, tbh, Nitro is perfect).

Daygame Mastery is ridiculously good. The only drawbacks are (as I see it, I'm in the USA), there's a large part that's geared toward foreign girls, since Krauser games the models and high-rolling hot floozies visiting London. For example, one of his openers is: "I hope you speak English." Then it goes from there, with forks in the opener/transition according to her response.
If I were to use this in Indiana (USA), I know that they would all say "Yes." I haven't tested it out, but it may still have merit (but for different reasons...maybe it would be funny, or maybe it would DHV me).

On the other hand, there are dozens of other openers he offers which are OUTSTANDING. Without giving them away, I would categorize many of them as "Accusational Openers" (I just made that up).

They aren't really indirect (like an opinion opener), and they aren't direct either. It's similar to a situational opener, but it's a comment on HER.

He also goes into Text Game.
I may piss off some people here, but Daygame Mastery (I know this review is on Nitro, but there isn't an option yet for Daygame Mastery on this site)
is the BEST book on text game.
It's 10 times better than Magnetic Messaging (which I thought was poor)
and 10 times better than The Ultimate Guide to Text Game.
I've read some other books on text game, and I think they are either mostly shitty with 2 or 3 great texts in them, or 100% crap.
Daygame Mastery is outstanding, even if you were to get it just to improve text game.

Anyway, I should also mention another "drawback," to both books. Daygame Nitro and Daygame Mastery are NOT for beginners.

You should already have some decent game/fundamentals (fashion, grooming, body language, lifestyle, etc.). That's my opinion, but I got the idea from Chase Amante's book Make Her Chase You. Chase said that the purpose of game is not so that you can continue to play Star Wars KOTOR or COD in your mom's basement, with bad teeth and soft muscles. It's supposed to supplement your life. Men who are really attractive aren't reading books on game, and they're still getting women.

Anyway, DEFINITELY read Nitro. Even if you're a beginner, he wrote a special section in the back for you.










Help other users find the most helpful reviews
Was this review helpful to you?
View Other Home Study Courses (Books, DVDs, CDs, MP3/ Video)