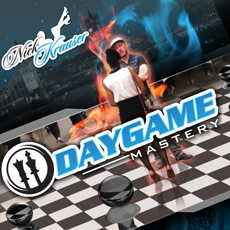 DSR Editor Rating
No Editor Review Available Yet.
Go to Product Site
Product Information
In this book by Nick Krauser, he offers techniques for showing men how to pick up women. His system is designed to provide actionable steps to becoming a naturally charismatic, sexworthy man.
Some of the areas covered:
- A self-observation and assessment of yourself, and women
- Communication skills when interacting with women
- Correcting your body language and sub-communication
- Fine-tuning your ability to read women
The book is also intended to provide an understanding of Daygame Mastery in order to become a part of the top tier of men that are able get access to the best women.
---
Experience Level(s):
Beginner
Release Date:
February 01, 2014
---
Feedback
If you have a question or problem, ask us:
Table of Contents/ List of Topics Covered:
- How to unlock your natural charisma
- How to start a conversation and exhibit the best of you
- How to approach women with calm, charisma, and conviction
- Making a strong and exciting impression so women remember you
- The process breakdown, from first seeing the woman to getting her into your bed
- An explanation of the female psychology behind what she's thinking and her actions
---
What You Get:
Hardcover book
---
Guarantee / Terms:
NA
User Reviews of Daygame Mastery
Most Helpful User Reviews
4 of 4 people found the following review helpful
"Krauser's Other Books Are Better, But Mastery Is Still Excellent"
Ease of Implementation
7.0
Packaging/ Customer Service
9.0
Reviewed by
Brainbuster
July 22, 2016
This book Daygame Mastery is indeed excellent.

It's been a while since I've read it,
but I recall there were a few things which made it sub-par
for me--being an American living in the midwest of America.

If you follow around Nick Krauser on a jaunt,
you'll notice that nearly 10 out of 10 of his targets (the women he approaches)
are foreign girls.
If she isn't a foreign girl, then she is a local girl and he is a foreigner.
This book makes that pretty clear.

He mentioned that about half the time,
his go-to opener is, "I hope you speak English."
(in Daygame Overkill--which I paid a pretty penny for--
you can see that it certainly is his favorite opener).

When, in Daygame Mastery, Nick Krauser said he was about to reveal
his go-to opener that he uses at least half the time, I was thrilled.
I had already read Daygame Nitro, and was extremely excited to read Daygame Mastery.

And then the opener was, "I hope you speak English."
It goes on to a more elaborate routine, but the point is,
it simply makes no sense at all for a guy living in the Midwest of America
to say that to a girl who is walking around in Midwest America.
Her response will likely be, "Yes, of course I speak English."

It might be self-amusing to me, but it won't be funny from her perspective,
a stranger walking up to her and asking her whether she speaks English.
So there isn't much redeeming value in that opener here.


My second gripe with it is along the same vein as that above.
There's an entire chapter on "mythologies" or "archetypes."
What Krauser means by these, are basically 8 or so categories or types
of a girl you're likely to find and approach.
And he has a long description of each type, along with clever and funny
things you could say to such a woman.
Most or all of the types are based on nationality,
which again makes no sense here.
In the latest 5 years, I've run into 3 or 4 Russian women,
and only one attractive Russian girl.

If you live in London though, or New York,
a focal point for travelers, then this would be great.

Here's my recommendation.
If you have not read Beginner Daygame by Nick Krauser (Oh my god, I wish more than ANYTHING
he would've published Beginner Daygame FIRST, rather than Nitro and then Mastery.
I was so mucked up because I started with Nitro, then read Mastery, and only today read Beginner Daygame. I have a few years now of daygame experience under my belt, a few hundred approaches.
But having just read Beginner Daygame today, I would choose Beginner Daygame over Nitro or Mastery if I had only one choice to carry me through the next 3 years of daygame), read it.
If you think you are intermediate or a master, or highly skilled at daygame,
I would encourage you to read Beginner Daygame. Thank me later.

I almost resent Nick Krauser for publishing Nitro and Mastery before publishisg Beginner Daygame.
This is my honest feeling. He explained so many things in B DG that were up to now
big, bothersome questions in my mind and sticking points in my game.
For example, he mentioned several times the "very common mistake beginners make is..."
One of those mistakes is running in blind and trying to be creative once you're in set--trying to come up with the "mythology" or "assumption stack" after you've met her. This was a big issue with me... in striving to be "authentic," and pursue "natural game," as both Yad and Krauser had before advised (probably because that's the point they had achieved artificially--they can NOW feel authentic when gaming, but if you trace it back, they used to practice mechanical game; so I've often wondered whether it's actually necessary to first go through the mechanical, contrived game first).

Anyway, Daygame Mastery is DEFINITELY worth the read. I do remember loving it,
almost as much as I loved Daygame Nitro.
However, now that (as of today) I have read Beginner Daygame by Nick Krauser,
I wish I had read Beginner Daygame. Notice I didn't say, "I wish I had read B DG first,
then continued on to Nitro then Mastery."
That is getting WAY ahead of yourself.

You WILL NOT BE HELPED by reading Daygame Mastery
if you are barely an intermediate. Don't kid yourself.
Actually, not sure whether I should even post this. I'm a bit afraid that it will become too popular.




Help other users find the most helpful reviews
Was this review helpful to you?
View Other Home Study Courses (Books, DVDs, CDs, MP3/ Video)