Mega-PUA Summit Sin City 2014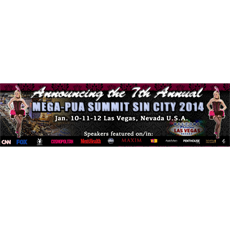 DSR Editor Rating
DSR does not provide Editor Reviews for Dating Conferences & Seminars.
Average User Rating
Product Information
7th Annual Mega-PUA Summit Sin City 2014
This convention brings together well-known dating coaches, pick up artists, and the seduction community from around the world. It is a 3-day event held in Las Vegas, Nevada U.S.A. The summit presents advice, presentations, question and answer panel discussions, and a chance to personally interact with well-known names in the dating and seduction industries.
The theme of the event:
What to do when you tried it all - Secrets of fastest way to get what you want with the girls you want
The summit includes the official Global Pickup Awards of the year.
VIP registration includes personalized in-field coaching and real immersion lodging for an extra night (Saturday):
- In-field coaching (smaller groups)
- Front 2-row seating during entire summit
- Shared room accommodations at Project Vegas Mansion
- 1-on-1 personal coaching session with a speaker
- Temporary living with other VIPs and coaches
- Observing coaches and modeling their behaviors
- Early access to program hours
- Early arrival and late checkout
---
Skillsets:
Meeting Women
Masculine Sexuality & Sexual Skills
Inner Game & Confidence
Lifestyle & Social Skills
Experience Level(s):
Intermediate
Learning Format:
Dating Conferences & Seminars
- Multi-Company Conference
Dates:
January 10, 2014 -
January 12, 2014
Available in Following Cities:
Los Angeles (US)
---
Feedback
If you have a question or problem, ask us:
Table of Contents/ List of Topics Covered:
- Same night sex
- Fast escalation
- Make-outs made easy
- Successfully managing multi-dating or long-term relationships
- Online dating accomplished the fast way
- Eliminate approach anxiety
- Building communication skills

The following speakers are scheduled:

- Tyler Durden, founder of Real Social Dynamics
- David Wygant, real coach Will Smith plays in "Hitch"
- AFC Adam Lyons, social circle and entourage game
- Vince "Hollywood" Kelvin, 20 years of NLP/Hypnosis
- Hayley Quinn, female advice
- Johnny Soporno, porn stars and hired guns
- MeHow, new play-by-play in-field footage
- Lovedrop, pick up lines and routines
- Nathan P., "Best Mixed PickUp Arts" award winner
- John Keegan, cold-reading and connection
- Badboy, creator of Direct Game from "The Game"
- Nick Rogue, same night seduction
- Delphim, herbs and spiritual guidance
- Ratisse, "Fastest Escalation" award winner
- Radio Wright, "Best Online Dating Coach" award winner
- Shaia Wolf, how to find a girlfriend and get your ex girlfriend back
- Artisan, "Best Text Game" awarded coach
- Steve Hitchens, daygame
- Garvelous, being alpha and omega
- Chi "Club Dance King", dance floor game
- Kino 5000, touching women
- James Hyman, deep emotional release bodywork
- Technoslaughter, physician works on anxiety with hypnosis
- Brian Halpin, comedy, improve and storytelling
- Michelle Terrell, licenses in sexuality and counseling
- Big Will Hicks, from David DeAngelo's "Interviews With Dating Gurus"
- Girls Gone Will, former top videographer for " Girls Gone Wild "
- Philip J, inner-game
- Jersey Boy, non-verbal communication and body language
- Lothario, trust and comfort
- Eminenz Dellagarde, world-view
- Brian Halpin from Ireland (new talent)
- Eminenz Dellagarde from Germany (new talent)
---
What You Get:
Participation in 3-day summit
---
Guarantee / Terms:
- $149 General Admission Ticket
- $249 VIP Registration

During the summit, if not satisfied, contact Vince Kelvin the last day of the event before it ends for a refund.
User Reviews of Mega-PUA Summit Sin City 2014
View Other Dating Conferences & Seminars