3 Second Rule Premier Bootcamp London (4 Days)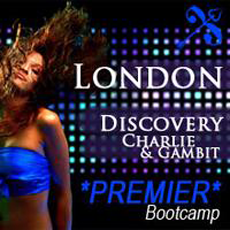 DSR Editor Rating
DSR does not provide Editor Reviews for Dating Conferences & Seminars.
Average User Rating
Product Information
3 Second Rule Premier Bootcamp London: November 27 – 30, 2014
Designed by Discovery (Mystery's Master PUA & Trainer) and Mystery, this London bootcamp is offered by Discovery and his 3 Second Rule coaching team. The bootcamp aims to show men how to get the women they desire by improving their social success with them.
The bootcamp consists of a combination of pickup artistry, conversational techniques, and social leveraging. It shows you how to improve your approach, pickup and social skill set within a short time.
Before taking part in the bootcamp, it is recommended that participants read "The Game" or Mystery's Mystery Method to provide a basic understanding towards more personal attention and interactive training during the bootcamp.
See website training calendar (http://www.3secondrule.co.uk/events/) for other 3SR events taking place.
---
Skillsets:
Attracting Women
Experience Level(s):
Beginner
Learning Format:
Dating Conferences & Seminars
- Seminar
Dates:
November 27, 2014 -
November 30, 2014
Available in Following Cities:
London (UK)
---
Feedback
If you have a question or problem, ask us:
Table of Contents/ List of Topics Covered:
- Different types of openers
- Day Game and live infield
- Types of closing techniques
- When and how to ask questions
- How to create sexual tension
- How to create a Comfort Plan
- Intermediate stack creation and exercises
- The Basics of Text and Phone Game
- How to be a leader (Relationships R1-R3)
- Understanding and creating attraction
- Common mistakes and how to avoid them
- Routines and Gambits: the practice wheels
- How to build a strong emotional connection
- 1-on-1 Game analysis with a Master PUA
- Understanding what the modern woman wants
- Effective openers and how to deliver them
- 4-hour exercise in the power of storytelling
- Wealth Mastery from a special bootcamp guest
- Advanced Delivery with daily live role playing
- The "how to" of Approach, Opening, and Delivery
- Closing techniques and infield practice of closing
- Online dating session (e.g. Match, Facebook, etc.)
- Auto responders: creating attraction from early IOIs
- Sexual Escalation: physical and pre-framing gambits
- Moving beyond the pickup artist to the social artist
- The style of pickup that will work best for you personally
- Understanding your personality and adapting for infield impact
- Social Circle Mastery: steps for leveraging to social success
- Understanding the fashion that suits your body size and shape
- Creating and maintaining the life women want you to have
- Managing expectations to setting ground rules (Relationships R1-R3)
- How to avoid high maintenance types (Relationships R1-R3)
- How to develop a 6-month game plan for after the bootcamp
- Conversational basics and how to avoid running out of things to say

---
What You Get:
Program package options include:

Full VIP Premier Package
- 4 Days Interactive Training
- Thu, Fri, Sat, Sun 12-6pm Workshop
- 3, Nights Live Infield Training with a Master Trainer and 3SR Coaches
,Extra night Live Infield (=3 nights) (Thu) [Max 5 guys] + bonus post program Skype coaching calls
- 3SR Launch Offer: $2950 (£1890)

Premier Workshop
- 4 Days Interactive Training
- Thu, Fri, Sat, Sun 12-6pm Workshop
- 2 nights (Fri, Sat) Live Infield Training with a Master Trainer and 3SR Coaches
- 3SR Launch Offer: $2380 (£1490)

Premier Seminar Only
- 4 Days Interactive Training
- Thu, Fri, Sat, Sun 12-6pm Workshop
- 3SR Launch Offer: $590 (£370)

3 Hour Taster (Limited offer)
- Not sure if this is for you? Try a taster (Thu only) 3 hour workshop
- 3SR Launch Offer: $99 (£59)
---
Guarantee / Terms:
NA
User Reviews of 3 Second Rule Premier Bootcamp London (4 Days)
View Other Dating Conferences & Seminars