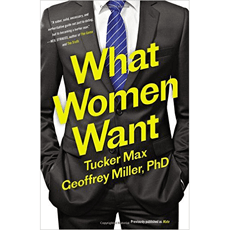 DSR Editor Rating
No Editor Review Available Yet.
Average User Rating
Go to Product Site
Product Information
Created as THE dating book for men, "What Women Want" by best-selling author Tucker Max and evolutionary psychologist Geoffrey Miller, PhD is an informative guide to sex, dating, and women. It aims to show you how to become the kind of man that women have evolved to want in order to be successful in mating.
Understanding this evolutionary concept helps you to fit women's mate choice criteria and become more attractive to them.
---
Skillsets:
Female Psychology
Attracting Women
Experience Level(s):
Beginner
Release Date:
September 06, 2016
---
Feedback
If you have a question or problem, ask us:
Table of Contents/ List of Topics Covered:
Introduction – A New Approach to Mating Education

The Five Principles of Mating Success
- The First Principle: Make Decisions with Science (not Bias)
- The Second Principle: Account for the Woman's Perspective
- The Third Principle: Own Your Attractiveness
- The Fourth Principle: Be Honest (with Yourself and Others)
- The Fifth Principle: Play to Win-Win
- From the Five Principles to the Five-Step Process

THE FIVE-STEP PROCESS TO MATING SUCCESS

Step One – Get Your Head Straight
Chapter 1: Build Self-Confidence
Chapter 2: Understand What It's Like to Be a Woman
Chapter 3: Clarify Your Mating Goals and Ethics

Step Two – Develop Attractive Traits
Chapter 4: Understand What Women Want…and Why
Chapter 5: Get in Shape (The Physical Health Trait)
Chapter 6: Get Happy (The Mental Health Trait)
Chapter 7: Smarten Up (The Intelligence Trait)
Chapter 8: Get Your Life Together (The Willpower Trait)
Chapter 9: The Tender Defender (The Agreeableness and Assertiveness Traits)

Step Three – Display Attractive Proofs
Chapter 10: Show Them What You're Working With (Signaling Theory)
Chapter 11: The Power of Popularity and Prestige (Social Proof)
Chapter 12: How Rich Do You Need to Be? (Material Proof)
Chapter 13: Stylin' and Profilin' (Aesthetic Proof)
Chapter 14: Show Her How You Feel (Romantic Proof)

Step Four – Go Where The Women Are
Chapter 15: Find the Right Mating Markets
Chapter 16: Beggars Must Be Choosers (Mate Preferences)
Chapter 17: Meeting the Women You Want

Step Five – Take Action
Chapter 18: Talking to Women
Chapter 19: Dating Women
Chapter 20: Having Sex
Chapter 21: Create Your Mating Plan and Go Forth
Postscript: We're Learners Too, and We Need Your Feedback

Acknowledgments
Further Reading and References
Index
---
What You Get:
Paperback book
---
Guarantee / Terms:
See policy of product website
User Reviews of What Women Want
View Other Home Study Courses (Books, DVDs, CDs, MP3/ Video)