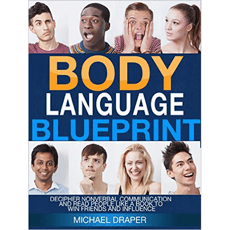 DSR Editor Rating
No Editor Review Available Yet.
Average User Rating
Go to Product Site
Product Information
"Body Language Blueprint" serves as a guide to understanding body language and the unwritten rules of nonverbal communication. It provides exercises, instructions, resources, and practical ways for utilizing and reading body language.
This book is intended to help you improve your communication skills in your business and personal life.
Some of the areas covered:
- When to practice body language
- Paying attention to proxemics
- Reading body language effectively
- Body language mistakes to avoid
- Body language myths debunked
- The saving grace of behavioral clusters
- The control we truly have over our body language
- Understanding intentional and unintentional gestures
- Cold reading body parts (legs, arms, hands, head, face)
- The importance of body language and using it to supercharge your life
---
Skillsets:
Inner Game & Confidence
Experience Level(s):
Beginner
Release Date:
November 01, 2015
Price:
$2.99 - $8.98
(depending on product format or options purchased)
---
Feedback
If you have a question or problem, ask us:
Table of Contents/ List of Topics Covered:
Who Cares About Body Language?

Chapter 1: The Science of Body Language
- What is it actually?
- "Uhh… Do you know how to steer this thing?"
- How important is it?
- Okay, so do we have free will or is it predetermined?
- Practically applying what we've learned
- Supercharge your life

Chapter 2: What's Your Why?
- Know where you're going or you will get lost!
- What do you want to convey?
- Perfect practice makes perfect

Chapter 3: Talking Bodies
- Intentional and unintentional gestures
- Feet, legs, posture – ATTENTION!
- The Arms and Hands
- The Top of the Crop
- The Face
- Exercise

Chapter 4: Deciphering Body Language
- Actively listening
- Being Sherlock Holmes
- Proxemics
- Behavioral clusters
- It all comes down to the bottom baseline

Chapter 5: Body Language for Effective Communication
- R-A-P-P-O-R-T
- Building attraction
- Interviews and meetings
- Projecting YOUR personality
- Haptics
- Opening Others Up

Chapter 6: Body Language Skills That Pay with Thrills
- V for vigilance
- Get artistic and creative!
- Putting it ALL into action

Chapter 7: Six Body Language Mistakes
- The boy who cried wolf
- Why you gotta be so rude?
- Being slightly too pedantic
- Lacking assertiveness
- World dominance
- Insensitivity

Chapter 8: Body Language Myths
- They aren't looking – They must be lying!
- You can easily spot the liar…
- Strong and domineering body language = POWER
- 93% of communication is nonverbal
- You can read people's minds…

Congratulations! The End…
---
What You Get:

Book options include:
- Kindle $2.99
- Paperback $8.98
---
Guarantee / Terms:
See policy of product website
User Reviews of Body Language Blueprint
View Other Home Study Courses (Books, DVDs, CDs, MP3/ Video)