The Ultimate Pickup Artist Convention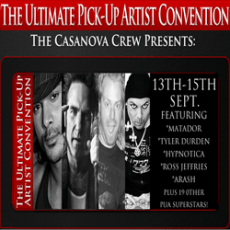 DSR Editor Rating
DSR does not provide Editor Reviews for Dating Conferences & Seminars.
Average User Rating
Product Information
Ultimate Pick-Up Artist Convention has invited top 24 pickup artists to help men learn how to attract the women from their experiences. One of students will be selected and trained by James Matador to become the next PUA Superstar and also a featured speaker at next year's convention.
---
Skillsets:
Inner Game & Confidence
Learning Format:
Dating Conferences & Seminars
- Multi-Company Conference
Dates:
September 13, 2013 -
September 15, 2013
Available in Following Cities:
United States
---
Feedback
If you have a question or problem, ask us:
Table of Contents/ List of Topics Covered:
• Find out what are the most advanced and effective seduction and dating strategies.
• Learn how to attract the women from 24 of the top pickup artists.
• How to create your confidence in any social.
• How to fight your bad past about women and gain for your future goals.
• Find out the levels of success you want and deserve.
• Learn online game and Internet Dating techniques.
• Learn the essentials of body language, humor, and sexuality.
• Learn the advanced inner game techniques.
---
What You Get:
•The Ultimate Pickup Artist Convention Event Ticket in Hollywood for 3 days (13-15 September 2013)

Bonus (for a student who become the World's Next PUA Superstar)
• All Convention fees waived
• One on one advanced pua training with James Matador
• Be a featured pua at next year's convention
---
Guarantee / Terms:
N/A
User Reviews of The Ultimate Pickup Artist Convention
View Other Dating Conferences & Seminars