The Subtle Art of Not Giving a F*ck: A Counterintuitive Approach to Living a Good Life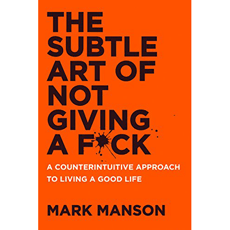 DSR Editor Rating
No Editor Review Available Yet.
Average User Rating
Go to Product Site
Product Information
Offered as a generation-defining self-help guide, Mark Manson aims to show people how to stop trying to be "positive" all the time in order to become better, happier people. He intends to help people embrace the reality that sometimes shit is f**ked and you just have to live with it.
This book is intended as the antidote to the coddling, let's-all-feel-good mindset that has infected American society and spoiled a generation. Manson argues that improving our lives is due not only to the positives, but also dealing better with the negatives. He states that we should confront painful truths in order to begin to find courage, perseverance, honesty, responsibility, curiosity, and forgiveness.
---
Skillsets:
Lifestyle & Social Skills
Experience Level(s):
Beginner
Release Date:
September 13, 2016
Price:
$11.99 - $15.98
(depending on product format or options purchased)
---
Feedback
If you have a question or problem, ask us:
Table of Contents/ List of Topics Covered:
Chapter 1: Don't Try
- The Feedback Loop from Hell
- The Subtle Art of Not Giving a Fuck
- So Mark, What the Fuck Is the Point of This Book Anyway?

Chapter 2: Happiness Is a Problem
- The Misadventures of Disappointment Panda
- Happiness Comes from Solving Problems
- Emotions Are Overrated
- Choose Your Struggle

Chapter 3: You Are Not Special
- Things Fall Apart
- The Tyranny of Exceptionalism
- B-b-b-but, If I'm Not Going to Be Special or Extraordinary, What's the Point?

Chapter 4: The Value of Suffering
- The Self-Awareness Onion
- Rock Star Problems
- Shitty Values
- Defining Good and Bad Values

Chapter 5: You Are Always Choosing
- The Choice
- The Responsibility/Fault Fallacy
- Responding to Tragedy
- Genetics and the Hand We're Dealt
- Victimhood Chic
- There Is No "How"

Chapter 6: You're Wrong About Everything
- (But So Am I)
- Architects of Our Own Beliefs
- Be Careful What You Believe
- The Dangers of Pure Certainty
- Manson's Law of Avoidance
- Kill Yourself
- How to Be a Little Less Certain of Yourself

Chapter 7: Failure Is the Way Forward
- The Failure/Success Paradox
- Pain Is Part of the Process
- The "Do Something" Principle

Chapter 8: The Importance of Saying No
- Rejection Makes Your Life Better
- Boundaries
- How to Build Trust
- Freedom Through Commitment

Chapter 9: . . . And Then You Die
- Something Beyond Our Selves
- The Sunny Side of Death
---
What You Get:

Book options include:
- Kindle $11.99
- Hardcover $14.68
- Paperback $15.98
---
Guarantee / Terms:
See policy of product website
User Reviews of The Subtle Art of Not Giving a F*ck: A Counterintuitive Approach to Living a Good Life
View Other Home Study Courses (Books, DVDs, CDs, MP3/ Video)