Breaking Through Gridlock: The Power of Conversation in a Polarized World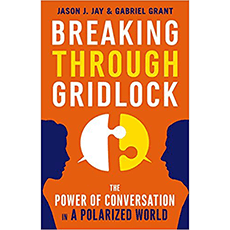 DSR Editor Rating
No Editor Review Available Yet.
Average User Rating
Go to Product Site
Product Information
"Breaking Through Gridlock" is designed to help you overcome conversation barriers. It shows you how to be true to yourself while enriching relationships and creating positive pathways. The authors invite readers to move from from self-reflection to action.
This book aims to bring awareness to the role unwittingly played in our conversation gridlock. It empowers us with the confidence to share what really matters in order to create positive change.
---
Skillsets:
Lifestyle & Social Skills
Experience Level(s):
Beginner
Release Date:
May 22, 2017
Price:
$12.40 - $17.17
(depending on product format or options purchased)
---
Feedback
If you have a question or problem, ask us:
Table of Contents/ List of Topics Covered:
Exercises
Figures
Tables
Foreword
Preface: How this book came to be
Our journey
A note on our language
Introduction: How to use this book
Serious play
A note on the exercises
Introduction summary

1. How We Get Stuck: Breakdowns in conversation
- The power of conversation
- Start where you are
- Focus on real, live conversations
- Power plays can't help you strengthen relationships
- Framing breaks down in unfamiliar and polarized situations
- Start with authenticity
- What's possible
- Chapter 1 summary

2. (In)Authenticity: The key to getting unstuck
- Consistency with the past can lead to getting stuck
- Dynamic authenticity is aligned with the future
- Dynamic authenticity is a team sport
- Chapter 2 summary

3. Know What You Bring: The hidden baggage of conversations
- Our way of being is tied with our background conversation
- Our ways of being are shared
- Uncover your background conversations
- Ways of being can be tricky to see
- Is being in the eye of the beholder?
- Being and inauthenticity
- Chapter 3 summary

4. Locate the Bait: What we gain when conversations lose
- You got yourself stuck
- Pitfalls: Background conversations that get us stuck
- Identifying the bait helps you get unstuck
- Bait usually involves right, righteous, certain, and safe
- Map out your pitfall
- Chapter 4 summary

5. Dare to Share: Moving past the talking points
- Connect with internal motivations
- Express what you really want
- Embody your new way of being
- Chapter 5 summary

6. Start Talking: Bringing conversations back to life
- The power of apology
- You will encounter a variety of responses
- Results require action, and action requires commitment
- Chapter 6 summary

7. Embrace the Tension: How our differences can make a difference
- Clarify values
- Own the polarization
- Expand the landscape
- Dance in the new terrain
- Chapter 7 summary

8. Widen the Circle: Building inclusive movements
- Shared inquiry is required to change the collective conversation
- Each social movement has core tensions and pitfalls
- Realist-visionary tensions are present in all social movements
- Movements can have collective bait and pitfalls
- Find the possibility at the heart of our movements
- We have only just begun to discover pathways forward
- Chapter 8 summary

Notes
Bibliography
Acknowledgments
Index
About the Authors

---
What You Get:
Paperback $12.40
Kindle $17.17
---
Guarantee / Terms:
See policy of product website
User Reviews of Breaking Through Gridlock: The Power of Conversation in a Polarized World
View Other Home Study Courses (Books, DVDs, CDs, MP3/ Video)