Up Your Attraction System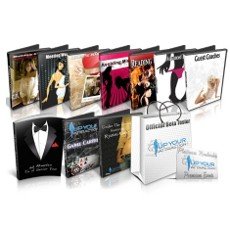 DSR Editor Rating
No Editor Review Available Yet.
Average User Rating
Product No Longer Available.
Product Information
"Up Your Attraction System" from Josh Rosenberg is a membership program that aims to provide you with the skills needed to attract women. This program contains 7 modules, starting from building the foundations up to the advanced tactics to get the woman you want.
---
Skillsets:
Meeting Women
Attracting Women
Experience Level(s):
Beginner
Learning Format:
Online Video
Release Date:
January 01, 2010
Product No Longer Available.
---
Feedback
If you have a question or problem, ask us:
Table of Contents/ List of Topics Covered:
Module 1 – Building A Rock Solid Foundation
- Learn exactly what attraction is… And how to use it like a pro.
- What really turns women on, and how to give it to them.
- How to understand women in a way you never thought possible.
- Discover what's going on inside her head.
- Presenting yourself as the ONLY possible option she should choose.
- How to approach her at any time, where ever you are.
- How to create instant attraction.
- How to break down all of her walls and get past any resistance.
- Closing the deal.

Module 2 – Meeting Women
- Learn how to meet women in virtually ANY environment.
- Discover the best places to meet women.
- Going from being "complete strangers" to "hot and heavy" in minutes.
- How to never let the conversation go stale again.
- "No Fail" rapport building techniques.
- Never get flat out rejected again.

Module 3 – Becoming Desirable
- Achieve the perfect "pick up" mindset, and rid yourself of your insecurities
- Improve your skills with women honing in on key skills to drive them wild.
- Ensure you are the sexiest man around, every time you step out the door.
- Stimulate her friends to ensure they never c,ck block you again.
- Learn how to keep her excited about coming back… Over and over.
- Bring out your most attractive qualities, and get her to fight for you.
- Never lie or "trick" women in to talking to you… Get them to want the real you..

Module 4 – Avoiding Mistakes
- What to do when she catches you "checking her out"… And how to build attraction from there.
- Multi-part series to help you void mistakes you don't even realize you're making.
- Proper grooming techniques, and why they're crucial to your success.
- Develop the kind of confidence that will make her want you.
- Preparing for a first date that will keep her coming back.
- How to increase her attraction by interacting with other people.

Module 5 – Reading Women
- Learn the signs that she's flirting with you, so you'll never miss another opportunity.
- Discover why girls give out fake numbers… And how to make sure this will never happen to you again.
- Reading her body language
- Learn how to send the right signals so you'll always turn her on.

Module 6 – Advanced Tactics
- Quickly taking your game to the next level – And beyond.
- Learn how to drive her wild and make her hot for you – Within minutes.
- When to buy girls drinks… And when to get her to buy them for you.
- Never experience awkward silences again.
- Learn to plan your night in reverse for maximum results.
- The #1 essential for every bachelor pad

Module 7 – Guest Coaches
- Interviews with beautiful women – Who tell all.
- Shocking answers to the question "What turns women off?"
- Strategies to get women in to bed… And keep them coming back.
- Top pick up and dating coaches from around the country provide their best tips and tricks.
- An ever expanding library of quite simply the best information around.
---
What You Get:
Up Your Attraction Members Section Access

Bonus items include:
- #1: 60 Minutes To a Sexier You
- #2: Game Cartel
- #3: Under The Covers
- #4: Platinum Events Club
- #5: Product Beta Tester
---
Guarantee / Terms:
N/A
User Reviews of Up Your Attraction System
View Other Online Membership Programs