The Relationship Fix: Dr. Jenn's 6-Step Guide to Improving Communication, Connection & Intimacy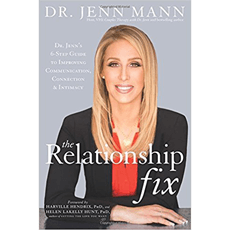 DSR Editor Rating
No Editor Review Available Yet.
Average User Rating
Go to Product Site
Product Information
"The Relationship Fix" is Dr. Jenn Mann's 6-step guide for couples to deal with their relationship difficulties and improve communication, connection, and intimacy. Dr. Mann utilizes research and her clinical experience as a Marriage and Family Therapist in providing the skills to develop a deeper and more satisfying relationship.
Dr. Jenn takes a direct approach to help you:
- Reignite your sex life
- Apologize using the four R's
- Change bad habits and learn to forgive
- Strengthen your relationship through conflicts
- Create connection and communicate so both of your needs are met
- Recognize and resolve issues having a negative impact on your relationship
The book includes professional and personal case studies and stories.
---
Skillsets:
Relationship Skills
Experience Level(s):
Beginner
Release Date:
October 13, 2016
---
Feedback
If you have a question or problem, ask us:
Table of Contents/ List of Topics Covered:
Foreword
Introduction

Step 1: Create Connection
- Connection is King
- Thirty-Six Questions That Will Make Your Partner Fall in Love with You
- Attachment Needs from Cradle to Grave
- The Culture of Autonomy
- Attachment Threats
- Danger, Will Robinson
- Benefits of Attachment
- Developing and Maintaining Trust
- Take the High Road
- Become an Expert on Your Partner
- Ten Ways to Foster Connection in Your Relationship
- Connection Deal Breakers
- Invest Time and Energy in Your Relationship

Step 2: Fight Fair
- The Four Core Relationship Needs
- The Honeymoon Is Over
- Ten Reasons Why You Think You Are Fighting
- The Ten Real Reasons Why You Are Fighting
- Why Fight Fair?
- Twelve Rules to Fight Fair
- Twelve Tips for Communicating Better and Deescalating Conflict
- Anger Management 101
- Domestic Violence
- I Can Stop Any Time I Want: Addiction
- All's Fair in Love and War

Step 3: Negotiate
- Let the Negotiating Begin
- Conflict in Long-Term Relationships
- Nothing to Fear But Fear Itself: Why You Can't Fear Conflict
- Beginning a Difficult Negotiation
- Stop! In the Name of Love: Ten Things That Prevent Health Negotiations
- Spheres of Influence
- More Than a Feeling
- Six Skills You Need to Reduce Conflict in Your Relationship

Step 4: Work Through Your Childhood
- Parents Are Our First Mirrors
- Why We Marry Our Parents and Why It Hurts So Much
- Your Imago
- Family Systems
- But That's How You Discipline a Kid!
- How Trauma Changes Us
- Trauma and Intimacy
- The Five Abuses
- Everyone Is Here But No One Is Home
- Victim No More: Moving Past Your Childhood and Having a Healthy Relationship

Step 5: Forgive and Make Amends
- Get Off Your High Horse
- It's Not Personal
- Relationship Crimes and Misdemeanors
- Part A: The Four Rs of Apology
- After the Action Plan
- Part B: Your Contribution
- To Forgive or Not to Forgive, That Is the Question
- Cheap Forgiveness
- What Is Forgiveness Anyway?
- Being a "Human Bean"
- What to Do When You Want to Forgive But Can't
- Bottom Line
- Is This Really Closure?

Step 6: Ignite Your Sex Life
- Mind-Blowing Sex
- Ten Things You Need to Know Before You Blow, Kiss, Lick, or Have Sex
- In Defense of Monogamy
- Monogamy, Not Monotony
- Happing Endings

Appendix A: 36 Questions
Appendix B: Sexual Inventory
References
Acknowledgments
Index
---
What You Get:
Hardcover book
---
Guarantee / Terms:
See policy of product website
User Reviews of The Relationship Fix: Dr. Jenn's 6-Step Guide to Improving Communication, Connection & Intimacy
View Other Home Study Courses (Books, DVDs, CDs, MP3/ Video)
"Listen In As We Share The Top Takeaways From The Best Dating Products Ever Created... Shave Years Off Your Learning Curve As You Discover What Really Creates Success With Women"
Here's just a few things we reveal in this info-packed interview:
The surefire products that are proven to work - based on 15+ years coaching men to dating success.
Why we dubbed this one product 'idiot-proof' and how it can transform a woman's reaction to you almost immediately.
Feel anxious about approaching women? Discover how to bypass that and set up a stream of dates with gorgeous women in as little as 20 minutes a week.
Dating Skills Review has been featured or quoted in: