The Relationship Fix: Dr. Jenn's 6-Step Guide to Improving Communication, Connection & Intimacy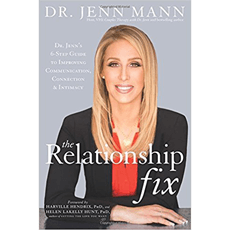 DSR Editor Rating
No Editor Review Available Yet.
Average User Rating
Go to Product Site
Product Information
"The Relationship Fix" is Dr. Jenn Mann's 6-step guide for couples to deal with their relationship difficulties and improve communication, connection, and intimacy. Dr. Mann utilizes research and her clinical experience as a Marriage and Family Therapist in providing the skills to develop a deeper and more satisfying relationship.
Dr. Jenn takes a direct approach to help you:
- Reignite your sex life
- Apologize using the four R's
- Change bad habits and learn to forgive
- Strengthen your relationship through conflicts
- Create connection and communicate so both of your needs are met
- Recognize and resolve issues having a negative impact on your relationship
The book includes professional and personal case studies and stories.
---
Skillsets:
Relationship Skills
Experience Level(s):
Beginner
Release Date:
October 13, 2016
---
Feedback
If you have a question or problem, ask us:
Table of Contents/ List of Topics Covered:
Foreword
Introduction

Step 1: Create Connection
- Connection is King
- Thirty-Six Questions That Will Make Your Partner Fall in Love with You
- Attachment Needs from Cradle to Grave
- The Culture of Autonomy
- Attachment Threats
- Danger, Will Robinson
- Benefits of Attachment
- Developing and Maintaining Trust
- Take the High Road
- Become an Expert on Your Partner
- Ten Ways to Foster Connection in Your Relationship
- Connection Deal Breakers
- Invest Time and Energy in Your Relationship

Step 2: Fight Fair
- The Four Core Relationship Needs
- The Honeymoon Is Over
- Ten Reasons Why You Think You Are Fighting
- The Ten Real Reasons Why You Are Fighting
- Why Fight Fair?
- Twelve Rules to Fight Fair
- Twelve Tips for Communicating Better and Deescalating Conflict
- Anger Management 101
- Domestic Violence
- I Can Stop Any Time I Want: Addiction
- All's Fair in Love and War

Step 3: Negotiate
- Let the Negotiating Begin
- Conflict in Long-Term Relationships
- Nothing to Fear But Fear Itself: Why You Can't Fear Conflict
- Beginning a Difficult Negotiation
- Stop! In the Name of Love: Ten Things That Prevent Health Negotiations
- Spheres of Influence
- More Than a Feeling
- Six Skills You Need to Reduce Conflict in Your Relationship

Step 4: Work Through Your Childhood
- Parents Are Our First Mirrors
- Why We Marry Our Parents and Why It Hurts So Much
- Your Imago
- Family Systems
- But That's How You Discipline a Kid!
- How Trauma Changes Us
- Trauma and Intimacy
- The Five Abuses
- Everyone Is Here But No One Is Home
- Victim No More: Moving Past Your Childhood and Having a Healthy Relationship

Step 5: Forgive and Make Amends
- Get Off Your High Horse
- It's Not Personal
- Relationship Crimes and Misdemeanors
- Part A: The Four Rs of Apology
- After the Action Plan
- Part B: Your Contribution
- To Forgive or Not to Forgive, That Is the Question
- Cheap Forgiveness
- What Is Forgiveness Anyway?
- Being a "Human Bean"
- What to Do When You Want to Forgive But Can't
- Bottom Line
- Is This Really Closure?

Step 6: Ignite Your Sex Life
- Mind-Blowing Sex
- Ten Things You Need to Know Before You Blow, Kiss, Lick, or Have Sex
- In Defense of Monogamy
- Monogamy, Not Monotony
- Happing Endings

Appendix A: 36 Questions
Appendix B: Sexual Inventory
References
Acknowledgments
Index
---
What You Get:
Hardcover book
---
Guarantee / Terms:
See policy of product website
User Reviews of The Relationship Fix: Dr. Jenn's 6-Step Guide to Improving Communication, Connection & Intimacy
View Other Home Study Courses (Books, DVDs, CDs, MP3/ Video)