The Powerful Man Teleseminar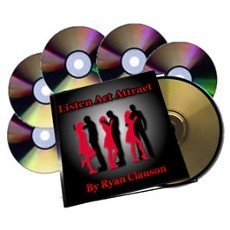 DSR Editor Rating
No Editor Review Available Yet.
Average User Rating
Product No Longer Available.
Product Information
The Powerful Man Teleseminar is a collection of interviews of 10 dating gurus that teach and live a lifestyle that attracts women naturally.
---
Skillsets:
Meeting Women
Attracting Women
Experience Level(s):
Beginner
Learning Format:
Download (Audio)
Release Date:
January 01, 2010
Product No Longer Available.
---
Feedback
If you have a question or problem, ask us:
Table of Contents/ List of Topics Covered:
Interview # 1
David Wygant (The World's #1 Dating Coach)
- How to naturally attract women. No tricks, gimmicks, or pre-rehearsed lines.
- What to do after you get her number.
- How to challenge a woman to build her attraction to you.
- How to get the women you want while still being real, honest, and kind.

Interview #2
The Art of Approaching Women
Carlos Xuma (Master of the approach)
- The different methods for approaching women.
- What to do when you get nervous.
- How to transition into a conversation after the first, "hello."
- How to approach groups.

Interview #3
Speed Seduction!
Ross Jeffries (The Founder of the Seduction Community)
- How simply changing the words you use can make women attracted to you.
- Ground breaking technique for conquering any fear.
- The one thing no one is talking about when it comes to men, women, and dating.
- How "Witness Consciousness" can transform your dating life in seconds.

Interview #4
How to Get Unbreakable Game
Christian Hudson (Founder of the Social Man)
- The biggest difference between guys who do well and guys who don't.
- The three emotions that matter in seduction.
- How to control the "energy" of an interaction.
- What it really means to "add value."

Interview #5
Health and Sex Tips to Make Women Naturally Attracted to You
Daniel Vitalis (World Leading Health Expert)
- The # 1 supplement to promote your sexuality that you should take every single day
- The ultimate sexual secret, "The Million Gold Coin Point,"
- Herbs that will skyrocket your testosterone and make you naturally attractive to women.
- Foods that are killing the sexuality of men.

Interview #6
How to live your life like a Rock Star
Dr. Dan Ardebili, Ph.D (The Rock Star Coach)
- The most important attraction accessory you should never leave home without.
- Why women don't check out guys.
- Where to meet the person of your dreams and how to be ready for it.
- Why you should celebrate your breakups

Interview #7
How to find the woman of your dreams without loosing your integrity
Robert Ruffo (Professional Filmmaker and Seduction Coach)
- How to go out on a first date to maximize your chances of a serious relationship.
- How to talk about sex indirectly.
- Why you should not do anything for a girl that you would not do for a hairy fat man.
- How different girls see different traits as being, "Alpha."

Interview #8
The Tao of Dating
Dr. Alex Benzer (The Enlightened Man's Dating Coach)
- How to go from a "Nice Guy" to an empowered man with heart and strength.
- How to stop studying attraction and start going out and doing it.
- The number one personality trait you need to get rid of to make attracting women easier and more fun.
- How to get over a break up and move on happier and better off.

Interview # 9
Dating for the Modern Man
David Coleman (The Dating Doctor)
- Biggest mistakes guys make with girls.
- Two magic places on a woman's body to touch for a great response.
- How to tell if a girl is worth pursuing.
- Dave's personal story of how he developed excellent social skills with women.

Interview #10
How learning attraction can save the world
Anthony Bronzo (The Master Learner)
- Why you must be a man on purpose to attract women.
- How to keep the attraction alive forever.
- How learning attraction can save the world!
- If you don't do anything else, just do this one thing.

Bonus Interview
One Man's Journey to Learning Attraction
Mack Tight
- What to do when a girl finds out you like her.
- How to handle other guys interrupting your conversation.
- The mistake most guys make when girls disagree with them.
- How attraction skills can improve all of your relationships.

---
What You Get:
- Complete access to over 17 hours of MP3 Expert interviews.

Bonus Items:
- Access to the Bonus After Event Q&A Session.
- Listen Act Attract digital audio program.
- Facebook Attraction digital audio program.
- Listen Act Attract E-book.
- Unlimited 30 day access to the Powerful Man Inner Circle.
---
Guarantee / Terms:
30 Day Money Back Guarantee
User Reviews of The Powerful Man Teleseminar
View Other Home Study Courses (Books, DVDs, CDs, MP3/ Video)