The Power Pickup Seduction Mastery Training System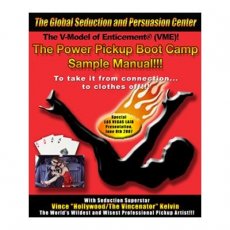 DSR Editor Rating
No Editor Review Available Yet.
Product No Longer Available.
Product Information
A pickup and seduction home training system covering all steps needed to take women from connection, all the way into taking their clothes off.
---
Experience Level(s):
Beginner
Learning Format:
DVD (Video)
Release Date:
January 01, 2008
Product No Longer Available.
---
Feedback
If you have a question or problem, ask us:
Table of Contents/ List of Topics Covered:
- Actual demonstration on how to pickup women
- Written assignments and guided visualizations
- A guide into getting laid
- New openers
- Closing and call back techniques
- Hypnotic inductions
---
What You Get:
- 16 video DVDs
- 50-page manual
---
Guarantee / Terms:
N/A
User Reviews of The Power Pickup Seduction Mastery Training System
Most Helpful User Reviews
1 of 1 people found the following review helpful
"Almost like Watching The Best Gurus Combined into One "
Ease of Implementation
10.0
Packaging/ Customer Service
9.0
Reviewed by
Brainbuster
August 05, 2016
Watching this incredible program is very helpful.
Vince Kelvin is like all the best gurus--all the way back from Ross Jeffries to present-day--all wrapped up in one man. He obviously has way better fashion than RJ (you won't find him wearing an Eric Cartman tee shirt and shorts) and Vince Kelvin's delivery is 10 times smoother than RJ's.
Vince is also aware of, respects, and embraces the more modern PUA approaches. He gives a shout-out to Mystery, for example.

He discusses AA, and Kelvin's solution is simple.
Don't wrestle with AA. Reframe it. Problem solved.
Reframe the approach, and reframe the "rejection."
One example: you are NOT approaching that "amazing" girl to find out whether she'll like you.
You are approaching her to find out whether she is amazing, and whether YOU will like HER.
Instead of asking yourself as you're walking up to her, "What if she doesn't like me??" Ask yourself, "What if she LIKES me?!" That is an incredible reframe that I've never heard anywhere else.

Another example, you are auditioning this girl. This one is great because, for me and probably most guys, when approaching a girl it feels like you are going to an audition to be judged. This one reverses that frame of mind.

Another example: You are running your own talk show and she's a guest on it. Your job is to find out what's interesting about her, and whether you should move onto the next guest.
Those are a couple examples of reframing the approach itself, so as to abolish AA.

Also reframing the rejection.
Examples, "Oh, you didn't strike me as the type of girl who has a type"
or, "Oh, I'm sorry, I overestimated your ability to perceive greatness. Have a nice day." (this one is just funny to me so I'm including it... not sure whether I'd actually say all that to a girl). You can tell when Vince says it, he REALLY means it and believes it.

In short, if you can get your hands on this, you HAVE GOT TO GET IT.
Vince Kelvin is an outstanding speaker. He's funny, entertaining, and he is constantly making off-the-cuff quips and slipping in embedded commads far more smoothly than RJ ever did (here's a funny one-- he's talking about how each tool has a context in which it is useful; how after learning a tool, the next step is to know when to use it and when not to use it, and "when you know the time is right, you just gotta put your hands on the perfect tool (at this moment Vince grabbed his crotch, lol) and then everything will go well." It was just in passing, he just continued like it was nothing. I remember RJ used to do similar stuff, but in a more creepy way and it was one-dimensional. Vince, however, has all the other fundamentals down--fashion, charm, etc.-- and also he can pepper in SS whenever he feels like it. Fantastic.


Help other users find the most helpful reviews
Was this review helpful to you?
1 of 1 people found the following review helpful
"Good intro to developing your attractiveness. "
Ease of Implementation
9.0
Packaging/ Customer Service
10.0
Reviewed by
Private
May 27, 2018
I did this course a while back. It is quite comprehensive and very inspiring. Useful tips in many areas, perhaps particularly for reading/understanding people, structuring and taking control of your language as well as things that can help you become more attractive, fun and interesting as a person.
Help other users find the most helpful reviews
Was this review helpful to you?
View Other Home Study Courses (Books, DVDs, CDs, MP3/ Video)