The Power of Being Asian: Overwhelming Attractiveness and Confidence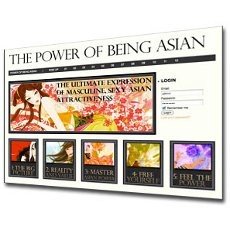 DSR Editor Rating
No Editor Review Available Yet.
Average User Rating
Product No Longer Available.
David Tian
sold the Power of Being Asian course to John Tan in mid 2010. John closed down the program in 2011.
Product Information
The "The Power of Being Asian: Overwhelming Attractiveness and Confidence" is a multimedia course that aims to help Asian Men to meet, attract, and date Asian women. This will provide you with the ideas on how to have a lasting change and how to become an authentically attractive, confident Asian man.
---
Experience Level(s):
Beginner
Learning Format:
Online Access
Release Date:
July 16, 2010
Product No Longer Available.
---
Feedback
If you have a question or problem, ask us:
Table of Contents/ List of Topics Covered:
- the "contrast principle" that's at the root of every single attractive Asian man's ability to date outside his race
- the difference between artificial game, and genuine game, and exactly why the former looks like a cheap screen door to women
- the two-step process that every man with genuine confidence and game must go through
- why the alpha Asian FOB has more success with women than the ABA or ABC
- the dead giveaway of "amateurs" who try to pass themselves off as confident
- the one thing that you must embrace in order to overcome past failures and regrets. fail to do this and you will forever have a "black hole" of doubt that will seep your confidence day by day
- the one thing that every man who's successful with women has
- two "death traps" that Asian men encounter when they're working to become more attractive to women, and why you must avoid them (and how)
- the key distinctions between how you think about attractiveness, and how women think about it
- the exact path that I took to go from chump to champ, and the one thing I did at the very beginning that got me supernaturally good in under six months
- what I do to always get the girl when I'm up against a rich, socially-connected Asian man
- where your true power comes from
- how to turn the liabilities of your personality into strengths that women absolutely love
- one totally counter-intuitive thing you can do for an instant confidence boost
- how to balance being exotic with being relatable
- how to develop actual instincts with women
- why Buddha got it right when it came to the root of all confidence
- why it's not important to be a tall, strikingly handsome man, and what's actually more important
- the best-kept secret in the "seduction community."
- detailed character breakdowns of Asian men who have achieved universal attractiveness
- the two most important things I've taught every client.
- why it's impossible to "fake" good body language, and what you must do to have naturally confident body language
- the "attraction mindset" that provides me with unshakeable confidence and unbreakable game whenever I walk into a club or bar
- five "tricks" I've learned to use whenever I'm feeling nervous or socially anxious
---
What You Get:
The Power of Being Asian System

Bonus Items:
- East Meets West - Asian Rake interview
- first month of "Rise Up" membership program (will be rebilled for $49.97 for the next 11 months if you want to stay subscribed)
---
Guarantee / Terms:
365-Day 100% Money Back Guarantee
User Reviews of The Power of Being Asian: Overwhelming Attractiveness and Confidence
View Other Home Study Courses (Books, DVDs, CDs, MP3/ Video)
"Listen In As We Share The Top Takeaways From The Best Dating Products Ever Created... Shave Years Off Your Learning Curve As You Discover What Really Creates Success With Women"
Here's just a few things we reveal in this info-packed interview:
The surefire products that are proven to work - based on 15+ years coaching men to dating success.
Why we dubbed this one product 'idiot-proof' and how it can transform a woman's reaction to you almost immediately.
Feel anxious about approaching women? Discover how to bypass that and set up a stream of dates with gorgeous women in as little as 20 minutes a week.
Dating Skills Review has been featured or quoted in: