The Porn Myth: Exposing the Reality Behind the Fantasy of Pornography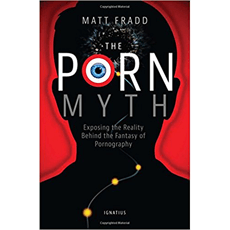 DSR Editor Rating
No Editor Review Available Yet.
Average User Rating
Go to Product Site
Product Information
"The Porn Myth" argues the belief that pornography is a harmless or beneficial pastime. It shows that pornography is destructive and offers arguments to discredit claims that defend and promote pornography.
The author utilizes the experience of porn performers and users, as well as the expertise of psychologists, neurologists, and sociologists.
This book aims to:
- Help you free yourself from porn
- Explain the neurological reasons porn is addictive
- Offer help to the parents and spouses of porn users
---
Skillsets:
Masculine Sexuality & Sexual Skills
Experience Level(s):
Beginner
Release Date:
March 15, 2017
Price:
$15.53 - $16.16
(depending on product format or options purchased)
---
Feedback
If you have a question or problem, ask us:
Table of Contents/ List of Topics Covered:
Foreword by Clay Olsen
Acknowledgments
Introduction

Porn Culture
1. Porn is just "adult" entertainment
2. To be anti-porn is to be anti-sex
3. Porn empowers women
4. There is no difference between porn and naked art
5. Swimsuit editions and men's magazines are not porn
6. Only religious people oppose porn

The Porn Industry
7. Porn producers help to make the porn industry safe for performers
8. Porn isn't slavery. The actors freely choose the lifestyles they lead
9. Porn stars are just well-rounded nymphomaniacs
10. Sure, child porn is a problem, but I watch only adult porn. No harm in that
11. I don't pay for my porn, so I'm not contributing to the porn industry

Porn and Our Sexuality
12. Women don't struggle with porn
13. Not masturbating is unhealthy for a guy
14. Porn prevents rape and sexual
15. Porn isn't addictive
16. Erotica is a healthy alternative to hard-core porn
17. Anime porn is great because it doesn't involve real people

Porn and Our Relationships
18. Porn is only fantasy: it doesn't affect our real lives
19. Married life will cure us of our porn obsessions
20. Men wouldn't turn to porn if their wives were more sexually attentive or prettier
21. Porn should be used as a sexual aid to enhance intimacy

The Struggle with Porn
22. We can't protect our kids from porn in today's world
23. I will never be able to regain my spouse's trust after sneaking around with porn
24. I will always be addicted to porn

Appendix 1: Quick Findings from the Experts
Appendix 2: Resources for Individuals, Spouses, and Parents
Appendix 3: Brain Studies on Porn Users by Gary Wilson
Works Cited
---
What You Get:

Book options include:
- Kindle $15.53
- Paperback $16.16
---
Guarantee / Terms:
See policy of product website
User Reviews of The Porn Myth: Exposing the Reality Behind the Fantasy of Pornography
View Other Home Study Courses (Books, DVDs, CDs, MP3/ Video)