The Illustrated Art of Manliness: The Essential How-To Guide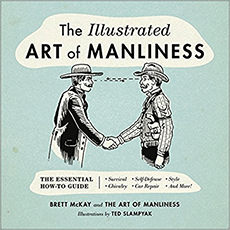 DSR Editor Rating
No Editor Review Available Yet.
Average User Rating
Go to Product Site
Product Information
"The Illustrated Art of Manliness" is a guide dedicated to the lost art of being a man. It illustrates more than 100 practical skills the modern man needs to know.
Founder of The Art of Manliness Brett McKay and bestselling illustrator Ted Slampyak aim to help men be the best they can in many aspects of life.
This book introduces guides on a wide range of subjects, such as:
- How a suit should fit
- How to fix a car engine
- How to disarm an attacker
- How to use all the tools in a toolbox
- Advice for when you're lost or in danger
- How to command the attention of a room
- How to fell a tree and start a fire anywhere
- Dressing for a first date and to a job interview
---
Skillsets:
Image, Physique & Style
Inner Game & Confidence
Experience Level(s):
Beginner
Release Date:
May 16, 2017
Price:
$10.61 - $17.00
(depending on product format or options purchased)
---
Feedback
If you have a question or problem, ask us:
Table of Contents/ List of Topics Covered:
Introduction: What Makes a Man?

Chapter One: The Adventurer
a. Fell a Tree
b. Split Firewood
c. Start a Fire Without Matches
d. Build a Roaring Campfire
e. Survive Falling Through Ice
f. Survive a Bear Attack
g. Make a Torch like Indiana Jones
h. Jump from a Speeding Car
i. Escape a Sinking Car
j. Jump from a Bridge into Water
k. Find Water in the Wild
l. Land a Plane
m. Survive a Plane Crash
n. Use Your Cell Phone as a Survival Tool
o. Paddle a Canoe
p. Build a Log Raft
q. Survive a Tornado
r. Perform the Fireman's Carry
s. Make Urban Survival Candles

Chapter Two: The Gentleman
a. Tie a Full Windsor Necktie Knot
b. Tie a Bow Tie
c. Carry a Handkerchief
d. Tie a Scarf
e. How a Suit Should Fit
f. Match a Shirt and Tie
g. Coordinate Your Shoes with Your Suit
h. Iron a Dress Shirt
i. Roll Your Shirt Sleeves
j. The Art of Shining Shoes
k. Shoe Care 101
l. Anatomy of a Dopp Kit
m. The Gentleman's Arsenal
n. Shave with a Safety Razor
o. Shave with a Straight Razor
p. Trim and Style Your Mustache
q. Roadmap to the Perfect First Date
r. Open a Door for a Woman
s. Learn to Dance
t. Help a Woman with Her Coat
u. Table Manners and Etiquette
v. Master Classic Bar Tricks
w. Grill a Perfect Steak

Chapter Three: The Technician
a. Toolbox Essentials
b. Handle a Hammer
c. Use a Crescent Wrench
d. 10 Ways to Use a Pocketknife
e. Sharpen a Pocketknife
f. A Primer on Axes: Their Anatomy and Safe Use
g. Pick a Lock
h. Tie Essential Knots
i. Break Down a Door
j. Things Every Man Should Keep in the Car
k. How a Car Engine Works
l. Drive a Stick Shift
m. Jump-Start a Car
n. Change a Flat Tire
o. Control Car Skids

Chapter Four: The Warrior
a. Do a Low Bar Squat
b. Deadlift
c. Use a Kettlebell
d. Do the Perfect Push-up
e. Do the Perfect Pull-up
f. Prisoner Workouts
g. Throw a Straight Punch
h. Throw an Uppercut
i . The Tactical Order of Getting Dressed
j. Fire a Gun
k. Escape Duct Tape Restraints
l. Walk like a Ninja
m. The Warrior Color Code
n. Develop Situational Awareness
o. Manage Stress in High Stakes Situations
p. Active Shooter Triage
q. Fight an Active Shooter
r. Defend Yourself from a Knife Attack
s. Escape Zip Tie Handcuffs
t. Escape from the Trunk of a Car

Chapter Five: The Family Man
a. Commandments of Clean Communication
b. Keep a Treasure Box
c. Deliver a Baby
d. Hold a Baby
e. Burp a Baby
f. Change a Diaper
g. Calm a Crying Baby
h. Use Your Baby as Exercise Equipment
i. Be Santa Claus
j. Entertain a Toddler Without a Smartphone
k. Treat Your Family like Vips
l. Make a Perfect Omelet
m. Be an Awesome Uncle
n. Cool Uncle Tricks
o. The World's Greatest Paper Airplane
p. Skip a Stone

Chapter Six: The Leader
a. The Five Traits of Leadership
b. The Eisenhower Decision Matrix
c. The OODA Loop
d. Develop Charisma
e. Achieve Manly Posture
f. De-Quasimodo Yourself
g. Become a T-Shaped Man
h. Undo the Damage of Sitting
i. Enter and Exit a Room like a Man
j. End a Conversation
k. Dress for a Job Interview
l. Things Every Man Should Have in His Desk
m. Run a Meeting
n. Make a Pitch
o. Basics of Office Etiquette
p. Give a Manly Handshake

Acknowledgments
Further Reading
About The Art of Manliness
Newsletters
---
What You Get:
- Kindle $10.61
- Hardcover $17.00
---
Guarantee / Terms:
See policy of product website
User Reviews of The Illustrated Art of Manliness: The Essential How-To Guide
View Other Home Study Courses (Books, DVDs, CDs, MP3/ Video)