The Dating Conference 2011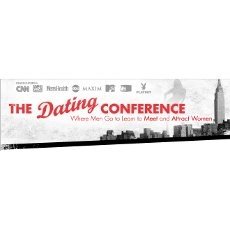 DSR Editor Rating
DSR does not provide Editor Reviews for Dating Conferences & Seminars.
Average User Rating
Product Information
A 3-day conference that will be held in New York, USA. 26 dating coaches and seduction experts teach you things that you need to know about women, sex, and dating.
---
Skillsets:
Meeting Women
Attracting Women
Inner Game & Confidence
Learning Format:
Dating Conferences & Seminars
- Multi-Company Conference
Dates:
September 09, 2011 -
September 11, 2011
Available in Following Cities:
New York (US)
---
Feedback
If you have a question or problem, ask us:
Table of Contents/ List of Topics Covered:
Class #1: A-List Confidence and Practical "Know How" to Start a Conversation With any Women

Topics to be discussed by Chris and Jonathan:
- How celebrities, top politicians, and the president use body language
- Learn The 3 Big "Confidence Cues"
- Elite Night Club Behaviors of Socialites
- 5 "Kick Me" Mistakes men make
- 7 Tips Confidence

Class #2: Become "The Life of The Party"

Topics to be discussed by DJ Fuji:
- How to strike up conversations with women
- How to win over other guys at a bar or party
- Win over rude, cold, and unfriendly women
- 5 reasons why most conversations turn boring
- The main reason men get stuck in the "Friend Zone"
- Discover the key to effective body language
- D.J. Fuji's "Fail Safe" conversation-boosters
- 2 things that you must do to be the leader of all your conversations with women

Class #3: "Behind Locked Doors" Panel of Models, Actresses and Hot Women

To be discussed by "selected women"
- What Women really want
- How their last boyfriend got them into bed
- Step-by-step game plans
- How to make one-night-stands happen
- How to get your Ex back
- How to create a "friends with benefits" relationship

Class #4: From the Streets of NYC

To be discussed by Justin W and Glenn P
- How to start a conversation with a woman
- Live video demonstration from the experts
- "Same Day Sex"
- 5 things that will make women start "checking you out"

Class #5: Ninja Sex Skills Crash-Course

To be discussed by Daniel Rose
- Don't Blow The Sex on The "First Time"
- How to use Daniel's patented system
- Discover Dan's 5 Orgasm Techniques
- The truth about what women really want
- Dan's "Lethal Orgasm Shortcut"
- Learn the sex positions women hate
- Why a woman's brain her biggest sex organ
- Get her to act out your sexual fantasies
- 5 Simple Sexual stamina techniques

Class #6: Nightlife Insider

To be discussed by Zach H., Chris L. and Magic
- High status behaviors of the New York City elite
- How to talk your way into any club
- Spotting a girl looking to hookup
- A-List body language tips
- Learn how to get her back to your place
- How to persuade women to want their girlfriends to sleep with you
- 3 magic items you must carry

Class #7: Celebrity Fashion Panel Featuring Erin S. and Ryan B.

To be discussed by Erin S. and Ryan B.
- 10 fashion mistakes that turn women off
- How to get women to talk to you without even opening your mouth
- Which colognes get guys laid the most?
- Learn which "looks", styles, and clothing to attract the 8 different personality types of women
- 2011's top 5 looks for Men
- Ryan's private list of "Conversation Starter" clothing





---
What You Get:
3 Days Seminar
- Friday: 5-8pm
- Saturday and Sunday: 10am-8pm

2 week trial of Back Stage Pass interview series ($27.00/month after the trial. Cancel anytime.)

Bonus Item:
- Limited-Edition NYC Nightlife Guide

Optional (available as an add-on):
- Training "In Field" with Coaches
- Access to Complete Video Footage
---
Guarantee / Terms:
Guarantee:
Return Policy: Refunds are not available.

Ticket Transfer Policy: All tickets are transferable at any time (up to 10 days before the event begins). Contact event organizer.

Available Packages:
1. All Access Ticket - $381
- Full access to the conference and an $800 goody bag

2. Premium Ticket - $1491
- All Access + Infield Training + Front Row Seat

3. Online Ticket - $141
- Live streaming online access to the full conference.

User Reviews of The Dating Conference 2011
View Other Dating Conferences & Seminars