The Breakup Survival Guide for Men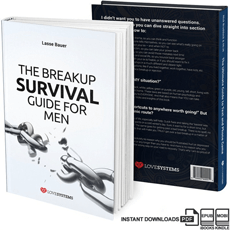 DSR Editor Rating
No Editor Review Available Yet.
Go to Product Site
Product Information
"The Breakup Survival Guide for Men" is designed to help men understand the dynamics and causes of their relationship breakup in order to get over it and move forward. It helps you to learn the universal breakup laws in order to take back your power.
In the guide, Nick Savoy shows you how to get your life back on track with advice and tools that work in real life.
---
Skillsets:
Relationship Skills
Experience Level(s):
Beginner
Release Date:
July 25, 2014
---
Feedback
If you have a question or problem, ask us:
Table of Contents/ List of Topics Covered:
- How to remove yourself from drama
- When and when not to contact your ex
- Focusing on the important things in your life
- If you should fix that relationship and how to do it
- Avoid the victim mentality and get your power back
- Stop lying to yourself and face the reality of the situation
- Asking others for help, and helping others going through a bad breakup
- Understanding what went wrong, what worked, and what didn't in the relationship
- Models, exercises, and tools to see yourself and your relationship in a better light
---
What You Get:
eBook
---
Guarantee / Terms:
See policy of product website
User Reviews of The Breakup Survival Guide for Men
Most Helpful User Reviews
2 of 2 people found the following review helpful
"Well worth a read if you've been dumped"
Ease of Implementation
3.0
Packaging/ Customer Service
10.0
Reviewed by
Whitewall69
January 11, 2015
For those of you who have just been dumped and don't want to read this entire review let me just tell you this book is good...very fucking good! If you want some solid advice on what do next regarding your communications/actions with your ex and steps you need to take: to stop (or at least lessen) the pain and move on with your life buy this book now. Also grab a pen and paper because you WILL need to take notes and do some written exercises (trust me they help)
I bought this book about a week after my girlfriend dumped me. At the time I was devastated and my head was utterly scrambled. At times I would be down in the dumps wishing, hoping and plotting to get my girlfriend back, 5 minutes later I would be feeling relieved the relationship was over, 5 minutes later I would be excited about being single and 5 minutes later I would back crying again. In short I was not in a good place.
I was pretty skeptical when I bought the book, thinking it would be written by a love systems instructor and would simply be promoting a go book a bootcamp, man up and fuck 10 other girls type attitude. This was very much not the case although there is an element of having to man up. The book is actually written by relationship adviser from Denmark who is external to love systems. It helps that it is written by a man for men because so much of the breakup stuff out there is wishy washy shit written by women for women.
The book itself is very logical but very confronting..which is good. It gives you tough questions and requires that you be brutally honest with yourself. Reading the book was a massive eye opener for me. It made me see the reality of what my relationship was versus the fantasy I had created in my head. My head had been stuck in the sand for a long time, reading this book really made me see the trees from the wood. That was my biggest take away from it. It also made me stop feeling like a victim and gave great advice on what to do next and on how to move on in life (HINT – go fuck 10 other girls is not the answer). Another area that the book deals with is how you should (or should not as the case is more likely to be) interact with your ex, when you are ready to contact your ex and when it is a good idea (it probably isn't) to get back with your ex. The advice given in this department is top notch!
Between answering questions (totally truthfully), doing exercises and taking notes, I managed to fill 9 A4 pages. The questions are confronting and following the advice is tough – it requires massive discipline and will power.
Will reading this book instantly cure you of your heartache? Of course not, this unfortunately will take time. But the book will certainly speed up your healing process. For me the book: sped up my healing process, unscrambled my head and gave me a clear and honest picture of what the reality of my situation and my relationship. It gave me a guide on how to continue on with my life. It is by no means a magic bullet but it will be of massive help to you in speeding up the process and getting your life back on track.

Help other users find the most helpful reviews
Was this review helpful to you?
View Other Home Study Courses (Books, DVDs, CDs, MP3/ Video)