The Art of People - 11 Simple People Skills That Will Get You Everything You Want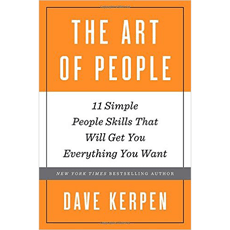 DSR Editor Rating
No Editor Review Available Yet.
Average User Rating
Go to Product Site
Product Information
In "The Art of People", New York Times bestselling author Dave Kerpen argues that the best way to win success and influence is to develop the best people skills. His book aims to show you how to:
- Teach, lead, and inspire
- Build the right relationships
- Understand and connect with others
The author offers 53 tips towards mastering the 11 people skills to get what you want in your personal and business life, and winning over people. The focus is more on what people are willing to do for you as apposed to what you can do for yourself.
Some of the areas covered:
- How to blow off the right people
- Remaining top of mind on a daily basis
- A key to networking that is not communicated
- The advantage of being the one breaking the bad news
- The most important question to ask in a meeting to win attention
---
Skillsets:
Lifestyle & Social Skills
Experience Level(s):
Beginner
Release Date:
March 15, 2016
Price:
$17.29 - $22.85
(depending on product format or options purchased)
---
Feedback
If you have a question or problem, ask us:
Table of Contents/ List of Topics Covered:
Understanding Yourself and Understanding People
- Myers-Briggs Means Nothing: This Means Everything
- How to "Get" Anyone (Even If You Don't Like Him)
- How to Understand Someone Better Than You Do Your Friends (in Just Three Minutes)
- Be Interested Instead of Interesting
- Most People Are Lonely: Help Them Feel Connected

Meeting the Right People
- Wear Orange Shoes: The Simple Keys to Networking That Nobody Talks About
- How to Meet Just About Anyone
- Create Your Own Advisory Board
- Hire Slow and Fire Fast – at Work and in Life
- Blow Off the Right People

Reading People
- Stop Waiting to Talk and Start Actually Listening
- Words Mean Little: Listen with Your Eyes Not Your Ears
- Always Accept the Glass of Water
- Bluffing is Only for Poker
- The One Trick That Seems Ridiculous but Works EveryTime

Connecting with People
- Validate, Validate, Validate
- The Most Important Question You'll Ever Ask in a First Meeting
- Who You Are Online is Who You Are in Life
- Crying Is for Winners
- The Platinum Rule Always Trumps the Golden Rule

Influencing People
- Help People Come Up with Your Idea
- Passion Is Nothing Without Persistence
- Don't Sell It, Storytell It
- The Paradox of Persuasion: Shut Up
- Walk into Every Rom Like You Own It
- You Never Get What You Don't Ask For

Changing People's Minds
- It's Better to Be Happy Than Right
- Always Manage Up
- Go Beyond the Humblebrag
- Make Time Your Friend

Teaching People
- Be a Model
- Soar with Your Strengths – and Theirs
- Don't Be a Teacher (or a Manager): Be a Coach (and a Student)
- Don't Hold Yourself Accountable

Leading People
- There's No 'I' in Team, but There is an 'I' in Leadership
- Mirror Neurons, and How a Good Mood Goes a Long Way
- How to Get Everyone to Want to Be Around You, with One Word (Maybe Two)
- Always Be the One to Give the Bad News
- Get High Before Every Meeting
- Everybody Wants to Be a Leader

Resolving Conflict with People
- If You're There to Help, You're There to Win
- Let Cooler Heads Prevail
- Let Go to Get What You Want
- Put On a Bulletproof Vest (or the Simple System That Saved My Marriage)

Inspiring People
- Remember That It's Not About You
- Be Unoriginal. Part 1: You Can Quote Me on This
- Homelessness: The Instant Cure for Any Bad Mood
- Don't Let One Unkind Word Destroy Years of Praise

Keeping People Happy
- Make It a Honey Day
- Go Back in Time and Write a Thank You Card (Yes, a Real One)
- An Intro a Day Goes a Long Way
- Buy Him a Bonsai
- Be Unoriginal. Part 2: How to Remain Top of Mind for Thousands of People Every Day

Conclusion: Getting Everything You Want in Life Is All About People and the Ultimate Paradox

Acknowledgments
Appendix A: Enneagram Assessment
Appendix B: Inspirational Quotes
---
What You Get:

Book options include:
- Hardcover $17.29
- Paperback $18.12
- Kindle $22.85
---
Guarantee / Terms:
See policy of product website
User Reviews of The Art of People - 11 Simple People Skills That Will Get You Everything You Want
View Other Home Study Courses (Books, DVDs, CDs, MP3/ Video)