The Art of Mingling - Fun and Proven Techniques for Mastering Any Room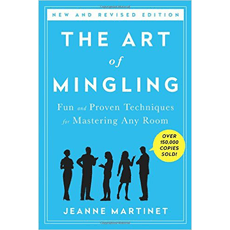 DSR Editor Rating
No Editor Review Available Yet.
Average User Rating
Go to Product Site
Product Information
In this revised and updated version of "The Art of Mingling", Jeanne Martinet shows you how to master a variety of social situations. This book is for people suffering from minglephobia.
Martinet offers a system for overcoming fears and enjoying any type of social or business gathering. The book includes techniques, tips, lines, maneuvers, and illustrated examples.
The book teaches:
- Basic survival strategies
- Opening lines that work
- The etiquette of escape
- Avoiding smartphone use
- How to be a good listener
- Faux pas recovery techniques
- How to follow up online correctly
- Tools and rules for a flowing conversation
---
Skillsets:
Lifestyle & Social Skills
Experience Level(s):
Beginner
Release Date:
October 20, 2015
Price:
$9.99 - $12.66
(depending on product format or options purchased)
---
Feedback
If you have a question or problem, ask us:
Table of Contents/ List of Topics Covered:
Introduction: Why Learn the Art of Mingling?

Overcoming Minglephobia
- A Word About World Wide Web-Headedness
- How to Fake It Till You Make It
- Four Survival Fantasies for the Truly Terrified
- Choosing Your First Clique

Open Sesame: Making a Successful Entrance
- Get Ready, Get Set
- The Four Basic Entrance Maneuvers
- Opening Lines for Every Mood

Now What? Tools and Rules for Continuing The Conversation
- Recovering from a Flubbed Opening
- Career Talk: Yes or No?
- Ten Tried-and-True Tricks of the Trade
- To Bemoan or Not to Bemoan
- The Secret of Listening

The Great Escape: Bailing Out and Moving On
- When to Move
- The Etiquette of Escape
- The Getaway: Twelve Exit Maneuvers
- Emergency Escape Hatches

Fancy Footwork: Advanced Mingling Techniques
- Mingling Styles for the Well-Schooled
- Gimmicks for the Confident Mingler
- Sophisticated Body Business
- Conversation Pieces: Using Props
- Playing Doubles: Team Mingling

The Tailor-Made Mingle: Instructions for Specific Circumstances
- Navigating Current Events
- Ahoy Polloi: Mingling in Public Places
- The Business of Mingling for Business
- Mingling for Love
- Hosting: How to Please Your Guests Every Time

Handling Difficult Situations
- Lie or Die
- Dealing with Faux Pas
- Negotiating Tough Rooms
- The Sit-Down Mingle
- Quick Fixes for Dire Circumstances

The After-Party: Instructions for Following Up
- How to Follow Up
- Great Expectations

From Insecurity to Enlightenment: The Tao of Mingling
---
What You Get:

Book options include:
- Paperback $9.99
- Kindle $12.66
---
Guarantee / Terms:
See policy of product website
User Reviews of The Art of Mingling - Fun and Proven Techniques for Mastering Any Room
View Other Home Study Courses (Books, DVDs, CDs, MP3/ Video)