Social Capital Networking Intensive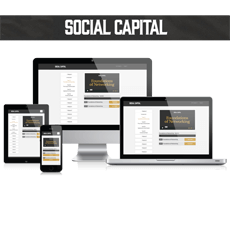 DSR Editor Rating
No Editor Review Available Yet.
Average User Rating
Go to Product Site
Product Information
"Social Capital Networking Intensive" is a by invitation only 10-week program (8 intensive units). It is designed to help you develop a strong and valued social circle including:
- How to direct conversations
- A strategy for approaching new people
- Positioning yourself to attract connections
- Developing your social circle building skills
Also included:
- Video and audio training
- Workbooks and training materials
It is intended to help you develop and strengthen connections and alliances, build confidence, and establish high-profile contacts.
---
Skillsets:
Lifestyle & Social Skills
Experience Level(s):
Beginner
Learning Format:
Online Video
Download (Audio)
Release Date:
January 01, 2015
Price:
$1,295.00 - $1,795.00
(depending on product format or options purchased)
---
Feedback
If you have a question or problem, ask us:
Table of Contents/ List of Topics Covered:
Module #1 – Social Capital Strategy
- Representing yourself to your current inner circle
- How to develop the skills to strengthen and maintain relationships
- Understanding and maintaining the value of 2-way bonds with important people
- Becoming a great relationship-builder instead of a "networker"
- Building your social capital asset

Module #2 – The Four Essential Mindsets
- How to abandon me-based thoughts
- Asking the appropriate questions at high-profile events
- Using the double opt-in strategy to tap into your confidence
- Taking inventory of the best engagement qualities
- An important approach to how you communicate
- Successfully engaging with high-profile people

Module #3 – How to Meet People
- How to follow up with important contacts that form lasting alliances
- Creating new connections with higher-quality people
- Integrating your top influencers' approaches into your life
- Developing the skills to connect with people

Module #4 – Creating a Network Strategy
- Developing your ambition into a strategy to help you achieve your life goals
- Integrating what you've learned into your weekly schedule
- Discovering your ideal interaction lifestyle
- The right ways to seize opportunities

Module #5 – How to Care for and Maintain Your Network
- How to connect deeply with your network with control
- Sustain rapport
- Making the most impact with your online engagements

Module #6 – How to Fix Networking Pitfalls
- Ways in which your relationships can take a downturn
- Understanding human bias and the damage to your network
- Learning from the pros in relationship building

Module #7 – How to Make High-Profile Friends
- Becoming someone that high profile people love to be around
- How to effectively make modules 1-6 work for you
- Using the Social Capital strategy to authentically establish and develop relationships

Module #8 – How to Get a World-class Mentor
- Finding a mentor the Art-of-Charm way, and value to be worth it to a great mentor
- How to engage your future mentor
- Creating and inventory of what is to be discussed with your mentor
---
What You Get:

Basic Version
- Access to 32 training videos
- 32 Audio downloads
- 8 training manuals
- 24+ workbooks
- 32 All Intensive videos transcripts
- 8 weeks of coaching classes

VIP Level
- Everything included in Basic Version
- 4 Exclusive Q&A Sessions
- VIP Slack Membership
- 8 executive summaries
- 10 one-hour classes with Social Thought Leaders
- Private e-mail for questions to master material
- Complimentary upgrades
---
Guarantee / Terms:
90 Day Money Back Guarantee

Basic Version: 12 payments of $120 or 1 payment of $1295
VIP Upgrade: 3 payments of $695 or 1 payment of $1795
User Reviews of Social Capital Networking Intensive
View Other Online Membership Programs