She Comes First: The Thinking Man's Guide to Pleasuring a Woman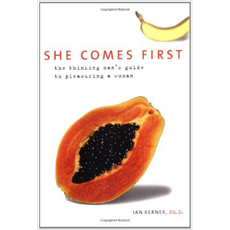 DSR Editor Rating
No Editor Review Available Yet.
Go to Product Site
Product Information
This book gives men an understanding of female sexuality. Written by Ian Kerner, clinical sexologist and evangelist of the female orgasm, it functions as an encyclopedia of female pleasure with techniques for satisfying women.
It aims to level the playing field towards mutually fulfilling intimacy.
---
Skillsets:
Masculine Sexuality & Sexual Skills
Release Date:
May 25, 2004
Price:
$8.00 - $12.33
(depending on product format or options purchased)
---
Feedback
If you have a question or problem, ask us:
Table of Contents/ List of Topics Covered:
Introduction: Confessions of a Premature Ejaculator

Part I: The Elements of Sexual Style
- She Comes First: The Courtesy That Counts
- Her Clitoris: The Little Engine That Could
- Think Outside Her Box
- The Female Orgasm: Keep it Simple
- The Tongue Is Mightier Than the Sword
- Her Inner Goddess
- Avoid Freud
- What's in a Name?
- Now You See It: Female Sexual Anatomy, Part 1
- Now You Don't: Female Sexual Anatomy, Part 2
- Avoid "G-Spotty" Logic
- When Raindrops Keep Falling on Your Head: Female Ejaculation
- How Wet is Wet?
- Aristotle and the Poetics of Arousal
- A Synopsis of Female Sexual Response
- Scent and Sensibility
- We've Come a Long Way...
- But Proceed with Caution
- Eat Right
- The Cunnilinguist Manifesto

Part II: Rules of Usage
- A Note on the Play Process
- Foreplay: A Lexicon of Relevant Terms
- Introducing Coreplay
- Form Follows Function: Getting into Position
- A Quick Refresher of the Top Ten Hot Spots in the Clitoral Network
- Grand Openings: the First Kiss
- Establishing Rhythm
- Developing Tension, Part 1
- "Time Flies"
- Developing Tension, Part 2
- Escalating the Action, Part 1
- Two's Company
- An Interlude
- Escalating the Action, Part 2
- A Stitch in Time
- Preorgasm, Part 1
- Preorgasm, Part 2
- Posterior Pizzazz
- Preorgasm, Part 3
- A Note for Those Stuck Without an Ending
- The Female Orgasm: Expanding Your Vocabulary
- Moreplay: She Comes Again (and Again)
- Seamless Transitions
- Achieving Simultancity
- Don't Forget Your Epilogue

Part III: Putting it All Together
- The Substance of Style
- Routines: A Cheat Sheet
- Routines: Beginner to Advanced

---
What You Get:
Book options include:
- Hardcover $8.00
- Kindle $11.49
- Paperback $12.33
---
Guarantee / Terms:
See policy of product website
User Reviews of She Comes First: The Thinking Man's Guide to Pleasuring a Woman
Most Helpful User Reviews
3 of 3 people found the following review helpful
"Big talk and rep but not much substance!"
Ease of Implementation
3.0
Packaging/ Customer Service
6.0
Reviewed by
Explorer Matt
June 05, 2015
This book has this big reputation and hundreds of positive reviews on other sites so I was really excited when I picked it up from the bookstore. When I got into it though I was pretty quickly skimming the pages and looking but not finding any practical tips. There were some here and there. I don't get why this is so popular, well maybe I get that most people have no clue lol... seriously... this book has a bit on why go down on your girl but very little on techniques or anything mind blowing at all.
2 of 3 people found the following review helpful
"Set me off on another road"
Ease of Implementation
5.0
Packaging/ Customer Service
10.0
Reviewed by
Captain Pap
May 30, 2015
Read this book a couple of months ago and I'm slightly embarrassed to say that it has been revolutionary for my wife and I. Why am I embarrassed? Well, it's not like the author is telling you anything all that revolutionary - I did learn some things about the clitoris that I wasn't aware of and how to approach it of course. What I'm saying is though I feel like this is something obvious a married man of 10 years plus should've known. I'm so glad I picked this book up, my wife and I were going through a bit of a rough patch and sex was really becoming a non-event as in neither of us was that motivated and particularly her. This book gave me inspiration to explore my sex life and she has responded really well to it. Every man should read this book if he isn't already on top of cunnilingus.
1 of 1 people found the following review helpful
"A lot of pages to say not very much"
Ease of Implementation
4.0
Packaging/ Customer Service
7.0
Reviewed by
Adrenaline Junkie
June 07, 2015
The good thing about this book is that it's cheap so I felt like I had nothing to lose by checking it out.

The bad thing is that its so long and I felt like it took forever to read it. at the end I was just kinda like ok yeah, there's nothing really here I haven't heard already.

I mean if you don't know that women like you to eat them out then you musta been living under a rock or something... who doesn't know that sh%t?!

I don't think you can learn to much technique from a book like this and I think dvd programs like 2 girls teach sex make it easier to learn cos you can actually see what it is they are doing.

if you're more of like a science geek or something then you might like this book more but for me I found it kinda boring and wanted something more practical.
View Other Home Study Courses (Books, DVDs, CDs, MP3/ Video)