Seduction MMA: The Ultimate Hybrid Pickup Artist System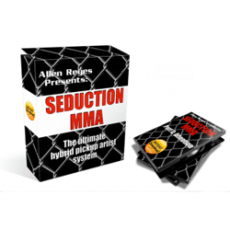 DSR Editor Rating
No Editor Review Available Yet.
Product No Longer Available.
Product Information
This is a hybrid system from Gunwitch (Allen Reyes). It teaches you how to be a man who really understands women by learning from Seduction MMA, including everything you need for the beginner to the intermediate.
---
Skillsets:
Meeting Women
Attracting Women
Learning Format:
Download (Audio)
Release Date:
March 01, 2013
Product No Longer Available.
---
Feedback
If you have a question or problem, ask us:
Table of Contents/ List of Topics Covered:
Audio 1: Introduction of what you are about to learn.
Audio 2: Universal understandings (for beginners)
Audio 3: Attention
Audio 4: Immersion
Audio 5: The science behind it all
Audio 6: Key 1 social frame
Audio 7: Key 2 emotional stimulation
Audio 8: Key 3 sexual arousal and escalation
Audio 9: Learning it all and extras
---
What You Get:
9 audio downloads with a total of 10 hours
---
Guarantee / Terms:
30 Days Money Back Guarantee
User Reviews of Seduction MMA: The Ultimate Hybrid Pickup Artist System
Most Helpful User Reviews
10 of 10 people found the following review helpful
"A sure-fire way to improve"
Ease of Implementation
10.0
Packaging/ Customer Service
8.0
Reviewed by
Tyrsheart
May 28, 2013
I'll start off with the bad points:

1) it's not that cheap. However, it's still less than 10 dollars per hour.

2) there's a lot of content and I would have liked if he had cut the program into smaller chunks as each track is 1h long. It would have been a little more practical as I like to listen several times to that kind of audio.

Now, let's look at the good points. Seduction MMA gives you really useful tools to improve your game. The product starts with an hour of inner-game/mindset which will help beginners to understand the most important aspects of male-female relationships. But the real value I got from Seduction MMA lies in the latter parts of the program, as I consider myself as an intermediate guy.

Gunwitch doesn't only give you techniques to use in-field but also some tips on how to make them work best. He encourages you to use what works for you and, if you already use another method, you will not have to dump it to re-learn something new as his stuff will merge with your current skills and supercharge them. The best characteristic of the program is its flexibility as you can really change it to fit your own style.

I got tons of little pieces of advice that helped me correct the mistakes I've been making. Now, when I open, the sets just seem to hook by themselves because I know the most effective way to open. Before, I had to work harder to keep them interested. Same with the later stages of the interaction.

He comes up with an original model of the seduction process that I find really interesting and focuses on the fundamental points of seduction. His method is not really flashy, he goes straight to the point and only uses what's effective.

He explains everything in detail and he's very clear so it was quite easy to understand for a non-native English speaker like me.

He also dedicates a whole track to the learning process and emphasises the fact that you do have to approach a lot in order to improve. No rejection-proof BS here although I didn't really get rejected while using his material (the worst interactions ended up in flakes). He gives you missions that build your skills in a step-by-step way. Some of the missions were really fun and challenging so I think newbies will enjoy the learning process. I sure did.

Bottom line: I'd recommend it to everyone willing to improve their game.
Help other users find the most helpful reviews
Was this review helpful to you?
4 of 4 people found the following review helpful
"Seduction MMA is a good product"
Ease of Implementation
8.0
Packaging/ Customer Service
9.0
Reviewed by
jumping jacks
May 26, 2013
Seduction MMA begins with mythbusting and correcting some commonly held, but misinformed beliefs. It sets realistic expectations, and takes you down a peg if you you have an ego, and builds you up if you have low self-esteem. It does that by putting things into perspective, like how you could expect to be rejected, but nothing about that rejection stops you from trying to get laid with a new woman, they're not going to see your track record, and you just don't know what's going on in a woman's life to say what a rejection means about you. Gunwitch has an amazing ability to put things into perspective and has a solid grounding in reality. He isn't politically correct and tells it how it is.

You can't argue with his logic on looks. If there was an objective scale for attraction, then the species would be heading down a path lacking genetic variation. He's so right and if you look at the cheetah (feline species which severely lacks genetic variance), you would realize we don't want to go down their path. Gunwitch's belief is that we are all someone's "10," absent deformity or some outright repulsor. If you've ever sat around, saying to your friends, "I'd do her", you'd have already rejected the idea idea of an objective scale because of disagreement. He just calls attention to it. He's spot on here and it's fundamental to good game. I only wish he had more greatly gone into the science of it all. I understand for an audio book, you can't get much in the way of academics. But I would like to one day see some sort of real research piece out of this guy.

Gunwitch has immense strength in putting things into perspective, and challenging conventional thinking. He avoids political correctness and tells it like it is. He is about effective influence, not about being thought well of, not being looked up to. His techniques are insiduous, under the radar, grounded in human behavior, and are results oriented. They're not going to get people to think you're amazing, the pinnacle of society, or the envy of your milieu. They are there make opportunities to get laid, take these opportunities, and maximize results, and there is an understanding that you will get rejected, but you will also get results. Even if you don't care to get laid, conceptually and philosophically, he is worth reading.

A lot of the course simply prevents you from tripping yourself up. If you read the popular magazines, listen to advice you hear from family and friends, and use the internet for solutions, this is important. People are like parrots, they repeat things without questioning them and actually believe what they hear. That's just how it is. Gunwitch doesn't work that way, he's a skeptic and reflects and thinks through the bullshit, puts things into perspective and challenges. He lays out his thinking and it makes sense if you think about it.

Gunwith advises a lot of reflection and pushes heavily toward taking action. Rather than scoffing at students, he's sympathetic and uses many mothering techniques to help students begin to take action. This is hilarious, given how tough a son of a bitch he seems to be, but he really means well for his students and tries to get them all to take action with his approach.

He recommends reflecting on your circumstance, situation, putting things into perspective, walking through your predicament, remaining level headed, and avoiding being emotional. For example, one guy is sad his wife is cheating on him. Another guy is happy because it makes child custody and divorce more favorable. Se he's about reframing and being resourceful in how you read a situation and in your approach to a situation.

His Emphasis on taking action and doing is a big part of the equation. You don't need mental mastery to take action. Don't expect amazing results right away. Expect to improve and enjoy the process. There is no need to be spectacular at any level of game, and in fact, if you are too smooth, you will have to tone down your game to not come off as a manipulator.

The three pillars of his method are:
Sexual arousal
Social Frame
Emotional Stimulation.
Don't neglect any of these. The way he fleshes these out is interesting and makes sense on a human level. I think his influence method is applicable outside just getting laid.

One thing I thought was really important that he stated:
You're not victimizing women by trying to have sex with them. He figures most readers would feel guilty over wanting to get laid. Personally I see it his way, women like sex and you're not victimizing women with consensual sex. So he's a champion for an egalitarian approach to male-female sexuality.

Lastly, he offers a differentiated approaches tailored to different women. However, I'm unsure how well most will be able to differentiate their approach.

Overall, I'm satisfied with my purchase. 100 bucks is pricy but inflation explains it. He's one unique guy in terms of his perspective, thought process, ability to reflect and reframe. Very creative. I think it's worth a listen if you want to get laid. It's also worth a listen if you want to improve your influence in other fields and expand your thinking. Gunwitch understands influence, cuts through the bullshit, takes pride in his understanding and tells it how it is. Super product. Like I said tho, he needs to write something out on the scientific parts to please readers such as myself with an intellectual interest in the topic as well.

On the length of the audio course: it's deceptively long and detailed. I thought I would get the program done quickly when I downloaded it. But there is a lot of content and I had to repeat some parts. It's not because Gunwitch communicates poorly. He's actually really content dense and says a lot. There is no fluff filler. You will need to pause and reflect upon his work. Recommended highly.
Help other users find the most helpful reviews
Was this review helpful to you?
View Other Home Study Courses (Books, DVDs, CDs, MP3/ Video)