Real Social Dynamics Bootcamp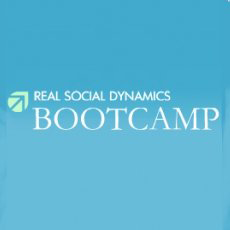 DSR Editor Rating
DSR does not provide Editor Reviews for Coaching & Mentoring.
Go to Coaching Site
Coaching Program Information
Real Social Dynamics bootcamps were one of the earliest to be brought to market when TD (Owen Cook) and Papa (Nick Kho) first toured the U.S. in 2003. Since many instructors have been added are the bootcamps are now available in virtually all major cities across the world.
---
Skillsets:
Meeting Women
Attracting Women
Experience Level(s):
Beginner
Intermediate
Advanced
Learning Format:
Coaching & Mentoring
- Standard Bootcamp
Release Date:
January 01, 2003
Price:
$1,500.00 - $2,500.00
(depending on product format or options purchased)
Available in Following Cities:
Amsterdam (Holland) • Auckland (New Zealand) • Austin (US) • Berlin (Germany) • Boston (US) • Brisbane (Australia) • Buenos Aires (Argentina) • Calgary (Canada) • Chicago (US) • Dallas (US) • Dublin (Ireland) • Edmonton (Canada) • Hong Kong • Houston-TX (US) • Las Vegas (US) • London (UK) • Los Angeles (US) • Melbourne (Australia) • Monterrey (Mexico) • New York (US) • Orlando-FL (US) • Ottawa (Canada) • Philadelphia (US) • Portland (US) • Sacramento (US) • San Francisco (US) • St. Louis (US) • Stockholm (Sweden) • Sydney (Australia) • Tallahassee (US) • Tokyo (Japan) • Toronto (Canada) • Vancouver (Canada) • Washington D.C. (US) • Zurich (Switzerl
---
Feedback
If you have a question or problem, ask us:
Table of Contents/ List of Topics Covered:
- What it means to be natural
- Development of 'inner game'
- Live demonstration of attractive behaviors
- Progress feedback identifying and how to build on your natural personality
- Explanation of the different scenarios that come up when approaching women
- Access to RSD's knowledge base of opening conversation lines, humor techniques
---
What You Get:
- Three days of coaching
- Average instructors - student ratio: 1-3
- Bonus: 2 RSD Mastermind Audio CDs
---
Guarantee / Terms:
- Prices differ according to the city in which bootcamp is held.
- Full money back guarantee. Must attend the entire program and contact your instructor.
User Reviews of Real Social Dynamics Bootcamp
6.0 out of 10 stars
Share your thoughts with other users:

Most Helpful User Reviews
View all user reviews
Other Top Rated Dating Coaching Bootcamps