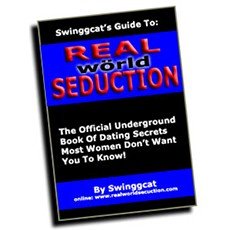 DSR Editor Rating
Product No Longer Available.
Editor Review
4 of 4 people found the following review helpful
"One of the Original Foundations of Attraction Technology"
Ease of Implementation
5.0
Packaging/ Customer Service
4.0
The Good
The book captures the heart of the innovative approach and concepts that made Swinggcat one of the early success stories of the pick up community.
The concepts are relatively easy to understand, and can be applied to your interactions with women if practiced. Today Swinggcat's concepts are embedded in a lot of his peers' products.
The Bad
These techniques are not as relevant for less attractive or less confident women.
The material is challenging to implement in your life for some because it requires a certain amount of verbal fluidity and wit to implement effectively. Many people have difficulty implementing effectively.
Some people have had difficulty with the customer service on Swinggcat's website.
The Bottom Line
This book has now been replaced by the 2nd edition - see the review
here
.
This original book was a good purchase for the intermediate who needed to improve their understanding of attraction. Swinggcat's concepts and techniques are some of the foundations of the pick up artist skillset known today.
FULL DETAILED REVIEW
The techniques described are very effective, in particular where it comes to the most attractive women and sexual women. The two main techniques explained in the book are 'Prizing' and 'Push and Pull' (also known as 101). Prizing has enabled thousands of pick up artists to attract much more attractive women than they had previously been capable of. It has been demonstrated over the years to be highly effective at instigating women to become sexually aggressive with men, and has led many men into 'sexual adventures' that were previously outside of their definition of what was possible. In more recent years the prizing and push and pull approaches have been found to be less effective in connection with longer term relationships, if over used, and thereby destroying what is known as 'comfort and trust' an essential ingredient of establishing the groundwork for relationships with women. Nonetheless, when implemented appropriately these techniques are extremely effective.
Implementation requires a certain ease with words when with women, because of the sophistication of the approach. Swinggcat describes the outline of his approach, and leaves it to you to use your creativity to implement it. I.e. pick up lines or routines are not a big part of this book. This is positive for the long term use of his concepts, however many students fail to work through the first difficult stage of implementing his teachings.
This book represents one of the original foundations of knowledge in the pick up community. It is the root of many copycat type products, or products that have used Swinggcat's material in later years. 'Prizing' and 'Push and Pull' are core techniques that have today become often used tools in the portfolio of techniques of the best dating masters and gurus.
The book is very basic in its format. Some people have had customer service issues with Swinggcat's website. It is not expensive, given the value that the product contains in content.
Help other users find the most helpful reviews
Was this review helpful to you?
Product Information
This book was updated with the release of Real World Seduction 2.0. Check it out here. The book describes Swinggcat's original approach to pick up, which became popular in the seduction community in 2004 when Swinggcat began getting extremely aggressive attraction with women where he was escalating sexually within minutes of meeting them. This was unheard of at the time, and was a breakthrough for the seduction community.
---
Skillsets:
Attracting Women
Release Date:
August 04, 2003
Product No Longer Available.
---
Feedback
If you have a question or problem, ask us:
Table of Contents/ List of Topics Covered:
The book is broken down into chapters which explain these aspects of his approach:
- Being the Prize and 'Prizing'
- Using Push and Pull (also known as 101)
---
What You Get:
eBook
---
Guarantee / Terms:
Billed $1 on download, in 7 days if not returned you are billed full amount.
User Reviews of Real World Seduction
Most Helpful User Reviews
View Other Home Study Courses (Books, DVDs, CDs, MP3/ Video)