Review Detail
Home Study Courses (Books, DVDs, CDs, MP3/ Video)

19 of 21 people found the following review helpful
"Great Product Full Of Inspiring Wisdom And Practical Ways To Increase Your Confidence"
Ease of Implementation
9.0
Packaging/ Customer Service
8.0
Reviewed by
Jackson Hunter
September 16, 2013
The Good
Very realistic, practical advice on how you can increase your confidence. Hypnotica has a lot of experience with both dating and self-help in general, and his knowledge is based on book learning as well as real-world experience. While the program is geared towards improving your success with women, it really is applicable to improving all areas of your life. The hypnosis sessions are very relaxing.
The Bad
There isn't really a lot to find fault with here. It's tough to evaluate the effectiveness of the actual hypnosis sessions, as in all likelihood the degree to which they work will vary from person to person.
The Bottom Line
This is an excellent product that really gets to the heart of what true confidence is. The audio lessons are quite short, but packed full of useful information. The exercises start off quite easy and build progressively so that you will challenge yourself and grow.
This product doesn't cover anything in terms of 'outer game' such as how to talk to women, so if that's what you're looking for you won't find it here. But if you want a way to improve yourself and have people respond to you more positively, this is a product that you will want to buy.
FULL DETAILED REVIEW
The Collection of Confidence is made up of five CDs that contain exercises to complete, followed by a meditation/hypnosis session designed to imprint what you've just learned. There are also two bonus CDs that contain extra hypnosis sessions. (Note: The course is provided as audio you can listen to in the member's area or download as mp3 files, not actual physical CDs.)
The course is designed to give you a practical blueprint to follow aimed at increasing your confidence. While it's specifically related to women and dating, the principles here are useful for all areas of your life and will make you a more confident man overall.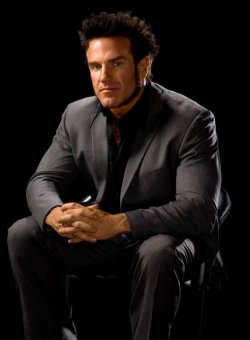 The Creator - Eric Von Sydow aka Hypnotica
Hypnotica has been involved in the dating advice industry for many years now, and was famously credited by Style in The Game as being one of the main influences for helping him improve his confidence and inner game. He has also worked with other top dating coaches, such as David DeAngelo, and is often referred to as the 'Inner Game Guru'.
Aside from being an expert in NLP and hypnosis, he also has many years of experience in the stripping business. He's worked as a stripper himself but mostly has spent his time as a bouncer and manager at strip clubs. This means he has a ton of real world experience dealing with very attractive and desirable women, and has a unique perspective when it comes to offering dating advice. For more on Hypnotica check out our detailed bio right here.
Getting The Most From This Course
The thing about this course is that it will require you to do some work to reap the benefits. Hypnotica stresses the importance of you actually taking the time to do the exercises properly before moving on to the meditations. The exercises vary from easy to complete to quite difficult at the end, as it is purposely designed to challenge yourself and blow past your comfort zone.
The first exercise you'll be guided through involves writing down a list of all your goals with women. This might sound like something you've heard before, but Hypnotica teaches you the most effective way to do this and how to make them as accurate as possible. This is important to do, as many guys often just set a vague goal of being better with women, without actually knowing what this means. Hypnotica talks about how the first time he did this he ended up with a detailed list of goals that took up three pages, and how they came to fruition.
The way this is taught is very similar to affirmations, and work best if you recite your goals a few times a day at first to let them sink in. Once you have done this for your goals with women and dating, you can easily use this technique for creating goals and improving other areas of your life.
Are You Willing To Change?
One of the main themes that runs through this course is that of change. Hypnotica goes into detail about how the key to improving yourself, and thus your success with women, is to constantly change and grow. In fact, he goes as far as to say that personal change is the basis of your happiness, so it's clearly something to devote your time to.
A lot of guys who discover the dating advice community come into it looking to learn new things and acquire more knowledge. And there's definitely a lot of value in that, but Hypnotica talks about how many guys just need to unlearn some of the things they believe about themselves.
Which is true, in that the underlying cause of low confidence is normally some negative beliefs that are based on past experiences. People tend to dwell on such events and exaggerate them in their own mind that they believe they reflect reality, instead of just their subjective opinion of it.
This is the reason for the second lesson and exercise, which is all about being able to change your beliefs. He points out that most guys don't approach women because the negative thoughts they tell themselves prevent them from doing so. So if you see a woman and your first thought is that you are too old, young, short, fat etc. to talk to her you are not grounded in reality. It's just your opinion, and could be one that the girl in question completely disagrees with.
Hypnotica takes you through how to learn to change your beliefs in a way that is very simple to practice. It is isn't an instantaneous fix, as changing your beliefs long term requires dedication and persistence, but the technique he describes is easy to implement and you can have a lot of fun with it.
Being Socially Free
The end goal of this course I would say, is to have you taking actions and making decisions without being held back by fear. And the way to get past your fear is to confront it head on, which will lead to more courage and confidence. One of the biggest obstacles guys face with meeting women is the initial approach.
So there is an exercise here designed to rewire your brain so that you get into the habit of taking action when you see an attractive woman. The exercise doesn't involve getting into a conversation with women, although you can if you wish, but you are required to approach women and ask them a simple question. The interaction itself is not important, but rather that you get used to taking physical action instead of being paralyzed by fear.
The concept of rejection is covered as well, with Hypnotica stating his belief that rejection doesn't really exist. Rather, there is only how people react to others and it only means whatever meaning you give it. This is an important point to get handled, as he states that men who are afraid to make mistakes and risk rejection lack boldness and a spirit of adventure, both of which are qualities that women find attractive in men. Both are also vital to being successful in all aspects of your life. So if this is something you need to work on, this course is a good place to start.
Hypnotica actually does a good job of reframing the entire concept of mistakes, and putting a positive spin on it. He makes a compelling argument about how mistakes are necessary for growth, and the people that ultimately have the most success are those who make mistakes quickly and learn from them, so they can move forward. And he lets you know that you don't need to be perfect in what you're doing, and it doesn't matter where you're starting from. If you accept yourself for wherever you are and keep growing everyday, you'll be fine.
And one of the quickest ways to grow is to be constantly expanding your comfort zone. This is the basis for the final exercise, which is designed to be difficult. Basically it involves doing anything that might make you feel uncomfortable in a social sense.
Hypnotica talks about his own experiences which included dressing in drag on the streets of San Francisco asking people for a date; going to nudist colonies, walking through malls with his finger stuck up his nose and wearing kitty masks to nightclubs. This might sound a bit extreme and kind of weird, but he says he's never encountered a more powerful exercise for building deep acceptance within himself.
You don't need to do any of these things to get the same results, and he advises how you can start smaller depending on your situation. So instead of dressing in drag you might just walk around in a really ugly shirt or wear something with ketchup stains on it. The idea is that you start small and can work your way up. You decide whatever it is that is going to test you the most, and in case you are worried about doing anything that might compromise your career or reputation, he says it's okay to do the exercises in a different town or city.
Effectiveness of Meditation and Hypnosis
The toughest thing to evaluate about this course is how well the guided meditation sessions will work for you. The whole topic of NLP and hypnosis still causes much debate in the scientific community, with no clear consensus that has been accepted by all. I think part of the problem is that people respond to NLP-based techniques differently, so what works extremely well for one person, might not help at all for another. There is a school of thought that the more open you are to these ideas and the more you practice them, the better they will work for you.
I can say that personally I found these hypnosis sessions to be very relaxing, and enjoyed listening to them. He says you can listen to them whenever and as much as you want, but only after doing the exercises first. I'd recommend listening to them before you go to bed, as they do get you into a very relaxed and calm state.
It's hard to assess how well they work in actually improving your confidence, as there is no real way of measuring the results. If your confidence increases, is it the result of simply doing the exercises? Just the meditations? A combination of both? If I had to make a guess, I'd say that the meditations do help to some degree, but not as much as you yourself taking the necessary steps to proactively change and grow.
Becoming an Assertive Man
One of the highlights of this course was the talk about being an assertive man. This is one of the keys to improving your success with women, as guys who have limited experience are often too passive. But being aggressive isn't the answer either, as Hypnotica points out from his years managing clubs that aggressive and rude men quickly chase women away.
So there's really solid advice here on the difference between being assertive and aggressive, and why being assertive in social situations is a good thing. In fact, Hypnotica indicates that being assertive is the number one skill you can learn to boost your self-esteem and confidence, reduce your stress levels, and get everything you want out of life.
Assertiveness is the ability to formulate and communicate your thoughts, opinions and wishes in a clear, direct and non-aggressive way. Assertive behaviour involves being clear about your own needs and expressing them respectfully to others. It also takes into account other people's feelings, and how your aim should be to create a win-win situation so that everyone is happy.
From my own experience and having seen many men interacting with women, I think this ability to be assertive is one of the biggest factors in whether or not women find a man attractive or instead perceive him as the nice guy who they have no romantic interest in. So the lessons in this course are a really good explanation and an invaluable resource.
Does Collection Of Confidence Live Up To The Video/Marketing?
The marketing has changed since we first reviewed this course, and it now makes some bold claims. So it's important to note what these are and see if the reality lives up to these, so that your expectations are being met if you choose to purchase this product.
The Big Claims
Which women it works with? It will get you any woman you want.
What it'll do for you. It'll turn off the 'inner voice' in your head and automatically make you attractive to women
How easy is it to use? How much effort does it take? You won't have to do any work, women will make all the moves on you and be begging to sleep with you.
The Reality
Which women it works with? Nothing works with 100% of women - and 100% of situations - and that includes The Collection of Confidence. However, confidence is the most universally attractive trait a man can have, so if you implement this course correctly it'll make you significantly more attractive to women.
What it'll do for you. The end result of this course is that you should have much less worry and concern about what other people think of you. When people let that 'inner voice' gain too much power over them, it's often related to how others will perceive them. So by switching off that voice it'll help you to be more self-assured and take action, but not necessarily more attractive to women by itself.
How easy to use is it? How much effort does it take? The reality is that women aren't going to start throwing themselves at you. No product can make this happen. You may notice women putting more of an effort into the interaction, but as a man it's still your job to make the moves and lead things forward.
Overall the marketing makes it sound like it's something where you can just sit back and have all the women chase you. That's not how things work in the real world. You're going to have to put in some work if you want to see results.
If you accept that you're going to need to take action, and that you'll never get all the women you want by being passive, then this product can really help you gain the confidence needed to make that happen. If you're focused on long-term success and improvement, and not seeking a magic pill solution, this will be a solid investment.
The Bottom Line
This is an excellent product that really gets to the heart of what true confidence is. The audio lessons are quite short, but packed full of useful information. The exercises start off quite easy and build progressively so that you will challenge yourself and grow.
This product doesn't cover anything in terms of 'outer game' such as how to talk to women, so if that's what you're looking for you won't find it here. But if you want a way to improve yourself and have people respond to you more positively, this is a product that you will want to buy.
Help other users find the most helpful reviews
Was this review helpful to you?
Comments
Written by Andy
September 16, 2013
Hypnotica is the inner game guru this has to be the best inner game/ confidence product out there everyone needs this in their life
1 results - showing 1 - 1