Persuasion Skills on Steroids Deconstructed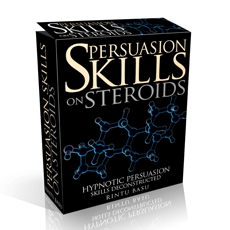 DSR Editor Rating
No Editor Review Available Yet.
Average User Rating
Go to Persuasion Skills on S...
Product Information
This course aims to teach you how to unleash the power of covert hypnotic persuasion skills. Hypnotic persuasion skills trainer Rintu Basu demonstrates the pattern first on you, then on others so you can watch the impact and also deconstruct what he is doing.
The course is intended to help you to:
- Increase your persuasive ability to getting the date, job, and sale
- Use powerful hypnotic training concepts to consciously learn persuasion skills
- Understand the one distinction that will allow you to induce people into a deep hypnotic trance
The course is a transcript of a three hours Persuasion Skills on Steroids Seminar, including notes deconstructing the action, the choices made, and how to adapt the patterns.
---
Skillsets:
Inner Game & Confidence
Experience Level(s):
Beginner
Learning Format:
Online Access
Release Date:
May 01, 2015
---
Feedback
If you have a question or problem, ask us:
Table of Contents/ List of Topics Covered:
Section One
- Techniques to increase your reading speed
- Peripheral vision to control your negative emotions
- Setting expectations so that people give you what you want
- Developing your sensory acuity to becoming a human lie detector
- A conversational belief destroyer pattern to eliminate unhelpful beliefs
- Generating massive motivation to bind others to what you want them to do
- Installing positive beliefs so your audience understands your way of thinking
- The key components to making trance work and induce them quickly and easily
- Controlling the frames of a conversation so it goes in the direction you want it to
- Using stories to eliminate fear of failure and get people to want to do more for you
- Using stories to set up time distortions and create motivations for a compelling future
- Redefine patterns for control and flexibility in applying your hypnotic language patterns
- Sensitizing individuals and groups with the most useful trance to put them in when needed
- Using body language and voice tone to control and switch conversations for smooth transitions
- Preframing your subject to eliminate negative beliefs before starting a conversation, meeting, or presentation

Section Two
- A process to get a group to do almost anything for you
- Creating anticipation loops to captivate your audience
- Giving people the illusion of choice while staying in control
- How to develop your sensory acuity using values based questions
- Body language methods to build control and rapport with your audience
- Using pacing and leading statements to induce people into deep trance
- How to practice so you accelerate your hypnotic language skills development
- How you can use a question asked of you to supply only what you want to tell them
- Using body language to change a thought so people focus on what you want them to
- Getting people to bind their unconscious values and desires to what you want them to do
- Pacing and leading people to redirect their focus, while making it seem like it was their choice

Section Three
- How to get people desperate to hear more from you
- Using pre-suppositional questions to direct a conversation
- An anchoring exercise to create an irresistible persuasive personality
- Using metaphors to induce trance and install motivation to do what you want
- How to ensure whatever choice your subject makes they are moving in your direction
- An agreement frame that induces people into trance and motivates them to your goals
- How to embed commands in an anticipation loop so you are embedding post hypnotic suggestions
---
What You Get:
Online access to PDF report including the transcribed seminar and deconstruction notes
---
Guarantee / Terms:
60 Day Money Back Guarantee
User Reviews of Persuasion Skills on Steroids Deconstructed
View Other Home Study Courses (Books, DVDs, CDs, MP3/ Video)