Master the Game II: The Psychology Behind the Game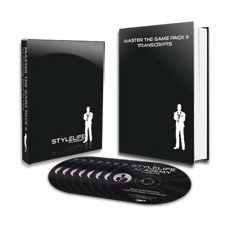 DSR Editor Rating
No Editor Review Available Yet.
Average User Rating
Product No Longer Available.
Product Information
This product was released after Master The Game 1, it discusses the teachings of different PUA artists in terms of seduction, attraction and dating.
---
Skillsets:
Meeting Women
Attracting Women
Experience Level(s):
Beginner
Learning Format:
CD (Audio)
Release Date:
November 18, 2011
Product No Longer Available.
---
Feedback
If you have a question or problem, ask us:
Table of Contents/ List of Topics Covered:
CD 1: The Hash Sessions - with Style & Hash
- Transformations from AFC to PUA
- Being the high value man
- Learning pick-up artistry
- Style's method for approaching women
- Becoming the 'fun guy' every woman wants
- Building the mindset
- Smooth escalation of touch
- How to use pre-kissing
- Tips for throwing a party

CD 2: Inspire Her Sexuality - with Steve P. & Style
- Owning your own reality
- Natural and herbal ways to calming your mind
- How Steve P. rid himself of his own approach anxiety
- Make any woman have an orgasm
- The Cat Theory approach
- Points of Attention to beat your Approach Anxiety
- Steve P.'s favorite never fail opener
- Style's quick trick
- Left Eye Soul Gazing technique


CD 3: Upgrade Your Whole Game: Cold Approach to Close - with Style & Stephen Nash
- Meeting women
- Removing women from alpha males
- From casual to sexual intimacy
- The Playboy Multiple Step Model
- Escalating sexually
- Making cold street approaches
- Building intimacy with girlfriends
- Finding women who are high caliber girlfriend material
- How to meet a wingman
- Style's imagination trick

CD 4: The Power of Pre-selection on the Female Mind - with Adam Lyons (aka AFC Adam) & Style
- The faux marriage technique
- Pre-selection technique
- Finding real happiness
- Using the forehead kiss as a tool for escalating kino sexually
- How to talk to a woman in a loud club
- Alpha Male + Abundance + Escalate Sexually
- Ultimate wingman plan
- Way to open a freezing cold set
- Method for sarging in a foreign language and foreign culture
- Technique for always keeping a conversation going
- Short set game and how to manage your appearance in clubs

CD 5: Turn Online Dating into Real Life Dating - with Dave M. & Style
- Dating profiles for online dating
- Dave M's online dating screening process
- Using online dating to supplement real life pick up
- Which online dating sites are the best to use
- DHV for online dating profile
- Meeting women from online dating
- How to get a woman to meet you
- Schedule multiple women to meet you
- How to approach meeting women on Facebook
- The perfect first date
- Getting a second date
- Attracting women who are in their 20's on online dating sites

CD 6: Bullet Proof Attraction Routines - with Brad P. & Style
- The Cotton Candy Opener
- How to screen a woman
- The Horse Girl Opener
- Hook Questions as openers
- Stephanie Opener & DHV Story
- The Ten Minute Seduction technique
- Method for absorbing any pick up artist lessons
- Brad P.'s 'no pressure' approach
- Style's 'Little Plaything' approach
- Sexy Stereotypes
- The Female Dating Cycle

CD 7: Power Confidence - with Sean Stephenson, Don Diego Garcia, & Style
- Sticking points and motivations to be attractive
- Body language and words
- 'Join my party or I'll move on' mindset
- Mentality creates your reality
- Getting your ex-girlfriend out of your mind
- The trick to attracting women
- Being older is an advantage to meeting and attracting women
- Sean's 'Be A Man Who Can't Be Rattled' multi-point philosophy
- Sean's 'Get Present Routine With a Girl'
- How to use the dance floor of any club to attract women

CD 8: Blow Her Mind in the Bedroom - with Hypnotica, Steve P., & Style
- Showing women the benefit of 'What's in it for me?'
- Personality trait that all women are drawn to
- Tantric tips to lasting longer in bed and pleasing women
- No-Holds-Barred Sexual discussion
- Hypnotica's hand-writing analysis opener
- How to master your own voice
- Being the Ticket Master
- How to seductively stare a woman down
- The Self Organizing Practice
- Hypnotica's 'Did you get any smarter' line
- How to begin a sexual conversation with a woman
---
What You Get:
8 audio discs
Printed workbook
Style's Personal Training Program
- 30 days of Stylelife Academy interactive online training with direct access to the Elite Forum

Bonus Item:
253 page transcript book documenting each CD word for word
---
Guarantee / Terms:
After the bonus 30 days, Style's Personal Training Program can be continued on month-to-month basis for $135

Return the product anytime if not satisfied to get a 100% refund.
User Reviews of Master the Game II: The Psychology Behind the Game
View Other Home Study Courses (Books, DVDs, CDs, MP3/ Video)