Magick and Psychic Influence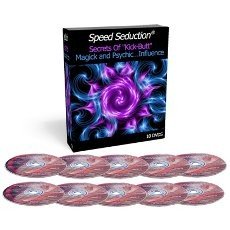 DSR Editor Rating
No Editor Review Available Yet.
Product No Longer Available.
Product Information
Provides tools and techniques on how to influence others using magic and psychic power.
---
Skillsets:
Inner Game & Confidence
Learning Format:
DVD (Video)
Release Date:
January 01, 1997
Product No Longer Available.
---
Feedback
If you have a question or problem, ask us:
Table of Contents/ List of Topics Covered:
Content includes:
- How to step into anyone and know their true intentions
- How to shift the thoughts of others without saying a word
- How to remotely program others dreams
- How to pre-influence events and circumstances in your favor
- How to create a glamour of irresistible attractiveness
- The 7 basic skills for mental influence
- How to influence your own higher self
- 2 methods for remotely influencing others
---
What You Get:
10 video DVDs
---
Guarantee / Terms:
90-day return policy to get full refund
User Reviews of Magick and Psychic Influence
Most Helpful User Reviews
5 of 5 people found the following review helpful
"Review of the first Magick/Psyhic course from 2002(purchased from Straightforward)"
Ease of Implementation
5.0
Packaging/ Customer Service
8.0
Reviewed by
RockinR
July 16, 2015
This product was purchased about 6-8 months after purchasing the Basic Home Study Course. SS Legends like IN10SE and even Merlin were fans of the work. I decided with the reviews happening on the list to make the purchase.

The product was a VHS series that came from Straightforward. It was my first time watching Ross on video.

Having a bit of a background with NLP language usage in communication settings and even recent hypnosis certification made this purchase something to enhance my learning.

It was roughly 10 VHS tapes that were 2 hours long each. The first 5 VHS were about Magick and Ritual incorporating the ideas of chaos magicians such as Phil Farber, Peter J Carroll, Phil Hine, Israel Regardie, Bandler and Mr. Crowley!

The next 5 VHS tapes focus on Psychic Seduction development.

Within the first half you get the introduced to the concepts of (in no particular order): breath, intention, ritual, visualization, closing the ritual with banishment(laughter), and incorporation of the body into change work through movement.

The concepts are taught in the process of leading to major exercises such as the clearing ritual and creating your magical self ritual.

There was a handouts with the exercises written in a liner 1-10 format to make up with the purposeful chaos of RJ back then. Those early days RJ loved to leave a lot of open loops and sometimes might close them after. For average users not familiar with RJ's Bandler like foundations…it can become very frustrating and confusing.

Also, there were principles of Huna incorporated into the product with influences from Serge Kahil King.
Now, was this product applicable for myself…while I was going through a massive dry spell…probably not. I certainly was hooked on by marketing and hype, but I did have some interesting occurrences with incorporating it into the field such as intuition and even breaking the rules and boundaries of social dynamics taught by indirect schools of thought such as MM.

I had learned about power put into constructed language and its labels. My world had opened to symbology and understanding how symbols can be used towards persuasion including persuading yourself with sigils.

He has updated the product with a newer version incorporating many of the principles of Shinzen Young's work. The meditation gives one the skill set to develop focused concentration.

This product is beneficial to people with backgrounds in NLP, Hypnosis, Ritual, and the deeper levels of meditation.

This is certainly not practical for a guy trying to increase his sexual options. Better products on the market now…towards that focus.

2 of 6 people found the following review helpful
"Get Some of The Exercises and Move On"
Ease of Implementation
5.0
Packaging/ Customer Service
3.0
Reviewed by
B-A-L-L-S
March 28, 2006
good luck. If you like this stuff, great. It's another seminar spread over hours of video that if you spent a lot of time watching you're wasting your available time for actual practice. I personally don't get into this energy stuff but it can be useful for attitude exercises. (rating - 3.5 *get some of the exercises and move on)
1 of 2 people found the following review helpful
"A Paradigm Shift In Life From This Course!"
Ease of Implementation
6.0
Packaging/ Customer Service
5.0
Reviewed by
Matt B78
January 08, 2018
I thought I'd give my two cents on this now classic NLP influenced "Magick " course. Some of the limitations are that the quality is nowhere near modern DVD or Bluray or HD video, but this can be forgiven because the value of the course cannot be measured. I have personally found effectiveness with most of what Ross teaches in this course, and at the time it was released, it was unprecedented to have all this valuable information in one place. Ross is also immensely funny during the course, and this brings comic relief to such a fascinating, controversial, and sometimes dense, subject.

I find his material to be a lot more accessible than his idol, Richard Bandler, though that's not a knock of one of the founders of NLP. It's just that Ross teaches in a more straightforward manner, and is genuinely easier to digest because of his (former) background as comedian and comedy writer.

At the time (late 90's early 2000's), Ross seemed to be on a roll with his career and in courses such as this, he seems more passionate in the presentation than a lot of recent courses he has done.

But now on to the content: Ross is actually a lot less convoluted in this course than some of his trademark brand (Speed Seduction in case you didn't know). The first tape is NLP derived and goes into a lot of limitations that NLP talks about smashing, and goes into the creation of a basic sigil. It then goes to Yates Canipe teaching some "psychic influence" or "remote influence". This portion is a bit more dry but still useful. It's up to you if you buy into/believe some of the stuff taught. Personally, I'm less interested in psychic influence and more into the change work that Ross teaches.

It then goes into a lot more detail on ritual, how "Magick" can be cultivated into changing oneself, more psychic influence, goes into the steps of ritual, intention (years before "The Secret", which Ross is known to personally detest for various reasons that are related to a lot of what is said here), and a lot of Huna related stuff.
I also like a lot of the philosophy that Ross touches upon in the course. It's fascinating to listen to him relay a lot of what he learned from Chaos Magicians as well as Ritual Magicians and how they can be intertwined into your daily life.

This course changed my life, and when I lose touch with this side of myself, I go back again and again to rewatching this course when hurdles come in life to be overcome.


View Other Home Study Courses (Books, DVDs, CDs, MP3/ Video)