Level Up Your Life: How to Unlock Adventure and Happiness by Becoming the Hero of Your Own Story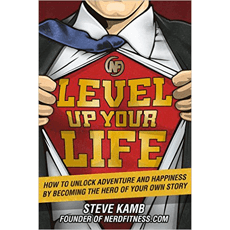 DSR Editor Rating
No Editor Review Available Yet.
Average User Rating
Go to Product Site
Product Information
"Level Up Your Life" is Steve Kamb's system for completing quests, taking on boss battles, earning experience points, and leveling up your life. Based on his past 5 years of experiences, Steve Kamb has transformed himself from wanna-be daydreamer into a real-life superhero by going after and accomplishing his goals.
This book is intended for those who have always dreamed of adventure and growth, yet it remains a dream. It teaches you how to use your favorite video games, books, and movies as inspiration for adventure instead of an escape from everyday life.
Steve has created a rebellion through his popular website, NerdFitness.com, with members who have chosen to leveled up to a better life. This book includes more than a dozen of these members who have created superhero versions of themselves to live adventurously and happily.
Some of the areas covered:
- Train your body for adventure
- Build your own Epic Quest List
- How to travel the world freely, and cheaply
- Build positive allies and find powerful mentors
- Create your own "Alter Ego" with real-life super powers
- Start making progress by hacking your productivity habits
- Build in rewards and accountability to motivate you to succeed
---
Skillsets:
Inner Game & Confidence
Experience Level(s):
Beginner
Release Date:
January 12, 2016
Price:
$12.99 - $13.78
(depending on product format or options purchased)
---
Feedback
If you have a question or problem, ask us:
Table of Contents/ List of Topics Covered:
Introduction: The Ordinary World

The Call to Adventure
Chapter 01: Leaving the Shire
Chapter 02: The Cautionary Tale of the Underpants Gnomes
Chapter 03: Ready Player One

The Hero's Journey
Chapter 04: Rescue Your Alter Ego from Doubts and Disbeliefs
Chapter 05: Resist Temptations and Convenient Excuses
Chapter 06: Beware Dark Forces, Hidden Foes, and Haters
Chapter 07: Embrace Gamification to Unlock Happiness

Crossing The Threshold – Design Your Game
Chapter 08: World Building 101: Create the Rules for Your Game of Life
Chapter 09: Character Select: Determine Your "Level 50" Achievement Status
Chapter 10: Quest Select: Choose Your Own Adventure
Chapter 11: Steve's Epic Quest: Learn from My Example

Leveling Up – Advance in the Game of Life
Chapter 12: Define Your Level Structure
Chapter 13: Conquer Boss Battles and Find Treasure Chests
Chapter 14: Persevere in the Face of Obstacles and Ordeals
Chapter 15: Become an Unstoppable Force of Awesome
Chapter 16: Choose Multiplayer Mode and Build a Legendary Team

Mastering Ordeals – Activate Beast Mode
Chapter 17: Prepare Your Mind to Handle Fear Like Bruce Wayne
Chapter 18: Train Your Body for Anything Like Jason Bourne
Chapter 19: Nurture Your Adventurous Spirit Like Indiana Jones
Chapter 20: Make Sacrifices That Empower Your Cause Like Katniss Everdeen

The Road Back – Continue? Or Game Over?
Chapter 21: Celebrate the Rewards of Your Journey as They're Achieved
Chapter 22: Share What You've Discovered and Learned
Chapter 23: Continue Playing for the Love of the Game

Resources of The Rebellion
Join The Rebellion
Acknowledgments
Index
About the Author
---
What You Get:

Book options include:
- Kindle $12.99
- Hardcover $13.78
---
Guarantee / Terms:
See policy of product website
User Reviews of Level Up Your Life: How to Unlock Adventure and Happiness by Becoming the Hero of Your Own Story
View Other Home Study Courses (Books, DVDs, CDs, MP3/ Video)