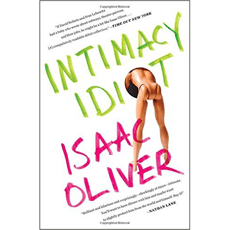 DSR Editor Rating
No Editor Review Available Yet.
Average User Rating
Go to Product Site
Product Information
Award-winning playwright Isaac Oliver offers his essays, stories, and riffs on finding love and intimacy in New York City. His experiences cover a decade of subway encounters with strangers, countless bedroom encounters, as well as observing the best and worst of humanity while working in a Times Square theater box office.
Oliver offers a comedic perspective as he captures the messy, moving, and absurd moments of urban life via sketches, vignettes, lists, and diaries from his life as a single gay man in New York City. This book chronicles Oliver's encounters with love, infatuation, resilience, and self-acceptance within the schematic of our universal desire for intimacy.
---
Skillsets:
Lifestyle & Social Skills
Experience Level(s):
Beginner
Release Date:
June 14, 2016
Price:
$10.12 - $17.51
(depending on product format or options purchased)
---
Feedback
If you have a question or problem, ask us:
Table of Contents/ List of Topics Covered:
- Online Dating Profile
- How I Didn't Learn to Drive
- Subway Diary
- The Dolphin from Dubai
- Cooking for One
- People's Parties
- Love Poem for the Guy Across from Me on the Subway This Morning
- Poser
- Subway Diary
- My Kind of Bar
- Zoo Stories
- Coming Up
- A Few Key Erotic Moments from My Early Adolescence
- Subway Diary
- Love Poem for the Tall Drink of Water Who Shushed the Loud Gay Guys Next to me at a Concert
- Traveling Alone
- Cooking for One
- Dates
- Scene for a Box Office
- Subway Diary
- Triptych
- Some Scattered Thoughts on Los Angeles, Las Vegas, and Marion, Massachusetts
- Subway Diary
- The Horny New York Poem
- The White Russian
- Scene from a Box Office
- Home Invasions
- Cooking for One
- Love in the Time of Eczema
- Subway Diary
- Ah Ah
- Love Poem for the Fair-Haired Young Man Doing the New York Times Crossword Puzzle
- Where I Live
- Go Together Like a Horse and Carriage
- Things I Know to Be True
- A Curse
- The Law Student
- Love Poem for the Preppy Guy with the Single Cupcake
- Cooking for One
- Casual Sex Correspondence
- How to Build a Fire (in Thirty Easy Steps)
- The Hockey Player
- The Lonely Christmas Poem
- Try It
- Box Office Hall of Shame
- Ails
- Obit for a Murse
- Subway Diary
- Over the Knee
- Texts from My Parents on Their Cruise
- Attend This Tale of Icy Gays
- Cooking for One
- Big Ben
- Scene from a Box Office
- Love Poem for the Hot Young Dad Holding the Newborn on the Subway
- Judged
- Subway Diary
- The Dark Place
- Where Is Your Shakespeare?
- Love Poem for the Classiest Gay Guy on Avenue A
- The Rural Northwester Ohio Tragedy Tour
- The Woodsman
- Love Poem for the Couple in the Honeymoon Stage Across from Me on the Subway
---
What You Get:

Book options include:
- Kindle $10.12
- Paperback $11.40
- Hardcover $17.51
---
Guarantee / Terms:
See policy of product website
User Reviews of Intimacy Idiot
View Other Home Study Courses (Books, DVDs, CDs, MP3/ Video)