Interview Series Vol. 47 Overcoming Physical Obstacles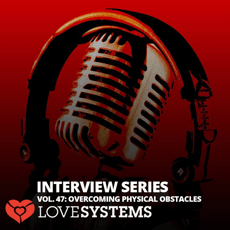 DSR Editor Rating
Go to Product Site
Editor Review
0 of 0 people found the following review helpful
"Good Mindsets Given to You, but Weaker on Solutions for Your Issue "
Ease of Implementation
5.0
Packaging/ Customer Service
10.0
The Good
Solid mindsets given to you and reinforced with stories of students overcoming issues.
The Bad
Guidelines to control/ improve your physical issue range from good to poor in terms of covering all the options. As consequence not easy to implement - you'll have to do the work afterwards. Sexual hang ups advice very limited
The Bottom Line
If you have one of the physical issues the mindsets and stories will be very helpful to you.
The guidelines for actually controlling and improving on many of the issues weren't researched well enough. Don't get this if you have a 'sexual hang up' get one of the other products I recommend.
Pricy for the contents.
FULL DETAILED REVIEW
I was really glad to see this interview because I know that a lot of guys have at least one physical characteristic of themselves that they don't like, and which undermines their confidence and ability to learn to get better with women.
Which Physical Issues are Covered?
This product does a good job of covering a wide breadth of the physical issues that guys have including: Being overweight/ fat, bald/ losing hair, being handicapped e.g. wheelchair bound, or missing a limb, being short, having acne, having sexual performance issues (or size of penis) or your race.
Some that they missed or paid little attention to which I would have addressed were being too skinny and too tall (yes, it does happen - some guys feel incapacitated by being really tall).
A Solid Approach to Mentally Dealing with your Hang Up
The approach is pretty clear throughout and the best. They talk about things you can control to improve the issue and reduce its importance, and give you mindsets to overcome it where you can't control it (or to further enable you to get over it).
When it comes to mindset they communicate both a good approach to dealing with your "hang up" and quite a few mindset tips specific to the conditions throughout. By listening to the discussion you should be able to get a more 'realistic' appreciation of your hang up. In particular, the stories the instructors discuss about students that have overcome their physical obstacles should be inspiring and certainly prove the point - that no matter the obstacle, you can deal with it, and limit its ability to interfere with your dating life.
Suggestions to Control and Improve Could Have been Better
Overall the suggestions they gave
to control these issues
and improve on them is good - although keep in mind the advice remains shallow, so don't expect the full solution. They give you a direction, and guidelines of things you should look into and learn about in order to improve your situation. Not the full answer.
For the most part, from my knowledge, the directions they give are good although it was obvious that the subjects weren't particularly researched and the instructors were basing the guidelines on what they had come across in their experiences with students etc. For the interview they should have done their homework to provide better quality guidelines.
In the area of sexual performance the advice was particularly shallow and not so much on the ball. If this is your particular issue there is much better quality and comprehensive advice in Revolutionary Sex and Sex God Method on this topic.
For acne, there are more solutions available that weren't discussed - the drug they recommend IMHO is pretty dangerous over the long term and should be a last resort once you've looked at other paths.
The Bottom Line
If you have one of the physical issues I think the mindsets and stories will be very helpful to you. For most of the issues they tell you straight what you can do to make it a non-issue. The mindsets are on the ball, and the stories will help reinforce them for you.
The guidelines for actually controlling and improving on many of the issues weren't as good as they should have been - they needed more research. In particular, if you have a sexual hang up, you should look at the other products I suggest instead - they will deal with it for you (where this product won't do the job).
As with most of these interviews, I feel the price is a little high for the information it contains.
Help other users find the most helpful reviews
Was this review helpful to you?
Product Information
In Interview Series Vol. 47, Love Systems instructors Keychain and Mr. M teach you how to overcome obstacles in order to pursue women.
---
Skillsets:
Attracting Women
Image, Physique & Style
Experience Level(s):
Beginner
Learning Format:
Download (Audio)
Release Date:
December 01, 2009
---
Feedback
If you have a question or problem, ask us:
Table of Contents/ List of Topics Covered:
- Building intrigued based attraction off a disability
- How to properly make a joke about your physical obstacle
- Turning a perceived physical disadvantage into an advantage
- How to best manage specific obstacles (e.g. being short, bald, overweight, bad acne, sexual performance)
- How displaying a good sense of fashion will deter women from focusing on a particular physical characteristic
---
What You Get:
Downloadable audio
---
Guarantee / Terms:
See policy of product website
User Reviews of Interview Series Vol. 47 Overcoming Physical Obstacles
View Other Home Study Courses (Books, DVDs, CDs, MP3/ Video)