Interview Series Vol. 32 Role Plays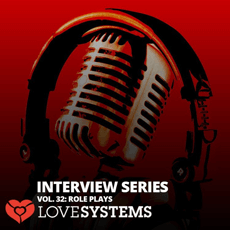 DSR Editor Rating
No Editor Review Available Yet.
Go to Product Site
Product Information
In Interview Series Vol. 32, instructors Cajun and Tenmagnet discuss the art of role playing and its powerful effects when creating a special bond with a woman. This interview includes live and unedited role plays captured by hidden micro tape-recorder from various sets opened by Cajun in October 2008 in various Las Vegas clubs.
---
Skillsets:
Attracting Women
Lifestyle & Social Skills
Learning Format:
Download (Audio)
Release Date:
September 01, 2008
---
Feedback
If you have a question or problem, ask us:
Table of Contents/ List of Topics Covered:
- Different types of role plays
- Creating your own role plays
- The appropriate time to use role plays
- Examples of effective field-tested role plays
- How to successfully use role plays to create and maintain attraction


---
What You Get:
Audio download
---
Guarantee / Terms:
See policy of product website
User Reviews of Interview Series Vol. 32 Role Plays
Most Helpful User Reviews
1 of 1 people found the following review helpful
"Fantastic!"
Ease of Implementation
9.0
Packaging/ Customer Service
10.0
Reviewed by
CCarter
September 21, 2008
FULL DETAILED REVIEW
Fantastical. A word to describe this interview, yes, but also a word that seemed like it was being used in this interview like "meow" in Super Troopers. Just an inside joke between instructors to see who can say it more. So I looked it up on the dictionary on my Mac, here it is:

Fantastical |fan?tastik?l|
adjective
1 imaginative or fanciful; remote from reality : novels are capable of mixing fantastic and realistic elements.
• of extraordinary size or degree : the prices were fantastic, far higher than elsewhere.
• (of a shape or design) bizarre or exotic; seeming more appropriate to a fairy tale than to reality or practical use : visions of a fantastic, mazelike building.

So there's the word for the day. Fantastical!

So on to the review...

Great interview put out again by Love Systems. It's short and sweet, running for about forty minutes. It'll definitely help out on guys who love role plays and just need help on it or guys who just want to add role playing to their game. The interview kicks off with the guys explaining what role playing is and when to use it during the emotional progression model. Then comes the juicy part.

The guys start giving examples of role plays. You can imagine the role plays coming from these two, especially Cajun, Mr. Sick-Sense of Humor. The fucker is hilarious. Of course, I'm not going to give out the examples they gave, so if you want 'em, $40, Seduction Info - Love Systems - Home NINJA!

This interview is unique in that it has role plays done by Cajun INFIELD. That's right, hear the man lay out the role plays to women and show how to do them correctly. He laid out a recorder in his shirt pocket and granted us access into his sets. The audio is not that great, but you can hear exactly what he's saying and the girls are saying. Priceless.

The interview includes success stories and the role plays that made them successful and they teach you how to create your own role plays, pointing out what you shouldn't do.

All right...great interview
Help other users find the most helpful reviews
Was this review helpful to you?
0 of 0 people found the following review helpful
"Great!"
Ease of Implementation
8.0
Packaging/ Customer Service
7.0
Reviewed by
The Xion
June 10, 2009
The in-field examples at the end are great, especially the way Cajun puts a sexual spin on the same roleplays to calibrate to certain girls/situations.
Something that's very simply is used to great effect by these guys, I will enjoy success with the advice and examples given in this interview.
Help other users find the most helpful reviews
Was this review helpful to you?
View Other Home Study Courses (Books, DVDs, CDs, MP3/ Video)