Interview Series Vol. 29 Being In State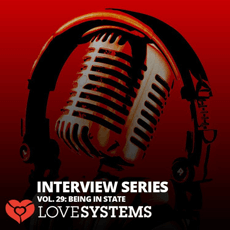 DSR Editor Rating
No Editor Review Available Yet.
Go to Product Site
Product Information
Interview Series Vol. 29 shows you how to achieve a positive state of mind when approaching women. It addresses the challenges of getting into approach-mode while exuding positive energy. Tips and exercises are also included.
---
Skillsets:
Inner Game & Confidence
Learning Format:
Download (Audio)
Release Date:
June 01, 2008
---
Feedback
If you have a question or problem, ask us:
Table of Contents/ List of Topics Covered:
- The deifinition of "state?"
- Different types of state
- The importance of state to improve your game
- Building a lifestyle conducive to creating natural state
- How state is connected to 7 stages of emotional progression

---
What You Get:
Audio download
---
Guarantee / Terms:
See policy of product website
User Reviews of Interview Series Vol. 29 Being In State
Most Helpful User Reviews
0 of 0 people found the following review helpful
"Highly recommended 9/10."
Ease of Implementation
9.0
Packaging/ Customer Service
9.0
Reviewed by
CCarter
August 14, 2008
FULL DETAILED REVIEW
First off, I'm unbiased towards Love Systems products. There are many non-LS products that will help you with pickup, hell, you could probably never read Magic Bullets, listen to an interview, or attend a boot camp by LS and still be able to pull women any day of the week using techniques brought on by other products. But, I have read, watched, and listened to other companies products and can honestly say like Hooked on Phonics, Love Systems worked for me!
I don't recommend sticking to one system and only being loyal to one method. There are guys who go out and do things that are completely against what is thought in Magic Bullets, but they get results, and at the end of the day, that's all that matters. Being a big fan MMA (Mixed Martial Arts), I thought that high flying Kung Fu kicks and flying through the air like something in Moral Kombat was the way to kick someones ass. Until the UFC started and crushed this idea. Now fighters today train in all arts and like there's no successful one dimensional fighter, there really is no successful one dimensional pickup artist. Sinn said it beautifully when he said, "I don't live in a bubble, and I suggest no one else should either. It's called the community for a reason."
Now off to the reason we're all here, IVS Vol. 29 Being in State with Moxie & Savoy. This interview runs for 56:39 and is the last interview that will be mailed to subscribers on a CD. Love Systems now sends direct download links via e-mail. A great idea and one that seems that will last for a while. Again, the audio quality is good, but not great. I don't what is used when doing these interviews, but if I could make one suggestion, it would be to get rid of the static noise. Sometimes I feel like I'm 12 again with my NWA posters hanging in my room and listening to these interviews on a cassette with what I called a boom box.
The interview kicks off with the guys describing what state is. Jeremy points out that Moxie and Savoy have gone in depth with being in state at the Super Conference and how it got rave reviews from those who have attended. They describe state as a tool that is not necessary, but it will allow for more pulls. Savoy explains how state can back fire and send you on a vicious circle.
The guys are then asked to describe the different types of state. Here, Moxie points out two different types: Validation-based and Pure. They both go into detail about each and describe the consequences of each.
Throughout the interview the guys harp on not being dependent on state and not having the need for other peoples validation to get into state. They make the listener realize that having good state doesn't begin when it's time to go out, but from the time you wake up in the morning. Having an active lifestyle is highly recommended.
Although, your day may have gone well, many lose focus (and state) once they enter the venue. They go straight up to the bar order a drink and slowly start to fade or become the slow wanderer flagging targets in the club, Moxie put it best when he said, "you're not a World War II general doing a reconnaissance of the club." He then goes on with the importance of not discussing game with your wing while the night is still going on and not asking for permission to do approaches either.
Alcohol is also discussed. It's not called liquid courage for nothing. It seems that both instructors disagree on this subject to a certain extent. Moxie disagrees with consuming alcohol if you're planning to game women for the main reason of having Alzheimer's in the morning. Savoy, on the other hand, recommends that if you're going to drink, make every other drink your mixer. So, if you're having rum and coke, make every other drink just be coke. Both, point out that drinking will inhibit your ability to see subtle cues from women and may make you not progress effectively through the emotional progression model.
The guys give many ideas on how to improve your state in the venue. Everyone reading this hopefully goes out to have fun and that's exactly what both instructors teach you how to do. Not only just to have fun, but to do it while effectively being able to pickup women.
Another big thing Savoy points out is checking e-mails or texts on your phone. He points out how this can lower your state and should be done on your down time. I've been guilty of this and I'm sure many are also, but those fucking Blackberrys make shit so much easier.
I can see how their seminar at the super conference got good reviews. Many of the subjects and scenarios Moxie and Savoy discussed, I've seen or have done before. Again this was a great interview by the returning Moxie and the godfather himself, Savoy. Highly recommended 9/10.
Help other users find the most helpful reviews
Was this review helpful to you?
View Other Home Study Courses (Books, DVDs, CDs, MP3/ Video)