I Did It My Way: The Modern Asian Man's Guide to Complete Social Success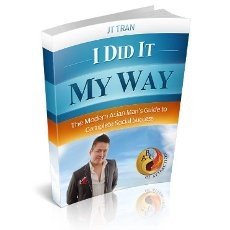 DSR Editor Rating
No Editor Review Available Yet.
Average User Rating
Product No Longer Available.
Product Information
ABCs of Attraction's "I Did It My Way: The Modern Asian Man's Guide to Complete Social Success" provides men with the blueprint and foundation needed to gain a keen understanding of social dynamics, relationships, and self-actualization.
This product must be purchased together with Text to Sex.
---
Skillsets:
Attracting Women
Inner Game & Confidence
Lifestyle & Social Skills
Experience Level(s):
Beginner
Release Date:
February 02, 2011
Product No Longer Available.
---
Feedback
If you have a question or problem, ask us:
Table of Contents/ List of Topics Covered:
Foreword By Gatsby
Introduction
How To Read This Book
How Did I Get Here?
Conquest By Immigration
Why Women Hate Pick Up Artists
The Way Of The Asian Pick Up Artist
Man's Holistic Hierarchy Of Needs (by Johnny Wolf)
What Are The Abcs Of Attraction?
A-phase: Attitude, Attract Then Approach
Attitude: Why Meet Women At Night Clubs And Bars Vs The Day?
Attitude: The Seduction From Her Perspective (by Gareth Jones)
Attitude: Interracial Dating For Asian Men
Attitude: How You Can Be A Successful Pick Up Artist
Attitude: Dealing With Race
Attract: Hygiene
Attract: Physical Confidence & Body Language Drills
Attract: Asian Poker Face Syndrome
Attract: Peacocking Vs Being Fashionably Edgy
Approach: Kill Sticking Points With The Kickstart Opener
Approach: Indirect And Direct Kamikaze Openers
Approach: The Situational Momentum Opener Challenge (by Ben J)
Approach: The Kino Turn
B-phase: Be In The Moment, Banter & Buying Temperature
Be In The Moment: The Better Asian Man Way (by William)
Banter: Writing Your Own Jokes Made Easy (by Jester, Alumni)
Buying Temperature: Routines Are Only Training Wheels
Buying Temperature: Routines Not To Use (by Johnny Wolf)
Buying Temperature: How To Bt Spike
Buying Temperature: The Importance Of Dance Game
C-phase: Compliance, Comfort & Connect
Compliance: Gaining Compliance Through Kino
Compliance: Compliance Test For Beginner's (by Jinjo, Alumni)
Comfort: How To Be Comfortable In Your Own Skin
Comfort: The Zen Of Cool
Connect: How Attraction Switches Work
Connect: The Asian Attraction Switch
D-phase: Dominance, Direct Intent & Disqualify
Direct Intent: Having A Sexual Identity
Dominance: Exude Dominance And Self-awareness (by Sarah Ann)
Dominance: Sexual Anxiety For Asian Men
Direct Intent: How To Kiss The Girl
Direct Intent: Breaking Stereotypes Vs Good Game (by Ozzie "the Latino Gentleman")
Direct Intent: How To Not Be Tacky At Dance Floor Grinding (by Jinjo, Alumni)
Disqualify: Putting Women In The Friend Zone
E-phase: Evaluate, Extract & Escalate
Evaluate: Why Are We In The Game?
Escalate: Ethical Sexual Escalation
Escalate: Advanced Anti-last Minute Resistance Tactics (by Gareth Jones)
Extract: Dealing With One Night Stand Logistics
F-phase: Future (fun Up Artist? Or Fake Pick Up Artist! )
Fashion: Being Good Looking Vs Looking Good
Fashion: The (asian) Acne Cure
Fashion: Tips For Being Fashionably Edgy
Fashion: The Asian Machosexual Vs White Metrosexual
Fashion: Cool Asian Male Hairstyles
Future: What Is Beginner's Hell?
Future: Overcoming Beginner's Hell (support Network)
Future: Overcoming Beginner's Hell (lifestyle)
Future: The Day Social Circle Challenge - Guidelines (part )
Future: The Day Social Circle Challenge – Mechanics (part )
Fun Up Artist: Asian Playboy Is Not A Pick Up Artist…
Fun Up Artist: How To Give A Good Date
Fun Up Artist: Text Flirting - From First Text To Making A Date (by Gareth Jones)
Fun Up Artist: Anti-phone Flaking Techniques
Fun Up Artist: The Importance Of Phone Rotations
Fun Up Artist: Top Qualities For A Good Wingman
Fun Up Artist: Guidelines To Proper Solo Sarging (by William & Straycat, Alumni)
Fun Up Artist: Befriending People In Low Places
Fake Pick Up Artist: Beware Crabs In A Barrel Syndrome
Fake Pick Up Artist: The Short & Small Of Getting Cockblocked & Amogged
Fake Pick Up Artist: Peacocking - You're Doing It Wrong! (by Gareth Jones)
Fake Pick Up Artist: Negging - You're Doing It Wrong! (by Gareth Jones)
Fake Pick Up Artist: How I Chose My First Bootcamp (by Johnny Wolf)
Fake Asian Pick Up Artist: Online Dating – The Asian Man's Honey Trap
Fake Asian Pick Up Artist: The Interracial Dating Disparity
Epilogue
Glossary
---
What You Get:
1 Ebook
---
Guarantee / Terms:
60 Day Money Back Guarantee
User Reviews of I Did It My Way: The Modern Asian Man's Guide to Complete Social Success
View Other Home Study Courses (Books, DVDs, CDs, MP3/ Video)