How to Make Anyone Fall in Love with You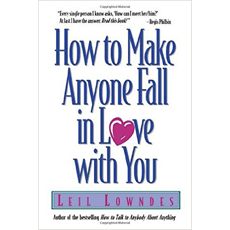 DSR Editor Rating
No Editor Review Available Yet.
Average User Rating
Go to Product Site
Product Information
This guide is designed for people seeking romantic bliss. It offers 85 techniques regarding the nature of love, including:
- Avoid love mistakes
- How to establish sexual rapport
- Searching for your potential love partners
- Making an attractive and memorable first impression
The book is aimed at helping you create lasting relationships, as well as improve existing relationships.
---
Skillsets:
Relationship Skills
Experience Level(s):
Beginner
Release Date:
September 01, 1997
Price:
$9.57 - $12.57
(depending on product format or options purchased)
---
Feedback
If you have a question or problem, ask us:
Table of Contents/ List of Topics Covered:
1. Anyone? Yes, Practically Anyone
- Science "Discovers Sex"
- How More Research Was Compiled
- How the Techniques Were Developed
- How I Tested the Techniques

2. What Makes People Fall in Love?
The Six Elements
- First Impressions
- Similar Character, Complementary Needs
- Equity
- Ego
- Early-Date Gender-Menders
- Rx for sex

3. The Physical Side of Falling in Love?
- "Why Do My Insides Go All Funny?"
- "Does Somebody Have to Be Pea-Brained to Fall in Love with Me?"
- "Why Do We Fall in Love with One Person and Not Another?"
- How Can These Little Things Start Love?

4. Where Are All the Good Men and Women?
- Looking for Love in All the Wrong Places

5. Does Love at First Sight Exist?

Part One: First Impressions
You Never Get a Second Chance at Love at First Sight
6. How to Make a Dynamite First Impression
- First Impressions Last Forever
- Be Ready for Love - Always!
- Stay Psychologically "Fit to Kill"

7. How to Ignite Love at First Sight
- How Much Eye Contact Does It Take to Imitate Love?
- How to Get Sexy "Bedroom Eyes"
- How to Awaken Primal, Unsettling, Sexy Feelings in Your Quarry
- Naughty Eyes Are So Nice

8. Your First Approach
- The Gentle Art of Pickup (Not for Men Only)
- Hunters, Make the First Move...Fast
- Huntresses, Make the Fast Move...First

9. Your First Body Language
- Let Your Body Do the Talking
- When You Are Quarry
- The Word That Can Save Your Relationship
- "But This Is So Basic!"

10. Your First Conversation
- Conversation Is Making Beautiful Music Together
- Conversation Is Like Making Love
- Conversation Is Like Selling
- How to Know What Topics Turn Your Quarry On
- How to Fool Your Quarry into Thinking You Two Are Already in Love
- Get Even Closer by Giving the Gift of Intimacy
- Make Your Lifestyle "Fit" Your Quarry's Lovemap

11. Your First Date
- The Game Begins in Earnest
- "How Soon Should I Make My Move?"
- "Playing Hard to Get - Should I, or Shouldn't I?"
- The Scientifically Proved Best First Date
- Give Your Quarry First-Date Butterflies
- Plant the Seeds of Similarity
- First-Date Restaurant Smarts
- Hunters, Some Spit and Polish for Your P's and Q's
- Huntresses, Forgive His Foibles
- First-Date Duds
- "I Haven't Got a Thing to Wear"

Note: See additional Table of Contents information on product website.
---
What You Get:
Book options include:
- Kindle $9.57
- Paperback $12.57
---
Guarantee / Terms:
See policy of product website
User Reviews of How to Make Anyone Fall in Love with You
View Other Home Study Courses (Books, DVDs, CDs, MP3/ Video)