F*ck Feelings - One Shrink's Practical Advice for Managing All Life's Impossible Problems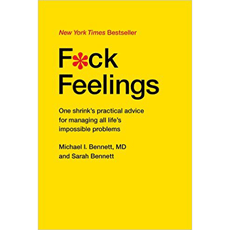 DSR Editor Rating
No Editor Review Available Yet.
Average User Rating
Go to Product Site
Product Information
Written by a Harvard-educated psychiatrist and his comedy writer daughter, "F,ck Feelings" takes a realistic approach to addressing your unrealistic wishes. It serves as a self-help book and cut-to-the-chase therapy session to managing all of life's impossible problems.
The authors reveal that "fairness" and "feelings" are the real f-words in life, and show how to get yourself on the path to realistic goals and results.
Some of the areas covered:
- Cure yourself of addiction
- Stop hating the ones you love
- Face fear and heal heartache
- Do the best with what you can
- Becoming a more positive person
- Unleash the power of persuasion
- Defend your right to live in safety
- Rising up from an asshole takedown
- Changing for love, and enjoying healthy sex
- Stop trying to change the things you can't change
- Take back your life and get to the root of your problems
---
Skillsets:
Lifestyle & Social Skills
Experience Level(s):
Beginner
Learning Format:
CD (Audio)
Kindle eBook
Book
Release Date:
September 01, 2015
Price:
$10.91 - $21.80
(depending on product format or options purchased)
---
Feedback
If you have a question or problem, ask us:
Table of Contents/ List of Topics Covered:
Introduction: What's Your Goal?

Chapter One: Fuck Self-Improvement
- Taking Back the Reins of Your Life (After a Stampede)
- Getting to the Root of Your Problem…and Tearing It Out
- Becoming a More Positive Person
- Stop Fucking Up
- Curing Yourself of Addiction

Chapter Two: Fuck Self-Esteem
- Fighting the Loser's Curse
- Unleashing the Power of Persuasion
- Standing Up to Bullies
- Overcoming the Stigma of Disability
- Saving Your Kid's Self-Esteem

Chapter Three: Fuck Fairness
- Defending Your Right to Live in Safety
- Getting Closure After Childhood Abuse
- Getting a Square Deal
- Clearing Your Name
- Getting Justice and/or Closure

Chapter Four: Fuck Helpfulness
- Easing Others' Sorrow
- Rescuing the Addicted
- Protecting Victims of Injustice
- Brokering Peace at Home
- Raising the Downtrodden

Chapter Five: Fuck Serenity
- Stop Hating the Ones You Love
- Accepting the Inescapably Annoying
- Facing Fear
- Healing Heartache
- Accepting Enmity

Chapter Six: Fuck Love
- Finding Someone
- Getting to Commitment
- Changing for Love
- Enjoying Healthy Sex
- Salvaging Lost Love

Chapter Seven: Fuck Communication
- Nurturing Closeness
- Airing Trauma
- Venting Anger
- Life-Changing Conversation

Chapter Eight: Fuck Parenthood
- Not Ruining Your Baby
- Stopping Constant Parent/Child Conflict
- Raising a Jerk
- Living with a Learning Disability
- Rebuilding Divorce-Damaged Parenting

Chapter Nine: Fuck Assholes
- Fucked by Your Nearest and Dearest Asshole
- My Parent, the Asshole
- Rising Up from an Asshole Takedown
- Saving Assholes from Their Shit
- Living and Working with Inescapable Assholes

Bonus Chapter Ten: Fuck Treatment
- Getting Treatment
- Getting Your Fill of Treatment
- Getting Treatment for the Unwilling

Afterword: Well, Fuck Me
Suggested Bibliography
Acknowledgments
Index
---
What You Get:

Book options include:
- Kindle $10.91
- Hardcover $11.48
- MP3 CD $21.80
---
Guarantee / Terms:
See policy of product website
User Reviews of F*ck Feelings - One Shrink's Practical Advice for Managing All Life's Impossible Problems
View Other Home Study Courses (Books, DVDs, CDs, MP3/ Video)