Research Desk
Podcast
#92 How to Connect with People and Leverage Mentoring to Learn Faster with James Swanwick
#92 How to Connect with People and Leverage Mentoring to Learn Faster with James Swanwick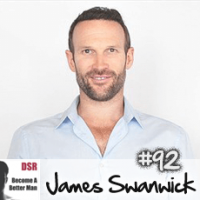 Press Play and Wait up to 10 Seconds for the Interview to Start Playing
Update Required
To play the media you will need to either update your browser to a recent version or update your
Flash plugin
.
Today we're looking at the basics of social and people skills. Also, we're going to be looking at relating to higher status people, like celebrities, or people you would like to learn from; for example, very successful people in dating, sex, and relationships, or elsewhere in your life. Those people could mentor you, but again, they tend to be much higher status than you. So how do you relate to them? How do you contact them?
Another thing to say about today's show is that it's extremely practical with some very good, simple takeaways. So enjoy that.
Today's guest is the first Australian we've ever had on the show - James Swanwick. He's a former TV anchor for ESPN's Sports Center. He got that job through networking, and didn't have any TV experience. He's also interviewed many celebrities, from Robert Downey Jr. to Jennifer Aniston, Jon Bon Jovi, Angelina Jolie, and so on. Through that, he gathered a lot of experience; having to relate, socialize, and work with high status people like this.
Today, he teaches these kinds of things - people skills, social skills - and spreads the word about the value of these types of skills in everything in our lives.
Don't Miss New Dating Skills Podcast Episodes
Specifically, in this episode you'll learn about:
James' background (03:18)
James' current social and dating relationships, and a perspective on marriage (04:46)
How socializing, networking, and building a social lifestyle in LA has impacted James' dating lifestyle (13:26)
How James began interviewing celebrities and high status people (16:05)
Fundamental people skills and how James has nurtured his high status relationships: the difference between taking an interest in a person and taking a genuine interest in a person (18:05)
The Myers Briggs test: are you an introvert or extrovert? Learning to become an extrovert (20:41)
What James has learned from relating with celebrities (22:55)
The big takeaways of developing social / people skills (28:28)
James' 30 Day No Alcohol Challenge: sharing his story of how to connect to people (34:00)
Developing intimacy with others by taking risks: ask better questions (35:30)
The importance of a good relationship between a mentor and mentee: offering and adding value (40:10)
Tips for selecting a mentor: seeking wisdom (48:06)
Best way to connect with James and learn more about his work (49:55)
Recommendations for high quality advice in the social and people skills area (50:45)
Top three recommendations to improve this aspect of your life as soon as possible (51:40)
Items Mentioned in this Episode include:
Comment Rules: You know that James Bond factor? The "cool" factor. That's how we're gonna be - cool. Critical is great, but if you're rude, we'll delete your stuff. Please do not put your URL in the comment text or use your business name as your name, as it looks like spam. Have fun and thanks for adding to the conversation!
Help Us Improve DSR Podcast Interviews for You
DSR Podcast is a weekly podcast where Angel Donovan seeks out and interviews the best experts he can find from bestselling authors, to the most experienced people with extreme dating lifestyles. The interviews were created by Angel Donovan to help you improve yourself as men - by mastering dating, sex and relationships skills and get the dating life you aspire to.
Help us improve the quality of interviews by sending us feedback about what questions you'd like answered or who you'd like to see interviewed.
Contact: [email protected]
"Listen In As We Share The Top Takeaways From The Best Dating Products Ever Created... Shave Years Off Your Learning Curve As You Discover What Really Creates Success With Women"
Here's just a few things we reveal in this info-packed interview:
The surefire products that are proven to work - based on 15+ years coaching men to dating success.
Why we dubbed this one product 'idiot-proof' and how it can transform a woman's reaction to you almost immediately.
Feel anxious about approaching women? Discover how to bypass that and set up a stream of dates with gorgeous women in as little as 20 minutes a week.
Dating Skills Review has been featured or quoted in: