#87 Navigating the World of BDSM with Lee Harrington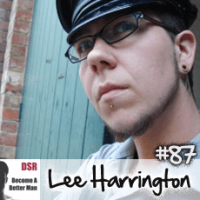 Press Play and Wait up to 10 Seconds for the Interview to Start Playing
Update Required
To play the media you will need to either update your browser to a recent version or update your
Flash plugin
.
Today we're exploring sexuality a bit more. So, whether it be with your partners or casual relationships, you can always be pushing the edge on your sexuality; exploring it further, stopping it from getting boring.
One of the things that's happened more recently is that BDSM has kind of come from the fringe to a bit more mainstream, thanks to the Internet where it is discussed more, and of course it's depicted in porn a lot more as well. So it gives it more exposure and gives it more attention, and more people get into it, or try it out.
In sex shops, also you'll find that there are toys related to BDSM, so you start to get more exposure to it. It has become a bit more of a mainstream thing. Of course, the film Fifty Shades of Grey (E L James) has helped with this, as have the books.
I've been meaning to do an episode on this for a little while, and I wanted to make sure that it was a practical episode. So I hunted down a guest to talk about it 'practically'. The person I found is Lee Harrington. He has authored a book on the subject pretty recently with co-author Mollena Williams. He has been a long-time sexuality blogger and explorer himself.
This book that he wrote - it's called Playing Well With Others: Your Field Guide to Discovering, Navigating and Exploring the Kink, Leather and BDSM Communities - has got a lot of positive reviews and recommendations from the BDSM and sex positive communities. So, I think he was the ideal person to talk to about this and get a practical perspective, especially if it's kind of new to you, learn how to take your first steps and get involved with it, or start talking about it in your relationships.
Don't Miss New Dating Skills Podcast Episodes
Specifically, in this episode you'll learn about:
Lee's is current relationship and where he's at in his own life regarding dating, sex, and relationships (03:35)
What sparked Lee's interest in BDSM and kink, and his introduction into it (04:23)
An overview of BDSM and kink, and their variety of preferences (06:59)
BDSM and kink becoming more mainstream and its relevance to a mainstream audience, as well as the importance of communication and 'consent' (10:10)
Navigating the boundaries of the "extreme" in BDSM and kink as a way of developing and improving your relationships, even if deciding there are experiences that are not for you (15:22)
Finding ways to introduce yourself to BDSM and kink: communities, classes, private clubs, parties, etc. (16:38)
What type of people would be interested in exploring this area? (23:43)
How to introduce this area of interest to your partner (27:07)
Building trust and communication in various types of sexual experiences to improve your relationship (30:11)
Specific things in the Fifty Shades of Grey movie and books that portray the healthy and unhealthy sides of BDSM and kink (36:09)
Coming to an agreement about what you and your partner are into and fulfilling each other's desires (40:46)
Matchmaking type of websites for people interested BDSM and kink (41:46)
The importance of safety when using bondage toys and equipment (47:40)
The emotional journey during BDSM and kink types of sexual experiences: playing and dealing with your emotions (56:09)
Navigating through the BDSM community and dealing with different perceptions or approaches: the negative aspects (1:01:05)
The various styles of rope bondage, where to start, and your approach (1:07:30)
The best ways for people to contact Lee and learn more about his work (see show notes below) (1:14:51)
Recommendations for high quality advice in this area (1:14:51)
Items Mentioned in this Episode include:
Books, Courses and Training from Lee Harrington
Comment Rules: You know that James Bond factor? The "cool" factor. That's how we're gonna be - cool. Critical is great, but if you're rude, we'll delete your stuff. Please do not put your URL in the comment text or use your business name as your name, as it looks like spam. Have fun and thanks for adding to the conversation!
Help Us Improve DSR Podcast Interviews for You
DSR Podcast is a weekly podcast where Angel Donovan seeks out and interviews the best experts he can find from bestselling authors, to the most experienced people with extreme dating lifestyles. The interviews were created by Angel Donovan to help you improve yourself as men - by mastering dating, sex and relationships skills and get the dating life you aspire to.
Help us improve the quality of interviews by sending us feedback about what questions you'd like answered or who you'd like to see interviewed.
Contact: [email protected]
"Listen In As We Share The Top Takeaways From The Best Dating Products Ever Created... Shave Years Off Your Learning Curve As You Discover What Really Creates Success With Women"
Here's just a few things we reveal in this info-packed interview:
The surefire products that are proven to work - based on 15+ years coaching men to dating success.
Why we dubbed this one product 'idiot-proof' and how it can transform a woman's reaction to you almost immediately.
Feel anxious about approaching women? Discover how to bypass that and set up a stream of dates with gorgeous women in as little as 20 minutes a week.
Dating Skills Review has been featured or quoted in: