Ep. #69 Arousing Women Holistically with Sheri Winston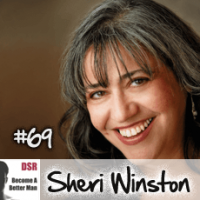 Press Play and Wait up to 10 Seconds for the Interview to Start Playing
Update Required
To play the media you will need to either update your browser to a recent version or update your
Flash plugin
.
How much do you really know about women's sexual anatomy? About how they physically get aroused? About the journey a woman goes through during her lifetime in her own sexual discovery? Is a 20 year old woman at a similar place as a 38 year old woman in this journey? All women are different, at different stages of their journey - and get aroused differently, in different ways, timelines and to different levels as they go through their journey. As men, this can be difficult for us to understand as our own sexual journey is very different.
If we can develop more empathy as men for where an individual woman is at in terms of their sexuality, we can help her discover herself . . . and become more fulfilled sexually also. That doesn't just make for great sex, it makes for deeper intimacy, more meaningful relationships, and ultimately, will help us develop and learn more about our own sexual expression.
This is a difficult subject to get good information and advice on. Women have as many sexual personalities as they do personalities. Their sexual anatomies are nearly as varied as their facial features. And that variety can be challenging to men, to understand it - and to make the most of sexual relations with our partners.
Today's guest is Sheri Winston. Sheri stands out because she has taken a very open minded approach to understanding Women's Arousal exploring everything from anatomy, to tantric sex to other ancestral and spiritual rituals to better understand "How women are aroused". This was documented in her 2010 book, "Women's Anatomy of Arousal: Secret Maps to Buried Pleasure." The American Association of Sex Educators, Counselors and Therapists gave her the book of the year award saying that it is "the most comprehensive, user-friendly, practical and uplifting book on women's sexuality I've ever read." I personally found the information in her book different and enlightening in many places - and I learned some completely new stuff about sex and women's sexuality, which after my 10 plus years doing this, is a pretty rare. So I'd recommend every guy read it - it will definitely open up your minds to some new and important things about women.
Don't Miss New Dating Skills Podcast Episodes
Specifically, in this episode you'll learn about:
Sheri's background, where she is in life, and her sexual journey (03:13)
Sex positive culture versus sex negative culture (07:25)
The use of language when talking about genitals / genitalia, sexual talk in bed, and societies' current sexual language limitations (14:11)
What Sheri calls the pussy cat energy, and understanding the female network of the vagina (22:10)
Arousal as an ultra state of consciousness towards enhancing sexual experiences (33:11)
How women develop their awareness of their bodies (37:30)
Encouraging self-pleasure and how to approach the topic in supportive ways (41:55)
Women becoming multi-orgasmic and having different types of orgasms (44:56)
Men, multi-orgasms, and moving energy to minimize genital problems (46:38)
Coinciding the journeys of male and female sexual awareness (48:15)
Recommendations for high quality advice in this area (51:35)
Top three recommendations to help men get results as fast as possible with women (53:03)
Items Mentioned in this Episode include:
Sheri's recommendations to help men get results as fast as possible with women:
Books, Courses and Training from Sheri Winston
Comment Rules: You know that James Bond factor? The "cool" factor. That's how we're gonna be - cool. Critical is great, but if you're rude, we'll delete your stuff. Please do not put your URL in the comment text or use your business name as your name, as it looks like spam. Have fun and thanks for adding to the conversation!
Help Us Improve DSR Podcast Interviews for You
DSR Podcast is a weekly podcast where Angel Donovan seeks out and interviews the best experts he can find from bestselling authors, to the most experienced people with extreme dating lifestyles. The interviews were created by Angel Donovan to help you improve yourself as men - by mastering dating, sex and relationships skills and get the dating life you aspire to.
Help us improve the quality of interviews by sending us feedback about what questions you'd like answered or who you'd like to see interviewed.
Contact: [email protected]
"Listen In As We Share The Top Takeaways From The Best Dating Products Ever Created... Shave Years Off Your Learning Curve As You Discover What Really Creates Success With Women"
Here's just a few things we reveal in this info-packed interview:
The surefire products that are proven to work - based on 15+ years coaching men to dating success.
Why we dubbed this one product 'idiot-proof' and how it can transform a woman's reaction to you almost immediately.
Feel anxious about approaching women? Discover how to bypass that and set up a stream of dates with gorgeous women in as little as 20 minutes a week.
Dating Skills Review has been featured or quoted in: