Research Desk
Podcast
#100 Men and Women See Love and Commitment Differently with John Marshall Townsend
#100 Men and Women See Love and Commitment Differently with John Marshall Townsend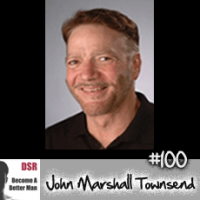 Press Play and Wait up to 10 Seconds for the Interview to Start Playing
Update Required
To play the media you will need to either update your browser to a recent version or update your
Flash plugin
.
In today's topic, we're looking at DSR - dating, sex, and relationships - from a science perspective and its evolutionary psychology. We've touch on that in the past and more specifically the subject of love and commitment, and how it differs between the sexes.
We're going to do it through a number of mechanisms today's guest has looked at. He's looked at some of the cultural extremes around the world. So he's looked all around the world to see how men and women interact and relate to each other in relationships, love, and commitment differently. So we're looking at China, for example, which is pretty different from the U.S., and some other places.
We're also looking at how having greater experience with sex, having had more sexual experiences, influences how you look at it and behave. We're looking at some of the most active, sexual, young, adult populations today and what's going on there - how it's changed over time - and whether today's most common relationship type is in fact the marriage with extra marital affairs. So that's like secret affairs and basically marriage with cheating. Is that the most popular model today? So if that's true, they are getting married because maybe they feel they have to or they actually like the fact of being married, or they feel social pressure to. It could be a number of reasons. And then they're continuing to be polyamorous. So we'll dig more into that.
Today's guest is John Marshall Townsend, PhD. He's a Professor of Anthropology at Syracuse University. His research is into human sexuality, sexual attraction, marriage, divorce, and culture. He teaches courses on sexual attraction in cross-cultural perspectives, and cultural and sexual behavior.
He has published numerous studies and books. His latest book is simply titled: What Women Want - What Men Want. Currently, his research is focused on highly sexual, active, young adults, which we'll get into in this call.
Don't Miss New Dating Skills Podcast Episodes
Specifically, in this episode you'll learn about:
What triggered John's interest in the differences in sexual psychology (06:03)
John's perspective of looking at sexual psychology differences in men and women from a politically correct view (10:10)
The study of casual sex at Syracuse University (11:15)
Men do better with women when achieving higher status (15:03)
The basis and methods behind John's research (18:28)
An overview of the differences in sexual orientation (25:30)
Modern day sexual freedom versus traditional commitments (27:25)
Is biology a factor in more experienced men sleeping with more women (e.g. testosterone) or is it psychological? (34:40)
Sexual behavior extremes in other communities and countries (37:40)
Emotional alarms of women involved in uncommitted sex and the lack of connection from men beyond the physical act (43:25)
Will the growing number of independent women have an impact on love and commitment over time? (59:00)
The best ways to connect with John to learn more about him and his work (1:04:11)
Top three recommendations for guys starting out from scratch to improve their dating life as fast as possible
Items Mentioned in this Episode include:
Books, Courses and Training from John Marshall Townsend
Comment Rules: You know that James Bond factor? The "cool" factor. That's how we're gonna be - cool. Critical is great, but if you're rude, we'll delete your stuff. Please do not put your URL in the comment text or use your business name as your name, as it looks like spam. Have fun and thanks for adding to the conversation!
Help Us Improve DSR Podcast Interviews for You
DSR Podcast is a weekly podcast where Angel Donovan seeks out and interviews the best experts he can find from bestselling authors, to the most experienced people with extreme dating lifestyles. The interviews were created by Angel Donovan to help you improve yourself as men - by mastering dating, sex and relationships skills and get the dating life you aspire to.
Help us improve the quality of interviews by sending us feedback about what questions you'd like answered or who you'd like to see interviewed.
Contact: [email protected]
"Listen In As We Share The Top Takeaways From The Best Dating Products Ever Created... Shave Years Off Your Learning Curve As You Discover What Really Creates Success With Women"
Here's just a few things we reveal in this info-packed interview:
The surefire products that are proven to work - based on 15+ years coaching men to dating success.
Why we dubbed this one product 'idiot-proof' and how it can transform a woman's reaction to you almost immediately.
Feel anxious about approaching women? Discover how to bypass that and set up a stream of dates with gorgeous women in as little as 20 minutes a week.
Dating Skills Review has been featured or quoted in: