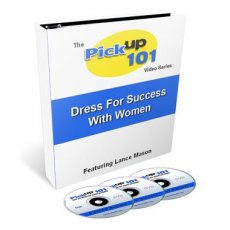 DSR Editor Rating
Product No Longer Available.
Editor Review
1 of 1 people found the following review helpful
"Not Outstanding, but a Reasonable Product"
Ease of Implementation
8.0
Packaging/ Customer Service
9.0
The Good
Strong mindset tweaks to support continued learning after the course, practicality thanks to detailed discussion of some aspects and some good concepts relating the fashion directly to attraction and women.
The Bad
Weak on putting the overall outfit together, and on styles, lacks education on a deeper understanding of how fashion works, too much focus on peacocking, Lance would make it more credible by 'walking the talk' with his style for the DVD.
The Bottom Line
This product is useful, although not outstanding. It is most relevant to people who have little to no understanding of fashion and image – which is still the majority of guys. Given that it is one of very few products on the fashion/ image skillset right now, it is worth buying if you fit this profile. However, I'm hoping that there will be something better soon – so keep your eyes out for it here.
FULL DETAILED REVIEW
There are very few products out for image/ fashion as yet, so this was a welcome addition. It's the first DVD based product to hit the market in this category. It is clearly aimed at people who don't have an understanding of fashion and image.
The DVD is well put together, Pick Up 101 took the time to shoot scenes in addition to the presentations by Lance Mason with examples of clothing and looks, which makes it easier to follow.
Instructors need to walk the talk more…
My first point is on the presentation of Lance Mason himself. The outfit he wears through most of the presentation is basic casual, which doesn't reflect the aspirations of the product itself. It would've been a no brainer for him to dress well for this program to demonstrate the points he was making with more credibility. Whilst he does reveal many of his outfits later that are stylish, he misses the opportunity to make the full impression to his students and watchers of the DVD.
Strong Mindset Tweaks to Keep You Improving Over Time
The strongest point of this product was some of the mindsets Lance talks about at the end of the second DVD. These are valuable, because when applied, they will enable you to learn better by yourself. This is important, because fashion takes nurturing over time to really develop it. You won't walk out after watching this DVD and know exactly what to wear and how, for instance. Or any other fashion/ image product for that matter. So, the foundation mindsets he plants will be very helpful for people to carry on their learning and nurture their image over time. Examples include how to maximize the value you get out of your expense on clothes and who you should take advice from.
Practicality Found in the Detail
The other good point of the product, is the detail that Lance goes into on each item of clothing. For example, he dedicates a part of the program to discussing each individually, such as jeans, belts, shirts and shoes. Fashion is subtle, and the level of detail he discusses on each will be very helpful for guys who don't know very much about it.
Lacking in Support to Help Students Understand How Outfits Are Put Together
The main weakness of this product is that it doesn't lay a sufficient base in the rules of fashion itself. Whilst he discusses each item individually, the material on how to combine these into an overall outfit is weak and the time dedicated to it is too short. There are many concepts in fashion that were not discussed including coloring, the various rules of how outfits are put together, what makes them work together as a whole, and differing styles (a few looks are discussed very briefly).
Brad P's product "Fashion Bible"
is a lot stronger on this point.
Where he does discuss the overall outfit, he provides some down to earth, more practical advice about elements to include. This is helpful for students in the short term, to improve, but it will only get them so far – because they won't be able to take it beyond the specific practical points he suggests. Basically, it lacks the conveyance of a deep understanding of fashion.
Needed More Discussion of Overall Image Beyond Clothes
Another weakness is how the product relates the image aspect of fashion. The product is called "dress for success", so in a way this isn't a surprise. However if the aspects of image aren't addressed, they detract significantly from the impact of clothes, no matter how good they are put together. The two aspects of this he does address are grooming and hair. He covers these with basic rules, without that many examples.
Fashion for Pick-Up
The product makes a strong connection with pick-up. He relates fashion advice to specific situations where you meet women with some good points. In particular he uses a good concept to discuss and make fashion clear with respect to comfort building and attraction, and how you can adapt it to support the process. He also discusses the need to adapt fashion to the types of women you are targeting. This was good, but he doesn't develop it far enough to make it as useful as it could have been. It lacked ease of implementation in the end, because he gave few to no reference points.
He places a lot of emphasis on peacocking. On the good side, he places it into a lot more context than I've seen before, which will stop the 'over-abuse' that has been so common in the community and detracts from guy's impact with women. On the bad side, discussing it so much, made it seem like it was necessary. Things have moved on quite a bit since the community went through its 'peacocking' stage.
Sidenote: I went to see "17 Again" last night and there was a cringe moment where this guy peacocks to impress a girl. He tells his buddy that he is using a powerful "seduction community" technique called Peacocking to attract the girl to him. He gets blown out seconds later by the girl, "Are you peacocking to try and impress me now?". Ha ha. Whilst I'm joking here, there is an element of seriousness to it – peacocking has been overplayed, so discussing it with moderation would have been more appropriate.
Customized Critiquing Useful, But Could've Gone Further
The last DVD is dedicated to critiquing the outfits of a few guys and how it fits with their overall aims. I liked the fact that the brought it back to their goals, and the types of women they wanted to meet. The guys in the video, needless to say, had awful outfits. Lance was not being significantly critical of them in my view, and missed many opportunities to get them to step up and improve the way they looked. Nonetheless, watchers will find it useful to see these customized examples of how to improve your fashion, which gives the program another plus for its practicality.
The Bottomline:
This product is useful, although not outstanding. It is most relevant to people who have little to no understanding of fashion and image – which is still the majority of guys. Given that it is one of very few products on the fashion/ image skillset right now, it is worth buying if you fit this profile. However, I'm hoping that there will be something better soon – so keep your eyes out for it here.
Help other users find the most helpful reviews
Was this review helpful to you?
Product Information
This is a fashion, style, and image program offering tips on how to build your look step-by-step and impress everyone with your new found sense of style.
---
Skillsets:
Image, Physique & Style
Learning Format:
DVD (Video)
Release Date:
January 01, 2008
Product No Longer Available.
---
Feedback
If you have a question or problem, ask us:
Table of Contents/ List of Topics Covered:
- Simple ways to use fashion to keep women off-guard
- The elements of popular fashion
- How to shop like a pro
- The elements of grooming
- Combining fashion with your identity
- How to communicate that you're a man who is comfortable with hot women
- The rules of fashion you absolutely must follow
- The reason you're not getting noticed in the way you want
- How to burst out of a fashion-failure rut
- The rules of fashion for pick-up
- The ways to use fashion to emphasize your good points
- How to project confidence through your look
- How to pick out the right clothes
---
What You Get:
- 3 video DVDs
- Detailed transcripts
- DVD binder
---
Guarantee / Terms:
6-week return policy to get full refund
Lifetime replacement of defective discs
User Reviews of Dress for Success
Most Helpful User Reviews
2 of 2 people found the following review helpful
"Don't Take Mason's Advice on Fashion (of all things)..."
Ease of Implementation
1.0
Packaging/ Customer Service
1.0
Reviewed by
Brainbuster
January 09, 2015
One of the reasons I listen to Lance Mason's advice
on how to pick up women is that, on first glance,
he doesn't look desirable to women
(like Paul Janka, Mystery, Matador, Gambler...
all of whom at least look like they fit an "attractive type"
that many women go for).
By his own admission (in an interview with Eric Disco),
he says that he always approaches women with a
"shit-eating grin" on his face.
I honestly think that this expression
is not ideal for approaching strangers.
It's sort of like a salesman who's forcing a tired smile on his face.
Instead, the research says it's better to let a smile take
3 seconds to creep up on your face.
Anyway, back to the topic at hand...

Lance's outfit looks forgettable and nondescript,
and looks like something one might wear
if you work in a cubicle and didn't have time
to change before going to the club...so he just put his hair
under a water faucet and wore his one-size-fits all blazer to the club.
So if Lance Mason picks up girls, then I can be pretty sure
it's not because he initially attracted the girls using his looks.
That's why I listen to his advice on inner and outer game.
His hair looks like it was inspired by a TV sitcom dad from the 1980's.

The (2nd to) last person
I'd go to for advice on fashion is Lance Mason.
I always think he looks like a schoolboy
who raided his dad's closet.
His suits and undershirts are always too large for him...
and they're certainly not tailored.
I would also suggest he (and all men) get his eyebrows manscaped,
and to get a tan. I personally don't like tanned women,
I prefer them fair skinned, but the research says
that women overwhelmingly prefer tall, dark men
(as you might expect...it's cliche for a reason).
Also, Lance is 43 now, and I'm 33, and men lose their skin color
as we get older...so tanning is a way to look more youthful.
However, if there's a woman reading this, the research shows the opposite:
men (most men) prefer fair-skinned girls to tanned girls--all other things equal.
This is not necessarily true if you're overweight or have uneven skin tone with lots of blemishes; since tanning can help to hide the above. But if a woman has great skin, then tanning it only renders her less attractive to most men.

P.S. If you're wondering who the last person I'd go to for fashion advice is,
it's Sasha (from Sasha Daygame). But it's possible Sasha dresses like that because he thinks it's funny. Or maybe he's trying to prove that it's still possible to pick up women even when you're dressed like that.









Help other users find the most helpful reviews
Was this review helpful to you?
View Other Home Study Courses (Books, DVDs, CDs, MP3/ Video)