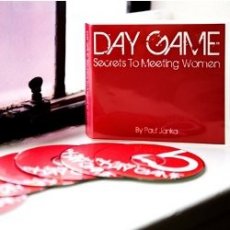 DSR Editor Rating
Product No Longer Available.
Editor Review
3 of 3 people found the following review helpful
"More Details on Janka's Street Game Approach"
Ease of Implementation
5.0
Packaging/ Customer Service
8.0
Reviewed by


Syboh Seven
Last Update:
November 18, 2017
The Good
Janka's Day Game techniques are explained more in depth; good examples of his (simple) openers and how to handle different situations.
The Bad
Although more focused on the approach, the material is quite similar to the DVD set and ebook; Janka still does not explain how to get over approach anxiety apart from "just doing it"; lots of interesting anecdotes but no demos or full "real time" examples.
The Bottom Line
This product explains in details the "front end" part of Janka's system, ie how to get a high volume of phone numbers from street/day game. We would not recommend it as a stand-alone buy, but for the newbies who purchased Janka's DVD set Beyond the Digits or his book The Attraction Formula, this is an OK buy for more details on his approaching methods.
FULL DETAILED REVIEW
Zooming in on the front end
Paul Janka's other two products to date, the 6 DVD set
Beyond the Digits
and the
Attraction Formula
ebook, presented his overall dating "system", which requires a high volume of approaches and getting a lot of phone numbers upfront, in order to "play the marketplace" later on (see the above 2 reviews for more details on that).
Obviously in order to get those numbers on the "front end", you need to learn how to approach and carry a conversation with women, while communicating the right mix of safety and intrigue, Janka-style. This product focuses on precisely that, zooming in on the day/street game part of the system and going more in depth about how to approach and handle objections.
Somewhat familiar material
The downside of "zooming in" on a part of the system: you may be familiar with a lot of the material if you have seen Beyond The Digits or The Attraction Formula before, which is sort of required if you want to make sense of the approach used here. The Movie Trailer Concept, Assuming Familiarity, Mojo, etc, are explained again. However, Janka has more time (about 6 hours total) to develop each point and explain more about his practical street techniques.
We are taught to be ready for objections, and Janka list the most common ones and possible replies. As usual with Paul Janka, it's all very simple and straight-forward: try this, if it doesn't work, try it again on someone else. Rinse, repeat, and don't over-analyze it, the volume of approaches will compensate for mistakes and losses.
Janka usually opens with something innocuous then transitions to something more personal and then gets the number within 2 minutes or so (consistent with his Movie Trailer Concept). He uses situational openers (commenting on the environment, ie "Can you help me here, are those tomatoes ripe?") or direct openers (statement of interest, eg "You are cute, I like your smile") - no routines or rehearsed scripts here but a spontaneous, free-flowing approach.
Janka explains the most effective time of the day to meet women, how to pace conversations, the difference between silence and perceived silence, how to handle obstacles, and many more techniques for street game.
On the last CD (CD 6), he lists his 4 categories of girl (party girl, bitchy girl, girl next door, fun girl) and how to handle each of them - this part was quite interesting and is exclusive to this audio programme.
A few downsides
One of the downsides of Janka's method is the "2 minutes and out" approach, ie how he recommends to open and leave within 2 minutes, to create intrigue. One might wonder is there isn't a "hot guy" bias going on here. In my experience, using this approach if you are very new at this or not gifted in the looks department will lead to a lot of flaky numbers (ie the girls won't pick up or won't meet you again). I agree that it can be effective, in time, but I would not suggest newbies to do it.
Another problem: Janka also doesn't really teach you how to "rap", how to have an interesting conversation that leaves the girl interested. He has some general tips, but nothing that would really get a shy guy prepared (for this, check out my review of Vin DiCarlo's Conversation Cure, which does a good job at getting you there).
A narrower focus
Due to its narrower focus and lack of an overall system description, we would not recommend this as a stand-alone product; you would miss critical pieces of the puzzle if you were to watch this by itself. The most inventive parts of Janka's method, i.e. his overall mindset, funnel and end-game techniques, are not described here.
Fortunately however this is no longer a problem as it is sold with the Attraction Formula ebook and other products in the Attraction Formula program.
The Bottom Line
This product provides a nice "Zoom In" to the first steps of approaching and starting conversations with women for Paul Janka's dating system. This builds on the material you will have already learned in the Attraction Formula eBook and his advanced video training series (make sure to start with them first) if you buy the Attraction Formula program.
Typically approaching is where men need the most help - so it makes sense.
Help other users find the most helpful reviews
Was this review helpful to you?
Product Information
This audio program is about developing the conversation skills necessary to meet women. It's shows you how to get comfortable talking to attractive women and learning what to say. It is currently only sold as part of the Attraction Formula program.
---
Skillsets:
Meeting Women
Attracting Women
Release Date:
October 11, 2009
Product No Longer Available.
---
Feedback
If you have a question or problem, ask us:
Table of Contents/ List of Topics Covered:
- A concept that will make you feel empowered that you won't hesitate on approach
- Subtle dynamics are basically non-verbal cues that are communicated in a pick up
- How to use the power of the immediate environment to your benefit
- How to project sexual intent in a manner that's civilized and graceful
- How to deflect possible rejection and how to handle her reservations
- How and where to meet women when they are most receptive and least guarded
- Learn how to pick-up a woman when she's with her girlfriends or in mixed company
- Different approaches for different types of women
---
What You Get:
Set of 6 audio CDs
---
Guarantee / Terms:
If you are not satisfied with the product, just reply to your order confirmation email and request a refund.
User Reviews of Day Game
Most Helpful User Reviews
8 of 9 people found the following review helpful
"A lot of great ideas, but Paul is a tall, good-looking, wealthy rake who believes in his "system.""
Ease of Implementation
8.0
Packaging/ Customer Service
5.0
Reviewed by
Brainbuster
May 31, 2013
The Bad: Some of his advice is SO cliche that it sounds like a joke...like, it's not even uninteresting for a reason (such as in Daygame Blueprint, where your pickup line is something that makes her believe it could NOT have been rehearsed, "...You look really nice...").

For example, he suggests that you could ASK HER FOR THE TIME, or ask her for directions. This gets the ball rolling.

In his defense, he sounded as if he wasn't planning to say that, it was just in passing. He said that you could use that as a "generic" situational opener. However, I believe that for any guy who doesn't look like Paul Janka or Brad Pitt, this opener fails on many levels. Of course, I really don't believe the opener even matters, but at the same time, if you say, "I just pooped my pants," as your opener, it probably will hurt you.
In fact,
"I just pooped my pants,"
may be even BETTER than,
"Excuse me, do you know what time it is?" (an opener suggested by Paul Janka)

So, this is a GLARING FLAW in his products. I have yet to hear Paul Janka address this issue and I hear this issue raised all the time about him (in the comments in youtube, and in forums).
Even if you take his "game" away,

PAUL JANKA HAS EVERYTHING WOMEN WANT.

He has everything going for him in the Attraction department.

Paul Janka is

Tall,
Good-looking,
Socially intelligent,
He is articulate,
Good speaking voice,
Full head of gorgeous hair,
Not too old,
Not too young,
Not fat,
He owns his own business, which is worth millions,
He is very wealthy,
He has his own place (a penthouse in the richest region in New York)

If you think women just don't care about any of the above, then the only thing that matters to them is "game," then this is not an issue.

We do not see his system at work for his students.
Does it work if you're short? We don't know.
If you're fat? If you're poor?
If you live in your mom's basement? If you have a weak chin? We don't know.

We don't know.
Because we hear an intelligent, good-looking rake tell us stories about the women he has taken up into his penthouse in upper class New York and then "seduced" using his "system." His system? Approach a stunning supermodel and say the first boring thing that occurs to you, such as, "Hey, excuse me, do you know where the nearest Starbucks is?" Paul will explain to you all the theoretical reasons why this line "works," but Paul himself doesn't realize that the supermodel went to bed with him IN SPITE OF his lame pickup line.

Paul Janka, this is an important issue.
Please send a short, fat, ugly, or poor guy out into the field and document his results with your "system."

THE GOOD:

Paul Janka IS a meticulous, exacting, goal-oriented, very smart guy.
He is a great speaker, and he articulates his thoughts extremely well.
Listening to him will certainly benefit anyone, even if you don't look like Paul Janka and even if you drive a shitbox '91 Ford Escort.
Assuming what he says is true, he has a vast pool of experience from which to draw, and even if he didn't tell you this, you can just tell that his conclusions DO come from experience...and a lot of it.

There is a lot of material here, and the few negatives I mentioned in the bad section are all I can think of; viz., the lame, stupid, indirect openers. They are situational openers and half of them aren't even good ones. And the fact that Paul Janka looks like a Greek God and his system comes purely from his personal experience as a Greek God who also happens to be rich.

There's a great deal of quality material here...and I don't mean material you can use in the field, like routines or lines. Just provocative ideas about bedding women.

It's a no-nonsense guide to bedding women.
Paul Janka has no shame, and I like that about him.
He sometimes mentions something in passing, just off the cuff, but it really makes me think, such as,

"Women are not creatures of initiative. Even if she digs you, you still have to drive the bus."

That's so true. And I find that inspiring. I need to man up and take initiative.
Help other users find the most helpful reviews
Was this review helpful to you?
View Other Home Study Courses (Books, DVDs, CDs, MP3/ Video)