David DeAngelo (Eban Pagan) Wedding Video with Annie Lalla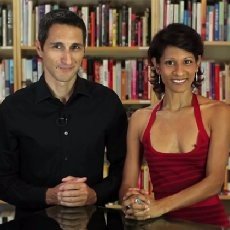 Background Info
Featured Dating Company
:
Double Your Dating
Featured Dating Coach(es):
David DeAngelo
Publication/ Broadcast Date:
September 26, 2011
Media Brand: N/A
Medium: Personal Video
David DeAngelo (real name Eban Pagan) created this video with his soon to be wife, Annie Lalla, shortly before they got married.
In this video Eban and Annie explain why they felt it was important to get married. This is an important video since David DeAngelo was originally a member of the seduction community (circa late 1990s), a community which for the most part is not pro-marriage. Most of its members believe that marriage is unnecessary.
You can learn more about David DeAngelo's relationship with Annie Lalla in David DeAngelo's bio.
Video of Media Appearance
Update Required
To play the media you will need to either update your browser to a recent version or update your
Flash plugin
.
Other News & Media Items Featuring David DeAngelo
Help Us to Improve this News & Media Item
The information in this News & Media item is verified by Dating Skills Review's Editors to be as objective, complete and close to the truth as possible.
Help us improve the infromation on David DeAngelo (Eban Pagan) Wedding Video with Annie Lalla by sending us any background on this media appearance that you believe to be missing, wrong or lacking detail. Please state sources where possible to make our job easier to verify the correctness of the information.
Contact: [email protected]