Charisma Installation System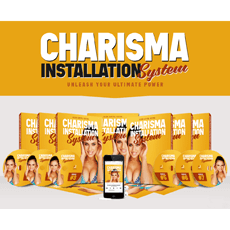 DSR Editor Rating
No Editor Review Available Yet.
Go to Product Site
Product Information
This "Charisma Installation System" video course by Jason Capital is designed to show you how to develop charisma and create special moments with people using your words, eyes, and touch.
The course is intended to:
- Open doors of opportunity for you
- Help you become someone who is in demand
- Get people to think and talk about you in a different and positive way
- Help you experience the positive results of the course within 30 days
Bonus item includes:
- Charm by Jason Capital
---
Skillsets:
Inner Game & Confidence
Experience Level(s):
Beginner
Learning Format:
Online Access
Release Date:
December 10, 2015
---
Feedback
If you have a question or problem, ask us:
Table of Contents/ List of Topics Covered:
- How to become charismatic
- How to be more open with people
- How to unleash the "prince charming effect" in your life
- Develop the confidence and ability not to care what others think
- Develop the skills to connect with people at a super personal level
- How to command attention through your character, authenticity, power, and presence
---
What You Get:
Online access
---
Guarantee / Terms:
60 Day Money Back Guarantee
One time payment of $249 or three payments of $97
User Reviews of Charisma Installation System
Most Helpful User Reviews
18 of 31 people found the following review helpful
"Disappointing"
Ease of Implementation
1.0
Packaging/ Customer Service
1.0
Reviewed by
Adrian
January 21, 2016
Sold the course with the advertisement that whoever bought the course within a certain time frame got a free 120 minute coaching call, valued at $1397, which then turned out to be a group call, does anyone really pay that amount of money for a group coaching call. Anyway set up the link to post questions in advance of the call, didn't follow through with it, set the date and time got an email the day after to say that Jason can't make it on the call tonight when it was supposed to be last night asked for a refund and won't give me my money back even though he also advertises the course with a 60 day money back guarantee. Needs to learn about integrity! Only gets one star because I couldn't rate it any less.
Help other users find the most helpful reviews
Was this review helpful to you?
7 of 16 people found the following review helpful
"The BEST Program for Developing Charisma"
Ease of Implementation
6.0
Packaging/ Customer Service
8.0
Reviewed by
Aditya
February 17, 2016
Once you get out of this program, you are not just magically going to come out of it an EXTREMELY charismatic man. This isn't how it works. However, with that in mind, The Charisma Installation System is still one of the most powerful systems out there. The program is broken up into 10 modules in the form of video. Each module is either to prepare you, give you the mindset, or teach you charismatic techniques. You also get the Charm Installation System with the program. Charm and Charisma combined can make you one of the most charismatic men out there today.

With the fluff out of the way, lets get to the review. Charisma does not teach you a whole lot. What it does is give you the tools, the mindsets, and some starter techniques in order for you to become charismatic. Jason describes charisma as a Kaizen process (look this up if yo don't know what it means). What the program does is set the frame for becoming charismatic. It is the fundamentals of charisma. The program gives you amazing mindsets you NEED to utilize in order to become charismatic. It also gives you characteristics of charismatic men, tells you what charisma can do, and gives you some powerful techniques to be charismatic. The most important-and the most useful-part of this program is the fact that it allows you to find your own incarnation of charisma and starts you off on a journey to becoming extremely charismatic. The mindsets really help frame yourself in a position to become more charismatic and the techniques motivate you to become more charismatic after you see how powerful they really are.

The program is extremely effective and gets the desired results. If implemented correctly, you will achieve stellar results. However, the program does come with its drawbacks. In Attraction God, Jason made an hour long video on different techniques for attraction. Every single person on "Team Capital" knows this to be one of the most powerful hour of content Jason has ever created. I feel like he could have done that with Charisma. there were some great techniques in here, but there could have been more. Much more. Additionally, the program has to be implemented correctly in order for it to work. You have to have the motivation to become more charismatic and the discipline in becoming more charismatic. This program only gets a 6 in Ease of Implementation because lazy, fat slobs aren't going to be able to use this program to their benefit. Their going to have to take action. That really is the hardest part of any program. Yes, the mindsets and ideas of charisma are implemented into your sub- and higher- consciousness, but you really need to have the Kaizen mindset in order for this to work. I can't recommend this product to people who do not like to take action. Charisma is best suited for people already on "Team Capital." It is not for beginners, and it isn't intended to be.

Charisma is one of the best programs Jason has made today. Its effectiveness is unmatched by a lot of other programs out there. However, its effectiveness can only be seen if YOU want to take action. This program really isn't intended for people who aren't already on "Team Capital." If you want to be more charismatic, this is the program for you, but you may need to go through a couple of other programs from Jason before you get into this one. That being said, getting into Jason's other programs really is worth it, as he is one of the best Dating and Success coaches out there, and this program is pretty damn good.
Help other users find the most helpful reviews
Was this review helpful to you?
View Other Home Study Courses (Books, DVDs, CDs, MP3/ Video)