Awkward: The Science of Why We're Socially Awkward and Why That's Awesome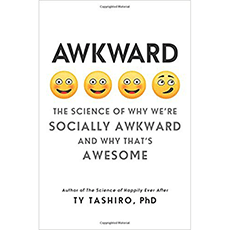 DSR Editor Rating
No Editor Review Available Yet.
Average User Rating
Go to Product Site
Product Information
In "Awkward", psychologist and interpersonal relationship expert Ty Tashiro addresses what it means to be awkward and how to use those traits to achieve extraordinary success. It shows you how to navigate the challenges of modern social life and master the skills for smooth interaction.
The author uses his personal awkward experiences and research into human intelligence, neuroscience, personality, and sociology to provide a better understanding of awkwardness.
---
Skillsets:
Inner Game & Confidence
Experience Level(s):
Beginner
Release Date:
April 25, 2017
Price:
$13.31 - $19.65
(depending on product format or options purchased)
---
Feedback
If you have a question or problem, ask us:
Table of Contents/ List of Topics Covered:
Preface

PART I: SO THIS IS AWKWARD

1. What Does It Mean to Be Awkward?
- Our fundamental need to belong
- We all have awkward moments
- Squares. Geeks. And Nerds
- Seeing the world through awkward eyes

2. Is There Anything Wrong With Being Awkward?
- Strange and intense
- Is awkwardness on the spectrum?
- Extroverted, confident, and totally awkward
- Dreaming of social fluency

3. Looking for Some Sweet Skills
- This is your brain on awkwardness
- Get a cue
- Can you really "see it in their eyes"?
- How did my foot get in my mouth?
- When minds meander

4. Emotions Make Me Feel Funny
- Can we just skip the emotional parts?
- An intense world of emotions
- The function of being awkward
- Broadening a narrow focus
- Why are you making that face?

5. Unlocking the Minds of Likable People
- The theory of an awkward mind
- A theory of being likable
- The surprising social skill of bullies
- The devil is in the details
- The value of social equity

PART II: THIS IS GETTING AWKWARD
How Modern Societal Shifts Are Making Everyone Feel More Awkward

6. Nurturing Awkward Children
- The nature of awkward families
- Awkward impulses versus social expectations
- The pleasure in being awkward
- A supercharged super ego
- Helping awkward kids build social fundamentals
- Bake a second batch

7. The Awkwardness of Making Friends
- How many friends are enough?
- The demise of social institutions
- Never mind my P's and Q's
- Making friends while awkward
- Trickle-down social economics

8. Dating and Sex Are So Awkward
- What happened to the "romantic" in romantic relationships?
- Gerrymandering the friend zone
- Online dating can be an awkwardness incubator
- Sex is super-awkward
- Intimately awkward
- The awkward path to happily ever after

PART III: HOW THE AWKWARD BECOME AWESOME

9. Practically Prodigious
- When awkwardness is adaptive
- Giftedness is singular, not plural
- A restless mind
- The relationship between giftedness and awkwardness
- Being true to yourself and fitting in

10. Groundbreaking Innovation
- The future perfect
- The comfort of expertise
- Winning the innovation lottery
- Imperfect brillance

Afterword
Acknowledgments
Bibliography
Index
---
What You Get:
- Paperback $13.31
- Hardcover $16.45
- Kindle $19.65

---
Guarantee / Terms:
See policy of product website
User Reviews of Awkward: The Science of Why We're Socially Awkward and Why That's Awesome
View Other Home Study Courses (Books, DVDs, CDs, MP3/ Video)