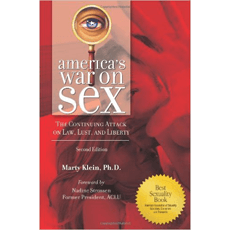 DSR Editor Rating
No Editor Review Available Yet.
Average User Rating
Go to Product Site
Product Information
Full Title:
America's War on Sex: The Continuing Attack on Law, Lust, and Liberty (Sex, Love, and Psychology) 2nd Edition
This book analyzes eight war-on-sex battlegrounds being fought in America and the struggle to regulate sexuality.
Using historical context, Marty Klein, PhD explains and shows:
- The belief that a person's sexuality is not "normal" or moral
- How issues surrounding public policy interfaces with sexuality
- How the religious right inflames Americans' anxiety about sexuality
- The vulnerability of Americans regarding anxiety about sexual danger
- How money and political power are coordinated from the same sources
It also delves into the laws and public policies that:
- Restrict peoples' rights
- Criminalize consenting behavior
- Mis-educate and confuse children
In this second edition, the author uncovers a powerful social and political propaganda machine – the Sexual Disaster Industry – how it works, and the victimized people serving as its support system.
---
Skillsets:
Masculine Sexuality & Sexual Skills
Lifestyle & Social Skills
Experience Level(s):
Beginner
Release Date:
April 13, 2012
---
Feedback
If you have a question or problem, ask us:
Table of Contents/ List of Topics Covered:
- You're the Target: Why a War on Sex
- Battleground: Sex Education – Where Children Come Second
- The Most Powerful "Minority" in the United States
- Battleground: Reproductive Rights
- The Sexual Disaster Industry
- Battleground: Broadcast "Indecency"
- Yes, They Really Said That
- Battleground: Adult Entertainment – Feverish Dreams, Real Estate Nightmares
- How They Do It: Ammunition in the War on Sex
- Battleground: The Internet
- America Does Not Guarantee Your Right to Be Comfortable: The Lowest Common Erotic Denominator Project
- Battleground: The War on "Pornography"
- Extreme Religion and Public Policy
- Battleground: Sexual Privacy and Sexual Minorities – Civil Rights or Immoral Privileges?
- Revolutionizing American Government – Bad News for Democracy
- Epilogue: One Bright Spot
---
What You Get:
Hardcover book
---
Guarantee / Terms:
See policy of product website
User Reviews of America's War on Sex
View Other Home Study Courses (Books, DVDs, CDs, MP3/ Video)